Commentary
Off Base sorts through some memories
Originally Published:
August 17, 2011
By
Jim Caple
| Page 2
Throwing away old stuff can be difficult. You begin with the best intentions to rid your house of everything you either no longer need or haven't used in years. Then you find something long forgotten -- a photo, a love letter, a partial set of 1987 baseball cards, a stained 1995 division series T-shirt, a Wayne Terwilliger bobblehead doll -- and soon you're strapped into the backseat of a locked sedan for a one-way trip down Memory Lane.
Before the ride is over, you're surrounded by monolithic piles of suddenly indispensable keepsakes, your spouse is begging to at least throw away that stack of Sports Illustrated swimsuit issues and a film crew from "Hoarding: Buried Alive" is pounding the front door.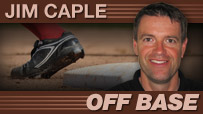 My parents are by no means hoarders but they're selling their home of 50-plus years and items tend to accumulate over half a century. This becomes abundantly clear each time our family sorts through everything.
Look! In the back of this closet is a handful of 1968 Topps baseball cards! When I was six, I had a bunch of cards spread across the living room carpet. My dad told me several times to put them away. When I did not, he gathered them up in his hands and stomped out of the room. It's one of maybe two times I can remember ever seeing him angry. I searched the house for a dozen years looking for those cards, convinced Dad hid them somewhere. I searched and searched but never found them. As the years passed, I became convinced that a Nolan Ryan rookie card was surely among those cards. Perhaps it was, but it's not among these, though there is Jim Kaat and Tony Oliva. I'll keep those -- someday the veterans committee will wise up and elect Kaat and Oliva to the Hall of Fame!
Look! My first Little League jersey is on this shelf! Dad was our coach that year and he made me the catcher, mostly because no one else wanted to play the position. But I loved catching. Well, most of the time. There were moments when it was frustrating catching our best pitcher, Aaron. He was basically our very own Nuke LaLoosh, fully capable of striking out 10 batters in a game. Or walking 10 batters. Or striking out 10 AND walking 10. Anyway, Aaron is now the owner of the senior living center where my parents are moving, which I find reassuring. I can't part with this Little League T-shirt -- there are too many memories!
Look! Here's a superball inside this cabinet! As I describe in this week's video, my favorite baseball field in the world is my parents' backyard, where I threw tennis balls and rubber balls against the side of the house for hours and hours, day after day. I don't know how my mother put up with the noise. I asked her recently and she said it wasn't that bad, that you learn to put up with a lot as long as your child is happy. Well, I have to keep this! Do you know how much fun I had playing baseball in the backyard!
Look! Buried in this trunk is the essay about Carl Yastrzemski I wrote for English 271! People occasionally ask how I got my start in sports writing -- well, this was it. Professor Mark Patterson assigned us to write an essay about a person we admired and I wrote about Yaz, then in his final season. Prof. Patterson liked the piece and encouraged me to submit it to the UW Daily. When I saw my byline in the paper for the first time, I was hooked. I never wanted to be anything but a sports writer after that, specifically a traveling beat writer for a major metro newspaper.
I achieved my goal six years later when the St. Paul Pioneer Press hired me to cover the Twins. Look! Here in this desk drawer are cards and letters I wrote my parents during my first years on the beat!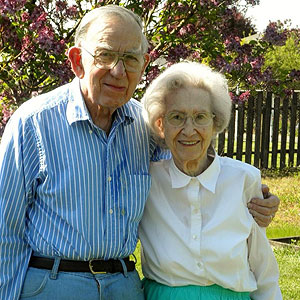 Courtesy of Jim CapleLiving in a house for 50 years, Mr. and Mrs. Caple accumulated a few things.
Reading these letters now is almost as embarrassing as paging through your high school annual. A couple of things stand out. One, I whined a lot. The way I go on about a 35-day road trip my first season you would think I spent the entire five weeks trapped in a Chilean coal mine rather than jetting to Seattle, Toronto, Chicago and San Francisco, staying in four- and five-star hotels, eating on the company expense account and covering baseball.
True, there was the little matter of the San Francisco earthquake, which is marked by this October 1989 Sports Illustrated my dad has kept, the one showing Giants pitcher Kelly Downs carrying a young fan to safety with the headline, "Earthquake: The Day the World Series Stopped." My dad, brother John, brother-in-law Dave and I were all at Candlestick that night while my mom was sitting at home, watching on TV and muttering "I told them there would be an earthquake if they went to San Francisco."
The other thing I notice in these cards and letters is that my mood swung drastically. "I was writing a rather depressing letter to you but by the end of the night, I didn't feel that bad anymore. And the next morning I did again," I wrote on a card from Arlington. I remember writing that postcard in my hotel room, and the reason I was briefly upbeat was that I had a great, 20-minute interview with Nolan Ryan.
As I met many exciting people like Ryan and got used to the travel, my outlook improved significantly. There's even a card from Lillehammer, Norway, after the 1994 Olympic Winter Games where I didn't complain once. No bitching? Better keep that for posterity -- as well as the essay, the postcards, the letters, the Sports Illustrated, everything!
Look! It's a cassette tape of my appearance on a Seattle radio show during the winter of 1988-89! I had no idea my father even recorded that show, let alone saved it for more than two decades. "Dave Niehaus had you on with two other beat writers," Dad tells me. "They were talking about possible third basemen for the Mariners and you said you would like to see Edgar Martinez get a chance. The other writers kind of dismissed him but you said he could be a good player."
I'll have to trust his memory because there is no tape recorder on which to play the tape (I knew I shouldn't have tossed that out!). I want to keep this as evidence that I was once actually correct about something but Dad has already made the executive decision to keep it for himself. He puts in his desk drawer, near the "My, Oh My!" sign Niehaus autographed in 1995 during the Mariners' wonderful playoff run. Like I said, I don't think he can even play the cassette anymore but he's keeping it.
Our family is helping my parents clean out their house of 50-plus years and it isn't easy throwing anything away. My parents are not hoarders but their home nonetheless is stacked to the ceiling -- and beyond -- with rich memories.
CSI: BOX SCORE
You know the rules. You get a fragment from an old box score and the challenge of determining what game it is from and why it is significant. I give this one a difficulty rating of 5.0

Kurt Snibbe/ESPN.com
BASEBALL CARD OF THE WEEK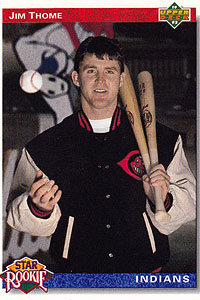 Courtesy of Upper DeckIt doesn't get more everybody's All American than Jim Thome.
Does this card (1992 Upper Deck RC No. 5) capture Jim Thome or what? For crying out loud, he's damn near wearing a high school letterman's jacket! The only thing missing from Thome's image as one of baseball's best, most down-to-earth dudes is an Eagle Scout badge. Of course, to fully capture Thome, this card should personally autograph itself and ask if it can help your grandmother cross the street.
Congratulations on No. 600, Jim. See you in Cooperstown.
BOX SCORE LINE OF THE WEEK
Atlanta's Dan Uggla had a rare oh-fer Sunday (3 AB, 0 R, 0 H, 1 RBI) -- or, at least, rare in the past month. It was the first time Uggla had gone hitless since the Fourth of July, snapping his hitting streak at 33 games. Uggla had plenty of hitless games prior to the streak -- 42 in just 86 games -- while piling up a batting average so low (.173) that baseball's longest hitting streak in five years only lifted it to .232.
Cleveland rookie Jason Kipnis had five hits in five at-bats (5 AB, 4 R, 5 H, 3 RBI) last Wednesday while Pittsburgh's Andrew McCutchen scored four runs and drove in two despite just one official at-bat the same day (1 AB, 4 R, 1 H, 2 RBI). And Jorge Posada gave us a blast from the past with a six-RBI game Sunday (5 AB, 1 R, 3 H, 6 RBIs).
Fine efforts all, but this week's award, however, goes to Atlanta reliever Arodys Vizcaino for this head-scratching line:
2/3 IP, 0 H, 0 R, 0 ER, 0 BB, 3 K
How do you strike out three batters but record only two outs? Well, you do it by striking out the first two batters then throwing a wild pitch on the third strike to the third batter, allowing him to reach first base safely and then getting the hook. Because a run scored on one of the wild pitches, Vizcaino also was charged with a blown save. Not an easy thing to do when you strike out every batter you face.
BALLPARK RANKINGS
Miller Park, Milwaukee. I'm a little biased because I loved old County Stadium. I also don't like that the new place looks as much like an airline terminal as a ballpark (as with Arizona's Chase Field, there is such an airport feel here I expect the Brewers to charge me an extra $25 for a seat on the aisle). Bernie Brewer has also gone sterile and corporate. But this is still the home of baseball's finest tailgating -- the aroma rising above the Milwaukee parking lots is more mouth-watering than anything you'll ever smell coming from one of those corporate diamond clubs. The Sausage Race is the original -- and still the best -- mascot-type race. And the brats are so good they almost don't need either the stadium sauce or the stadium mustard -- but lather them on anyway, because they're as good as the brats. And it's good to see the Brewers with a commanding lead in the NL Central. The fan base here has been impressively supportive -- especially in recent years -- and it fully deserves to see how comfortable this park can be in late October.
Score: 77. Current rankings: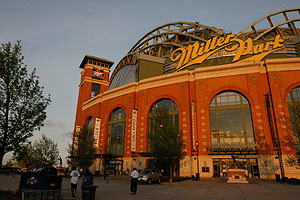 Scott Boehm/Getty ImagesAt least you don't have to take off your shoes to get into Miller Park.
1. PNC Park, Pittsburgh: 98
2. AT&T Park, San Francisco: 94
3. Camden Yards, Baltimore: 92
4. Target Field, Minneapolis: 91
5. Wrigley Field, Chicago: 90
6. Dodger Stadium, Los Angeles: 88
7. Safeco Field, Seattle: 87
7. Comerica Park, Detroit: 87
7. Coors Field, Denver: 87
10. Kauffman Stadium, Kansas City, Mo.: 86
11. Progressive Field, Cleveland: 82
12, Minute Maid Park, Houston: 80
13. Yankee Stadium, New York: 79
14. Busch Stadium, St. Louis: 78
15. The Ballpark in Arlington, Texas: 77
15. Miller Park, Milwaukee 77
17. Chase Field, Phoenix: 76.5
18. Nationals Park, Washington: 76
19. Rogers Centre, Toronto: 75
20. Oakland-Alameda County Coliseum: 74
21. Tropicana Field, Tampa Bay: 68
YEAH, WELL, THAT'S JUST LIKE YOUR OPINION, MAN
A Round For The Bartender: One of the year's best stories took another positive step when Seattle reliever Tom Wilhelmsen won his first major league game Monday night. Once a promising prospect with the Brewers, Wilhelmsen was out of baseball for six years, backpacking through Europe, playing co-rec softball and, as recently as last December, bartending at a Tucson Tiki bar called The Hut. Now he has a major league victory. When I asked how he would celebrate the victory, Wilhelmsen said his teammates gave him a nice beer shower. "I've had people spray beer on me [at the bar] before but not like that. It's a little better this go-round," he said.
Of Course, A Decent Team Would Help, Too: This may be the quote of the year. Chicago first baseman Carlos Pena had this to say in the Chicago Sun-Times about the necessity of changing Cubs culture: "The Red Sox were able to do it. Communism ended in Russia. That's what I'm talking about when I say improvement in culture." He's right. The fans' continued focus on the past -- as the story mentions, the constantly updated Eamus Catuli meter is but one example -- only make moving forward more difficult. Those who refuse to forget the past are also doomed to repeat it.
CSI: BOX SCORE ANSWER
There were a couple of clues in this one. First of all, the names in the Boston lineup are a pretty good indication this is from the 1967 Impossible Dream season. Another is that the opposing team's pitcher is Hamilton. Finally, the biggest clue is that Tartabull is listed as a pinch-runner for Conigliaro. Yes, this is the box score from the tragic game when Angels pitcher Jack Hamilton hit Tony Conigliaro with a pitch, 44 years ago this week. The pitch fractured Conigliaro's cheekbone. He dropped to the ground and had to be carried off the field on a stretcher. He missed the rest of the season, as well as 1968, and although he eventually returned (and hit 36 home runs in 1970), he had vision issues the rest of his life.
BTW: Jose Tartabull (Danny's father) pinch-ran for Conigliaro that game and scored in a one-run victory in a season when the pennant was decided by one game.
Jim Caple is a senior writer for ESPN.com. You can follow him on Twitter at jimcaple.