Commentary
Sports' most hip-hop figures, 10-6
Originally Published:
August 17, 2011
By
Vincent Thomas
| Special to Page 2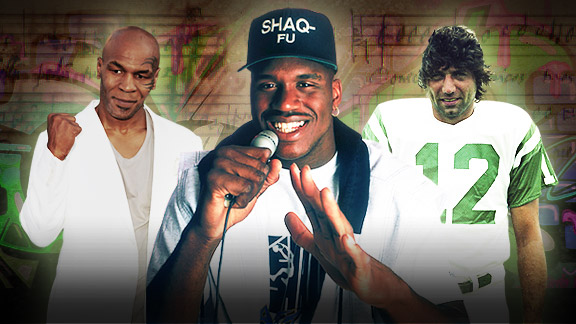 ESPN.com IllustrationThe term hip-hop may be fairly new in the scheme of things, but the attitude has been around forever.
Welcome back to Page 2's Most Hip-Hop Figures In Sports as we continue our countdown to the No. 1 spot.
Monday: Nos. 25-21
Tuesday: Nos. 20-16
Wednesday: Nos. 15-11
10. John Thompson
This is where you really have to think about the essence of hip-hop and its cultural impact on and standing in America. John Thompson, as a man, is probably cautious/apathetic toward hip-hop, at best, and, at worst, anti-hip-hop. In the '80s and early '90s -- when Reaganomics and the crack epidemic were ravaging inner-city neighborhoods and hyper-combative groups like NWA and Public Enemy or hedonistic artists such as Too Short ruled hip-hop -- Thompson was likely in line with many in his generation that thought the music was borderline demonic. BUT, all the while, his program was a hip-hop icon. His players may have listened to more Luther Vandross than Ice-T, and Thompson made sure his players -- off the court -- stayed buttoned down and in line with the conservative Jesuit culture of Georgetown. But, on the court, Hoya Paranoia was like the athletic manifestation of "It Takes A Nation of Millions to Hold Us Back," even though the album dropped a few years after the Hoya Paranoia apex. Thompson was a hawking, outspoken, aggressive black man at a time when spotting black coaches in the NCAA was like spotting a blue jay in the hood. He coached his young kids to play a mean, aggressive, threatening brand of ball. Save the R&B ball for Syracuse, UNC and UCLA. Thompson was just further minted when Ann Iverson sought him out to take on her "jail bird," soon-to-be-iconic son, and he obliged. Big John will forever be hip-hop -- whether he wants to or not.
9. John Carlos/Tommie Smith
Very few -- if any -- hip-hop artists make protest music anymore. Gone are the days when hip-hop was, shall we say, "about anything serious." That wasn't the case for the first 20 years or so. Before the Jiggy era ushered in an "all floss everything" motif, you had Melly Mel, KRS-One, Chuck D, Scarface, Ice Cube, Ice-T, Poor Righteous Teachers, Nas, Goodie Mob, Common, Wu-Tang, Tupac and a slew of other artists that were loud social voices. When John Carlos and Tommie Smith stood on the Olympic stand in 1968 and rose Black Power fists, that was a hip-hop gesture in spirit, even though the culture had yet to incubate. It is THE iconic protest moment in sports history, and hip-hop adopted its brave purveyors.
8. Deion Sanders
Let's forgive him for "Must Be The Money" -- chiefly because it's disingenuous to act like rap artists don't make bad songs. Rap artists and hip-hop culture do, however, flaunt shameless materialism. Be real, this video is hip-hop. Then, too, hip-hop, like early 20th Century jazz (and much more than other music genres) is a sport, because it is so competitive. It is also very unsportsmanlike. Clowning the competition is part of hip-hop's best practices manual. Deion is the NFL's Godfather of Clowning. Witness how he used to start TD celebrations 10 yards early. His nickname was Prime Time. He shortened it to simply Prime. And just for posterity sake, remember Prime getting his Slick Rick on during the 1989 NFL Draft.
7. The Fab Five
One of my favorite moments the ESPN 30 for 30 Fab Five documentary is when Jalen Rose, Chris Webber and crew take turns telling reporters what music they listen to. They mention, EPMD, Geto Boys, Compton's Most Wanted, etc. That was a novelty to the Baby Boomer press corps, at the time. Half tickled, half puzzled, they asked coach Steve Fisher if he was familiar with any of the artists. We all knew the answer. Plenty of collegiate athletes listened to hip-hop in the early '90s. What made the Fab Five resonate so viscerally within hip-hop culture is not that they listened to hip-hop, but that you could immediately figure that out based on their on-court bravado and appearance (and they had one of the few college locker rooms blasting rap out of boomboxes, too). As Chuck D stated in the doc, they were the first to come out and say, "Yeah, this is our thing." There are a few iconic teams within hip-hop culture (G'Town, The U of the early-'80s/late-'90s and the Larry Johnson-led UNLV squads). The Fab Five, though, was hip-hop concentrate. The Fab Five was the target of almost identical hate that mainstream America and older generations fired at hip-hop. They were young dudes from the hood doing big things and doing it their way, criticism be damned. If that ain't hip-hop …
6. Michael Jordan
Hip-hop is obsessed with fashion. More specifically, hip-hop has a sneaker obsession. No sneakers -- or article of clothing, period -- are more hip-hop than a pair of Js. There have been gold chains, Kangols, Timberland boots, throwback jerseys, shell-toe adidas and other fashion trends that takeover the culture periodically, but nothing has maintained the level of relevance of Jordans for as long. That alone is enough get Jordan high on the list. The most telling manifestation of his impact? Two decades of rappers have used him as the chief metaphor for being the best.
Vincent Thomas is a SLAM magazine columnist and a frequent contributing columnist and commentator for ESPN. He can be reached at vincethomas79@gmail.com or @vincecathomas on Twitter.