Commentary
Oregon Ducks coach Chip Kelly: Q&A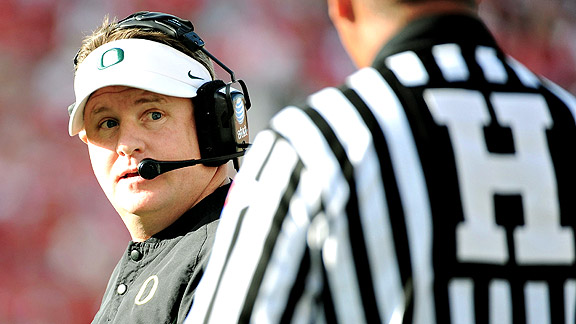 Harry How/Getty Images Chip Kelly is 22-4 in two years at the helm at Oregon and is predicted to win the Pac-12 again in 2011.
Just a few years ago, Chip Kelly appeared to be an unlikely candidate to meteorically rise up the college football coaching ranks.
He was more than a decade into a tenure as an offensive assistant at his alma mater, New Hampshire, and he didn't seem to be in any hurry to leave.
But as the spread offense began to sweep across the collegiate landscape, Kelly was tabbed by Oregon in 2007 to install his high-scoring attack as offensive coordinator of the Ducks. Two years later, he was named the program's head coach. Two years after that, he was coaching the Ducks in the BCS championship game.
With Kelly leading Oregon into the 2011 season as the favorite to win the Pac-12 and reach its third consecutive BCS bowl, Page 2 procured an interview during his recent visit to ESPN headquarters. Here's what transpired:
Page 2: As you're rising through the ranks at Columbia, Johns Hopkins and your alma mater, New Hampshire, did you have a goal for where your career would ultimately lead you?
PAC-12 COACHES QUESTIONNAIRE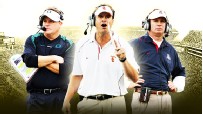 Which Pac-12 school has the most attractive cheerleaders? Best mascot? Most dapper coach? Page 2 quizzed the coaches themselves to get answers. Page 2's Pac-12 coaches questionnaire »
Kelly: I never even thought about it. [It didn't matter] as long as I was happy when I got up in the morning.
How much did your first coaching job pay?
Columbia University -- $4,000.
As a New Hampshire native who stayed home to go to college, can you describe the culture shock of living in Manhattan when you took that job at Columbia?
It was interesting. It was my first college job. Being in Manhattan, just the volume of people was just amazing to me. Walking the streets every single day going, "Wow, there are a lot of people in this town. ... I don't think I was overwhelmed. I was just amazed by the energy, the pace and just how many people there were.
If you could take a mulligan on any coaching decision you've ever made, what would it be?
That's a good question. ... I don't know. We all make mistakes, but we're all by-products of our experiences and we wouldn't be where we are if we didn't actually make mistakes. I've never looked at it, because you can't change it. So you learn from it.
What coach has influenced you the most?
There's a lot. I don't think you can put [only] one on that one. My high school coaches. My coaches in college. Other coaches I've worked with: Ray Tellier at Columbia, Jim Margraff at Johns Hopkins, Bill Bowes at New Hampshire, Sean McDonnell at New Hampshire.
How old were you when you decided you definitely wanted to pursue coaching as a career path?
In my 20s.
Was it while you were still playing college football?
No. Never thought about it.
THE PAGE 2 INTERVIEWS

Page 2 interviewed each of the Pac-12's head football coaches during their recent pilgrimage to ESPN headquarters. What did your coach have to say?

Colorado: Jon Embree


Arizona State: Dennis Erickson


Oregon: Chip Kelly


USC: Lane Kiffin


UCLA: Rick Neuheisel


Oregon State: Mike Riley


Washington: Steve Sarkisian


Stanford: David Shaw


Arizona: Mike Stoops


Cal: Jeff Tedford


Utah: Kyle Whittingham


Washington State: Paul Wulff

Also see:
• Miller: ESPN.com's Pac-12 blog
• Gallo's preseason Top 25 breakdown
Who was your favorite athlete growing up?
Bobby Orr. ... Bobby was the guy. Just the way he played. Best defenseman. He was tough. He could score.
How long did you play hockey?
Through high school.
What position?
Right wing and center. I was a forward.
What other sports did you play growing up?
Ran track and field and played football.
Was football always pre-eminent for you personally?
Yeah. Football and hockey.
What song or performer is on your iPod that might surprise people?
I like all kinds of music. I'll go from the Dropkick Murphys to Frank Sinatra. ... I like Broadway musicals also, so "The Lion King" is on there.
Not counting your school, which Pac-12 university has the most attractive cheerleaders?
I have no idea. I don't even know where they are. I think they're on the other team's sideline.
Not counting your school, which Pac-12 university has the best mascot?
Oh, ours is the best. ... That's a tough one. I like Benny Beaver.
Not counting yourself, who's the best dressed coach in the conference?
I wouldn't be. I'm honest, so I would never vote for myself. ... Dennis Erickson.
What's your favorite restaurant anywhere?
Harpoon Willy's in Portsmouth, N.H. ... Great seafood.
What's your favorite place to vacation?
Portsmouth, N.H. It's a beautiful area.
Which opposing player are you most glad you no longer have to face?
I always liked Jacquizz Rodgers. I'm a big fan of his. But it's not that we don't have to face him. We enjoyed the challenge. He always came to play. I'll miss competing against 'Quizz.
What's a hobby or recreational passion of yours that might surprise people?
I don't think it would surprise people, but I play a little golf -- what most coaches do.
Cap or visor?
Visor. ... I just like visors. I never looked at it like, "Pick this or pick that."
What's your reaction when people call you an offensive genius?
I've said this before: Jonas Salk was a genius; I coach football.
How much of a boon for recruiting are all the wild uniforms the Ducks wear?
It helps. It starts the conversation, but I don't think anybody makes their final decision on where to go to school based on the uniforms. ... It makes a first impression.
How do you decide what icons to use on your sideline placards?
Real simple. Every picture equals something, and if we happen to name something that correlates and will make our players understand the formation, play and snap count, then that gets on the placard.
In a brilliant public relations move, you personally refunded a season ticket-holder's money after he complained about his experience at the season opener at Boise State two years ago. Was that your idea, or did someone suggest it to you?
I will say what I've said since Day One: no comment. It wasn't done to get publicity.
Thomas Neumann is an editor for Page 2.