Commentary
Arizona St. coach Dennis Erickson: Q&A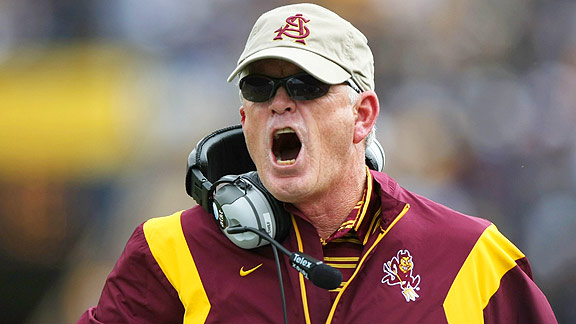 Jed Jacobsohn/Getty ImagesDennis Erickson won Pac-10 Coach of the Year honors at three schools over a three-decade span.
Arizona State coach Dennis Erickson bears the credentials of a heavyweight in his field.
He won two national titles during a 63-9 tenure at Miami. He led Oregon State to its best season in its 93-year history with an 11-1 campaign and BCS bowl win in 2000-01. He has guided four programs -- Washington State, Miami, Oregon State and Arizona State -- to bowl berths and he's won 66 percent of his games in 21 collegiate seasons.
Among the players he coached in college are Chad Johnson, T.J. Houshmandzadeh, Steven Jackson, Ray Lewis, Warren Sapp, Gino Torretta, Russell Maryland and Timm Rosenbach. Of course, he also served as an NFL head coach for six seasons with the Seahawks and 49ers.
That said, when Page 2 caught up with Erickson during his recent trip to ESPN headquarters, we decided to tap his extensive football knowledge with questions about cheerleaders, restaurants and music. Here's what transpired:
Page 2: If you could take a mulligan on any coaching decision you've ever made, what would it be?
PAC-12 COACHES QUESTIONNAIRE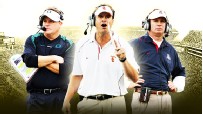 Which Pac-12 school has the most attractive cheerleaders? Best mascot? Most dapper coach? Page 2 quizzed the coaches themselves to get answers. Page 2's Pac-12 coaches questionnaire »
Erickson: I would use it when I left Oregon State to go to the 49ers. I've made some goofy moves, but that's the goofiest. ... They were over the salary cap our second year and had to get rid of all our players, so it was hard. But even more than that, [during] my first [NFL] stint, in Seattle, we were pretty successful, really. We took a group and made it very, very competitive. Then when they changed ownerships, they made a [coaching] change. I wanted to go back [to the NFL] and re-do it, but it was the wrong situation. I should've never left [Oregon State].
You've had a number of talented players over the years. A couple of them have been outspoken guys who knew exactly how to play the media. Who is more outspoken -- Chad Johnson or Ray Lewis?
They're different. Chad is outspoken because it's just how he is. Ray, when he's outspoken, it's on the football field or it's about the game of football. Chad is all about all the different things he does, like "Dancing with the Stars." I've actually had two of my players on "Dancing with the Stars" -- Chad and Warren Sapp.
Which one of those two is the better dancer?
I don't want to get into that argument. I can't win it.
Was Chad confident and outspoken back when you were recruiting him to Oregon State?
No. Not at all. He was a junior college player who had one year [of eligibility] left. He came in and played, and he really learned how to play. He came in the summer. He wasn't there for spring football, and as the season went on he got better and better, obviously, and the rest is history. But no, he wasn't like that then. I think he became more outspoken the more success he had.
Did you know then he could become this good?
It was really hard to tell, but I could tell at the end of the season he was talented. We had T.J. Houshmandzadeh on that same team. But Chad had some God-given natural talent.
What coach has influenced you the most?
There's been a number of them. My dad [Robert Erickson] influenced me a lot. He was a high school and college coach for years. He passed here about five years ago. Then there's Jim Sweeney, who was my college coach [at Montana State] and coached at Fresno State for many years. And then I coached for Jack Elway, John's father, at San Jose State back in the '70s and early '80s. We were spreading 'em out in those days. We had nobody in the backfield, so he really had a lot of influence on my offensive philosophy more than anything. But those three guys just had a tremendous influence on me.
How do you sell your personality and your program to recruits, considering that you're competing against a number of coaches much younger than you for players?
THE PAGE 2 INTERVIEWS

Page 2 interviewed each of the Pac-12's head football coaches during their recent pilgrimage to ESPN headquarters. What did your coach have to say?

Colorado: Jon Embree


Arizona State: Dennis Erickson


Oregon: Chip Kelly


USC: Lane Kiffin


UCLA: Rick Neuheisel


Oregon State: Mike Riley


Washington: Steve Sarkisian


Stanford: David Shaw


Arizona: Mike Stoops


Cal: Jeff Tedford


Utah: Kyle Whittingham


Washington State: Paul Wulff

Also see:
• Miller: ESPN.com's Pac-12 blog
• Gallo's preseason Top 25 breakdown
It's more the father/grandfather image and the experience that I have. It's different now, but I can remember when I was younger than the parents. Then I became equal. Now I'm a lot older. They know from my experience and all the players that I've had that I treat the players well -- the thousands of them that played for me. I hear back from ex-players from over the years, and that's probably the most rewarding thing for me in coaching, to see that they're successful after they're done.
Both you and Lane Kiffin played for Jim Sweeney. Can you see any of the Sweeney fingerprints on his coaching style?
Intensity level. Jim was a demanding person as a coach. That's what you learn from him, the motivational aspect of it. You can see that with Lane's teams. There's some Jim Sweeney in his teams.
How often do you wear that national championship ring?
Well, we won two -- one in '89 and one in '91. This is a '91 ring. It's really the only one I wear, because I like the design of it. When you have "the U," that means something.
[Editor's note: This interview took place before the recent allegations against the Miami program came to light.]
What kind of reaction does the ring get from your players and recruits?
It's pretty impressive. I need to get one with "ASU" on it. That's what I need to get.
How much did your first coaching job pay?
I was the head high school coach at Billings Central High School, a Catholic high school in Montana, and shoot, I think I was making -- teaching and coaching -- about $5,000. Something like that, $4,000 or $5,000. I was single, and I had more money in my pocket than I could spend. ... I was only there a year. Then I went to Montana State. But that was my first coaching job.
Who was your favorite athlete growing up?
I had a number of them. When I was growing up, Johnny Unitas was a guy I idolized, because he was one of the great quarterbacks of all time. Then there was a guy many years ago by the name of Hugh McElhenny that played for the 49ers and played at the University of Washington when I was growing up. But Johnny Unitas, just how he played the game and how he was playing that position as a young player and the things he accomplished. I finally got to meet him when I was coaching, before he passed, and I just admired how competitive he was.
Another one I [admired] -- I'm going back a lot further than these other guys -- was Elgin Baylor. He played at Seattle U., so I saw him, you know, in fifth or sixth grade or whatever it was, and I followed him when he played for the Lakers.
What's a song or musical performer that you enjoy that might surprise people?
Neil Diamond is one of my favorites, and I even go back to Elvis. That's what I listen to. I'm an oldies guy. I know every oldies station in the country.
Not counting your school, which Pac-12 university has the most attractive cheerleaders?
Boy, that's a good question. I would probably have to go with USC. You know, Southern California, what the heck.
Not counting your school, which Pac-12 university has the best mascot?
That's a good question, too. Probably the Duck. He's been on TV a lot more -- because they're winning games.
Not counting yourself, who's the best dressed coach in the conference?
Paul Wulff -- he played for me.
Don't you guys have new uniforms this year?
Yeah, we do. We've got that on the helmets [points to pitchfork logo on his shirt]. We made a change as far as the logo and all that stuff. They're pretty cool. ... I like it. Our players really like it. Our recruits really like it, so that's the most important thing.
What's your favorite restaurant anywhere?
"I've got to go with the Metropolitan Grill in Seattle. Besides that, my sister works there. She'd be upset if I didn't mention them.
Do you have a favorite dish there?
Steak and dungeness crab.
One other restaurant I gotta mention: Don & Charlie's [in Scottsdale, Ariz.]. That's probably the best one. It's got sports memorabilia and great food. During [baseball] spring training, it's unbelievable the people you see in there. ... I go with the fish most of the time, but their barbecue chicken and ribs are really good.
What's your favorite place to vacation?
Coeur d'Alene, Idaho. ... There's a huge lake, Lake Coeur d'Alene, which is probably 40 miles long. I finally bought a little cabin while I was coaching the Seahawks, and I go back every year. I just like the beauty of the lake and the people. They're just great people in that area.
Which opposing player are you most glad you no longer have to face?
Andrew Luck, because we don't play Stanford this year. ... He's competitive. He's smart and accurate. He's a great leader, and like all great quarterbacks, he makes plays when he has to. He's a very talented kid.
What's a hobby or recreational passion of yours that might surprise people?
I'm an avid golfer. Not a good golfer, but I'm an avid golfer. I read a lot, more for entertainment than anything else.
What's the last good book you read?
All the James Patterson books.
Cap or visor?
You know, I've done both. I've been a visor guy the last couple of years. ... Visors cover my eyes a little bit better. But then I'm superstitious, and if I'm wearing a visor and we're winning, then I'll wear it. If I'm wearing a baseball hat, I'll wear that, too.
How much longer would you like to coach?
As long as I can do a good job. As long as I can win football games. I don't put a number on it, but hopefully it's a long time. I think I'll know when it's time. I really want to get this program where it's competitive all the time at Arizona State. Shoot, I'd like to coach seven or eight more years, but who knows?
What continues to drive you after winning championships and coaching at all levels?
I love competing, and I love being around the players. That's the most important thing to me. I learn a lot from players all the time, and I like being around the profession of the coaches you're involved with. It's about being competitive and winning. But being around the players is what I'd miss the most.
When you do retire, how do you want people to remember your career?
[As] a guy that's been good for the game. A guy who did good for the guys who played for him. That I helped them be successful, and that I was able to take some programs that weren't real good and make them competitive.
Thomas Neumann is an editor for Page 2.