Commentary
Colorado head coach Jon Embree: Q&A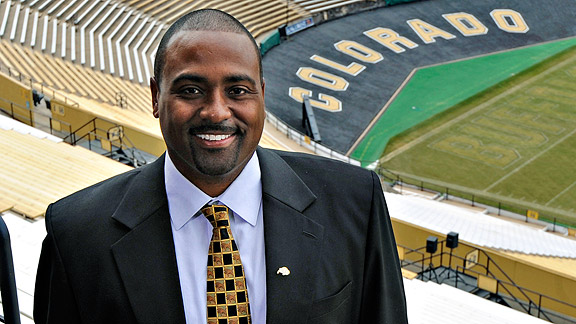 AP Photo/Jack DempseyJon Embree, who played at Colorado from 1983-86, is the Buffaloes' first black head football coach.
Colorado hopes it has found the man to lead its football team back to glory.
In selecting Jon Embree as the school's first African-American head football coach earlier this year, Colorado also restored a link to its glory years. Embree's playing career with the Buffaloes coincided with the beginning of the Bill McCartney era in the 1980s.
After a brief NFL career, Embree returned to Boulder as an assistant coach from 1993-2002 under McCartney, Rick Neuheisel and Gary Barnett. During that span, the Buffs enjoyed four 10-win seasons and earned bowl berths in all but two seasons. Embree subsequently worked as an assistant at UCLA and in the NFL with the Chiefs and Redskins. Now he's back in black and gold.
So as Colorado readies for its first season in the Pac-12, Page 2 caught up to Embree during his recent visit to ESPN headquarters. Here's what transpired:
Page 2: If you could take a mulligan on any coaching decision you've ever made, what would it be?
PAC-12 COACHES QUESTIONNAIRE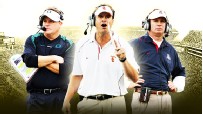 Which Pac-12 school has the most attractive cheerleaders? Best mascot? Most dapper coach? Page 2 quizzed the coaches themselves to get answers. Page 2's Pac-12 coaches questionnaire »
Embree: It would be 1994 -- first half of the Colorado-Nebraska game. Just replay that first half. I still believe we were the best team in the country that year. We didn't play well for 30 minutes, and we ended up finishing third in the country. We had Rashaan [Salaam], Kordell [Stewart], [Michael] Westbrook, [Christian] Fauria, Ted Johnson. ... We had tremendous talent, and we just played bad for a half. So I'd love to replay that one.
Your son Taylor is the leading receiver for UCLA. What's it going to be like coaching and scheming against him?
That's going to be weird. It's senior day, so at least I'll get to be there. I don't know. ... He's been their leading receiver in yards almost every year he's been there. It will be unusual. I already told him we're going to try to beat 'em. He wants to catch a ball on our sideline and try to run me over. But I'm proud of him that he got his degree in three years. That's what I'm proud of. No matter what happens that day, that's not going to change all the different things he's accomplished and all the different memories that we have and will continue to have.
What does it mean to you personally to be the first African-American head football coach at your alma mater?
It means a lot. I understand the significance of it, and I understand that it puts more on me from a standpoint of being successful to create opportunities for other African-American coaches.
What coach has influenced you the most?
Bill McCartney. ... I was in his first recruiting class at Colorado, then I started as a volunteer coach under him and got hired full time by him two years later. ... His ability to lead. His ability to get a group of guys to focus on the task at hand and not listen to outside opinions -- just to focus and trust what his vision was.
How much did your first coaching job pay?
Yeah, it was free. When I finally got hired [as Colorado's tight ends coach] it was $48,000 in 1993.
You were a part of the 1987 NFL players strike. What was that experience like?
I was at home. I was a rookie. I didn't have any money. ... I was at the house and picketing some with the Broncos, because my family was in Denver -- even though I was with the Rams. Did that for a couple days and I was like, "I don't know what this picketing is doing. Nothing." I just hung out at the house, and would work out and wait for it to get finished.
Who was your favorite athlete growing up?
THE PAGE 2 INTERVIEWS

Page 2 interviewed each of the Pac-12's head football coaches during their recent pilgrimage to ESPN headquarters. What did your coach have to say?

Colorado: Jon Embree


Arizona State: Dennis Erickson


Oregon: Chip Kelly


USC: Lane Kiffin


UCLA: Rick Neuheisel


Oregon State: Mike Riley


Washington: Steve Sarkisian


Stanford: David Shaw


Arizona: Mike Stoops


Cal: Jeff Tedford


Utah: Kyle Whittingham


Washington State: Paul Wulff

Also see:
• Miller: ESPN.com's Pac-12 blog
• Gallo's preseason Top 25 breakdown
I actually had two of them, Julius Erving and Marcus Allen. ... They made everything look effortless. Everything they did was excellent, and they did it without looking like they were straining.
What song or performer is on your iPod that might surprise people?
I have all kinds of stuff. Right now, I'm listening to Lil Wayne. That's what I'm playing a lot -- him and Wiz Khalifa. ... Sam Cooke.
Not counting your school, which Pac-12 university has the most attractive cheerleaders?
I don't know. See, I've been in the NFL the last five years. ... When I was in [the Pac-10, as a UCLA assistant from 2003-05], it was probably Oregon.
Not counting your school, which Pac-12 university has the best mascot?
No one. ... Nobody can compete with Ralphie.
What kind of personality does Ralphie have?
She's ornery. She feeds off the crowd. ... Don't go up there and stick your hand in to pet her now.
What would happen if you did?
Count your fingers when you bring 'em out.
Not counting yourself, who's the best-dressed coach in the conference?
You know, Lane has got some gear. He'd definitely be No. 2.
What's your favorite restaurant anywhere?
I have two of them. In town, it's Pasta Jay's in Boulder. If I can just go anywhere and eat, it's Mastro's. ... That's where I make Tony Gonzalez take me to dinner when I'm in town.
---
[USC coach Lane Kiffin walks by.]
Embree: Lane, I just gave you second best-dressed coach in the conference -- behind myself.
Kiffin: Really? I'm way behind Stoops. Way behind Stoops. Stoops is single now.
Embree: He's wearing cologne now, the whole nine.
Kiffin: He's drinking fancy wine. He used to be a Budweiser guy. He reads the same magazines as my wife now.
Embree: He ain't going back to Youngstown.
---
Page 2: What's your favorite place to vacation?
Embree: When was the last time I had a vacation? ... Pebble Beach. ... It's relaxing, and obviously, really good golf. That's a great combination.
Which opposing player are you most glad you no longer have to face?
Peyton Manning. That guy, I think I went oh-fer against him. I think we played him three times, maybe four, and all of them were close games.
What's a hobby or recreational passion of yours that might surprise people?
I don't know if it will surprise people, but I like golfing and I like music. I'd love to be able to go to concerts and do any of that stuff. ... My family always goes. I don't really get to go as much as I'd like to.
Do you play any instruments?
No, I leave that to [UCLA coach Rick] Neuheisel. I can't sing or play any instruments.
Cap or visor?
Visor. ... I don't know. I wear a cap during camp, but I just like wearing visors. Convertible or hardtop, right?
Thomas Neumann is an editor for Page 2.