Commentary
Utah Utes coach Kyle Whittingham: Q&A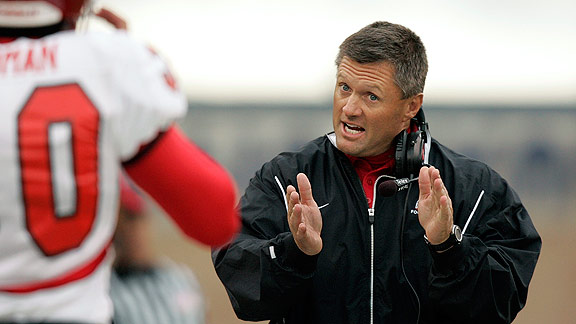 AP Photo/Douglas C. PizacKyle Whittingham is a BYU alumnus, but he's presided over the most successful era in Utah history.
Kyle Whittingham is shaping the legacy of Utah football before our very eyes.
The Utes completed the arduous task of earning a spot in a BCS conference on his watch -- to the tune of 33 wins in the past three seasons, including a 13-0 campaign in 2008 that secured a No. 2 national ranking.
The program has appeared in a postseason bowl in each of Whittingham's six previous seasons at the helm, going 5-1 in those games. Before that, he was the defensive coordinator under Urban Meyer, when the Utes enjoyed back-to-back 10-win seasons and became the first team from a non-BCS conference to win a BCS bowl. Since Whittingham joined the Utes' staff in 1994, the team has endured only two losing seasons.
Impressive credentials, indeed.
So, as the Utes set out to prove they belong among the BCS big boys in their first season in the Pac-12, Page 2 caught up with Whittingham during his recent trip to ESPN headquarters. Here's what transpired:
Page 2: If you could take a mulligan on any coaching decision you've ever made, what would it be?
PAC-12 COACHES QUESTIONNAIRE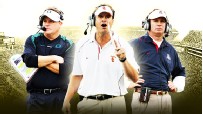 Which Pac-12 school has the most attractive cheerleaders? Best mascot? Most dapper coach? Page 2 quizzed the coaches themselves to get answers. Page 2's Pac-12 coaches questionnaire »
Whittingham: Hands down it would be when I let my emotions get the better of me and executed an onside kick against Wyoming when we were up 43-0 in the third quarter. In hindsight, let's just say I shouldn't have done it.
However, [Wyoming coach] Joe Glenn had guaranteed a win against your team prior to that game.
I let emotions get in the way of sound decision-making.
You played linebacker in the USFL. Do you have any memorable tales of organizational dysfunction or bounced paychecks from that league?
I was with two pretty good organizations, the Denver Gold and the New Orleans Breakers. So fortunately, our paychecks always cleared and were always on time. Both those organizations did things the right way. It was a good experience.
Did you ever get a chance to light up Rick Neuheisel?
I don't think I did. I can't recollect that.
What was your experience like as a replacement player with the Rams during the 1987 NFL players' strike?
That was unique, crossing that picket line in the van, with all the veterans rocking the van and spitting on the windows. I'm convinced most of it was an act and all for show, but that was a great experience.
Who was your favorite athlete growing up?
THE PAGE 2 INTERVIEWS

Page 2 interviewed each of the Pac-12's head football coaches during their recent pilgrimage to ESPN headquarters. What did your coach have to say?

Colorado: Jon Embree


Arizona State: Dennis Erickson


Oregon: Chip Kelly


USC: Lane Kiffin


UCLA: Rick Neuheisel


Oregon State: Mike Riley


Washington: Steve Sarkisian


Stanford: David Shaw


Arizona: Mike Stoops


Cal: Jeff Tedford


Utah: Kyle Whittingham


Washington State: Paul Wulff

Also see:
• Miller: ESPN.com's Pac-12 blog
• Gallo's preseason Top 25 breakdown
Secretariat. Hands down. I'm a horse racing fan and loved to watch him run. Those animals are spectacular -- just the strength and power.
What coach has influenced you the most?
My father, [Fred Whittingham]. No question about it. He was my position coach in college and really my mentor. I'm a defensive coach by nature. Everything I do or have done defensively -- scheme-wise or philosophically -- has come from him.
What's the biggest difference in moving from the Mountain West Conference to Pac-12?
The big change is the timing of the BYU game. That game has been at the end of the year forever. Now it's gonna be in the first three weeks.
How much did your first coaching job pay?
Idaho State University -- $18,000. … Linebacker coach and special-teams coordinator.
What song or performer is on your iPod that might surprise people?
Surprise? I don't know. There's nothing but classic rock. Lynyrd Skynyrd. The Eagles. Rolling Stones. The Beatles. Nothing but classic rock. That's the one constant in my life.
If you were stuck on a desert island and could have only one album, what would it be?
Best of the Eagles.
What's better -- new Eagles or old Eagles?
All Eagles
Not counting your school, which Pac-12 university has the most attractive cheerleaders?
Can't tell ya. Haven't seen 'em yet. First year in the league. Get back to me in December on that.
Not counting your school, which Pac-12 university has the best mascot?
Probably the guy who rides the horse at SC.
Not counting yourself, who's the best-dressed coach in the conference?
Gosh, you're asking me all these questions, and I've only been around these guys one day. … Goodness gracious, who would that be? Let's go with Neuheisel. He's always got that clean, preppy look going.
What's your favorite restaurant anywhere?
My wife's kitchen. She makes a killer crab pasta, loaded with garlic.
What's your favorite place to vacation?
Hawaii. Maui or Kauai. Those are the two places we spend the most time. … It's just a great getaway. It's far enough from home … just the pace and the environment.
Which opposing player are you most glad you no longer have to face?
Andy Dalton, TCU.
What's a hobby or recreational passion of yours that might surprise people?
I don't know if it will surprise anyone, but I'm a tennis player. Snow ski. Water ski. I don't really have any unusual hobbies. I started golfing this year. … Wakesurfing … In Salt Lake, we've got the best snow in the world. I live 12 minutes from Snowbird Resort, which is one of the top resorts in the entire world. In Salt Lake, you can ski in the morning and golf in the afternoon. It's awesome.
Cap or visor?
Usually neither, and never sunglasses. However, if the sun is a factor on our sidelines, I prefer a hat. It is my belief that a visor should only be worn by "The Head Ball Coach."
Thomas Neumann is an editor for Page 2.