Commentary
Oregon State coach Mike Riley: Q&A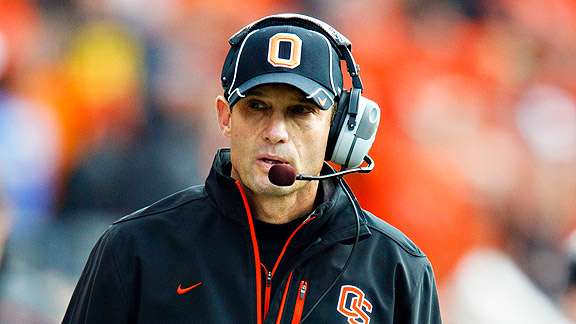 Jason O. Watson/US PresswireMike Riley is the only current Pac-12 head coach to have won a national championship as a player.
Oregon State coach Mike Riley knows the Pac-12 Conference just about as well as anybody these days.
He preceded and succeeded Arizona State coach Dennis Erickson as head coach of the Beavers. He was an assistant coach at USC from 1993-96. He served as a graduate assistant at Cal in 1975. Former Stanford coach Jim Harbaugh played for him with the San Diego Chargers. Cal coach Jeff Tedford played for him with the CFL's Winnipeg Blue Bombers. UCLA offensive coordinator Mike Johnson played for him with San Antonio of the World League and coached for him at Oregon State. And so on ...
As far as Riley's impact in Corvallis, consider that the Beavers have earned 13 bowl berths in their 93 previous football seasons. Riley has guided the program to six of them, and a strong case can be made that he laid the foundation for the three bowls Oregon State appeared in under Erickson.
Page 2 got the chance to interview Riley during his recent visit to ESPN headquarters. Here's what transpired:
Page 2: Who was your favorite athlete growing up?
PAC-12 COACHES QUESTIONNAIRE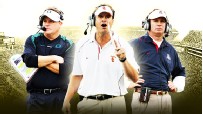 Which Pac-12 school has the most attractive cheerleaders? Best mascot? Most dapper coach? Page 2 quizzed the coaches themselves to get answers. Page 2's Pac-12 coaches questionnaire »
Riley: Joe Namath. ... It started with the fact that my uncle [Hayden Riley] was at that time the basketball coach at Alabama, so I was an Alabama fan. My dad was born and raised in Alabama. I think they had seven kids in the family, and my dad ended up being the only one who [left] Alabama. So all my relatives were in Alabama. ... Joe Namath was my earliest hero that I can remember. I was like the only guy in [Corvallis] High School, the only one, who was rooting for the Jets over the Colts. I was really treated badly about rooting for the Jets and liking the guy that had the white shoes and that would talk like he did -- guaranteeing a win over the sainted Baltimore Colts with Johnny Unitas.
You won a national championship playing cornerback for Bear Bryant at Alabama. Did they give you guys rings back then?
Yeah, I've got a national championship ring for 1973.
Do you ever break it out and show your players?
No. I should. They'd probably like to see it. ... You want a little humor about the ring? We were talking about [hypothetical] BCS playoffs and all those things. I said, "Hey, this is not a new story. There's been controversy over national championships for a long time." One of the fun things is fans can argue about it, and media people can write their opinions about it. In 1973, we won the UPI national championship. But we played Notre Dame in the [Sugar] Bowl game and lost by a point. They won The Associated Press national championship. So forever more, who really was the national champion? We got national championship rings. So did they. We called it our "Dewey Defeats Truman" ring.
If you could take a mulligan on any coaching decision you've ever made, what would it be?
I'd go back to Washington one year ago, going for two [in double overtime]. Shoulda just kicked and gone on and played some more football.
What coach has influenced you the most?
Bud Riley. When I was a kid, I was just a locker room gym rat. So I was always at practices, always with the coaches, with the players when I was in elementary school. But the thing that influenced me the most was how much my dad loved the game of football. He would study it and watch film, and he just loved the strategy of the game. The most important thing was the relationships he had with the players. I can't describe what it was, but I saw it and felt it. Subconsciously, that was what I was going to do. I never thought about doing anything else. ... My dad was a high school coach and a history teacher. When I went to college, I majored in history, got my teaching certificate and that's what I was going to do.
THE PAGE 2 INTERVIEWS

Page 2 interviewed each of the Pac-12's head football coaches during their recent pilgrimage to ESPN headquarters. What did your coach have to say?

Colorado: Jon Embree


Arizona State: Dennis Erickson


Oregon: Chip Kelly


USC: Lane Kiffin


UCLA: Rick Neuheisel


Oregon State: Mike Riley


Washington: Steve Sarkisian


Stanford: David Shaw


Arizona: Mike Stoops


Cal: Jeff Tedford


Utah: Kyle Whittingham


Washington State: Paul Wulff

Also see:
• Miller: ESPN.com's Pac-12 blog
• Gallo's preseason Top 25 breakdown
Since then, I've been around a lot of great influences, [such as] John Robinson at USC. I had so much fun coaching with him. He's the greatest I've ever seen in front of a team. It's awesome to hear John Robinson talk to a team. He's a great advocate for players, too. I love him for that.
My first job was at Linfield College in Oregon, a good football school. Ad Rutschman was the coach there for 25 years, a Hall of Fame college coach. He's the greatest teacher of football I've ever been around. You talk about teaching a guy how to do something -- block, drive block, reach block, defeat a block, backpedal, play-action pass, run a route, how to do it -- he was a teacher. He coached baseball, too, and won national championships in both sports. He taught baseball like that -- the mechanics of playing the game. I've never seen a guy teach somebody to hit with so many fundamentals. I learned a lot about that, because I ended up being a defensive coordinator for him in football and then the JV baseball coach. I worked with him all the time. He's was a great influence in my life.
How much did your first coaching job pay?
A $7,500 contract at Linfield College in 1977, but I was a full-time faculty member and taught in the physical education department. Then I was the defensive coordinator and JV baseball coach. I taught about four classes a term. I didn't recruit baseball. I recruited for football, obviously.
You coached the Chargers for three seasons. Do you keep a home in San Diego?
No, we don't. But we have friends there that we knew both inside of football and outside of football. We lived in Solana Beach. ... Good life. Like being in a small town, and the commute wasn't even bad. Really good people in San Diego.
What song or performer is on your iPod that might surprise people?
I think this would surprise somebody because they've never heard of him. But if you're from Texas, you know who he is: Bob Schneider. I really love Bob Schneider. I coached in San Antonio a bit, and my wife found a house on the Guadalupe River up Highway 281, and we've still got it. So we go down there, and Gruene Hall is our favorite place to go -- three or four times a week. We like all the local talent: Gary P. Nunn, Kelly Willis, Bob Schneider and whoever's playing.
As a matter of fact, my wife surprised me with my birthday party a year ago. She hired Gary P. Nunn to come to our house and put on a two-hour concert for us. It was all a surprise to me. I had coaches and their wives come down from Oregon State, and Billy Devaney, who's the general manager for the Rams, who's a great friend of mine, he shows up. All these people are walking into Gruene Hall, and I'm going, "What the heck?" We love that area and the people and the music and the food and that lifestyle, so we've kept that place.
Not counting your school, which Pac-12 university has the most attractive cheerleaders?
[Laughs.] You want me to make it up? Or do you want me to tell you I have no idea? If I answer that question, is my wife gonna say, "Are you looking at the cheerleaders?" [Laughs.] I've said all I'm gonna say right now. I'm sure they're all nice looking.
Not counting your school, which Pac-12 university has the best mascot?
We have some good ones. I have to say, there's no doubt, it's the Duck. And the worst, by far, is the Tree at Stanford.
Why is the Tree bad?
It's just horrible, and he's got a bad attitude, too. [Laughs.]
Not counting yourself, who's the best dressed coach in the conference?
Well, it's not me. John Robinson once, while we were in the locker room [at USC] getting changed after practice, said, "You don't care one bit about clothes, do you?" And I was thinking, "I don't think that's a compliment." [Laughs.] ... From what I can tell, it's Lane [Kiffin].
Cap or visor?
Cap. I've worn a cap in every game ever I've coached, and it's kind of in honor of my dad. My dad was a baseball cap guy, from Wallace [Idaho] High School all the way to the Canadian Football League, and I'm the same way.
What's your favorite restaurant anywhere?
Evergreen. Third Street, Corvallis, Ore.
Which opposing player are you most glad you no longer have to face and why?
Jake Locker -- he changes the game.
What's your favorite place to vacation?
Gruene, Texas.
What's a hobby or recreational passion of yours that might surprise people?
Reading and music. [My] favorite author is John Lescroart. [My] favorite musicians are John Prine, Gary P. Nunn, Kelly Willis, Bob Schneider, Augustana and Counting Crows' older stuff.
Thomas Neumann is an editor for Page 2.