Commentary
Arizona coach Mike Stoops: Page 2 Q&A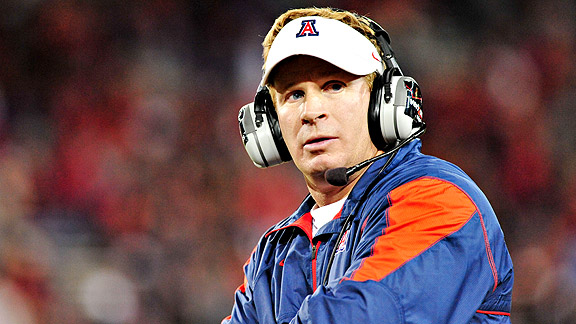 Chris Morrison/US PresswireMike Stoops and Arizona face three consecutive top-10 opponents in the first month of this season.
Arizona coach Mike Stoops doesn't receive the kind of national exposure that his older brother Bob enjoys.
Bob Stoops, of course, is the proud owner of one of the finest coaching résumés in the business, having piloted Oklahoma to eight BCS bowl appearances and a national championship.
Still, Mike Stoops enters his eighth season as head coach at Arizona having guided the Wildcats to three consecutive bowl games -- the first time the program has done that since 1992-94. He's also led the Wildcats to three consecutive winning seasons for the first time since 1993-95.
If that isn't enough, he's also the best-dressed coach in the Pac-12, according to his peers! Page 2 got the opportunity to interview Stoops during his recent visit to ESPN headquarters. Here's what transpired:
Page 2: If you could take a mulligan on any coaching decision you've ever made, what would it be?
PAC-12 COACHES QUESTIONNAIRE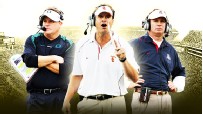 Which Pac-12 school has the most attractive cheerleaders? Best mascot? Most dapper coach? Page 2 quizzed the coaches themselves to get answers. Page 2's Pac-12 coaches questionnaire »
Stoops: We think we make the right decisions all the time! ... OK, my first year. We have 1:36 to go. We're playing Washington State. We've got the ball. We're up [by five points]. First down -- we give it to the running back, just trying to run the clock out. He runs up the middle, gets hit, the ball pops up in the air. They score three plays later, and we lose the game. Shoulda just taken a knee. We couldn't run the clock out, but we would've punted with very few seconds left. First Pac-10 game I ever coached. Screwed it up. ... It was the flukiest thing you've ever seen.
There's two: Two years ago, playing Washington, we throw a screen on first-and-10 with the same kind of scenario. We're up [five points], and the ball ricochets off our guy's foot, comes up in the air. They intercept it and run it back for the touchdown. We were up [five points with three] minutes to go in the game. It was wrong. It was crazy. ... We shoulda run the ball. It's a run-pass combination, and we just screwed it up. They said it hit his foot. It really hit off the ground, too. The refs messed it up.
You were a replacement player with the Bears during the 1987 NFL players strike. Can you describe that experience?
It was totally crazy what we were doing. ... We had to go, I think at night, and sneak in late at night [to the team hotel] in Philadelphia because it was such a union town. We had to sneak in, kind of like a secret reconnaissance mission into the stadium. ... I remember I got knocked out in that game, too.
You had previously played Arena Football in the first season of that league [in 1987]. What was that like?
I won the Iron Man award twice. I wish I had some tapes of those [games].
How badly did you guys want to keep playing football to play human pinball in that new league?
Desperately. No one wanted to go to work.
THE PAGE 2 INTERVIEWS

Page 2 interviewed each of the Pac-12's head football coaches during their recent pilgrimage to ESPN headquarters. What did your coach have to say?

Colorado: Jon Embree


Arizona State: Dennis Erickson


Oregon: Chip Kelly


USC: Lane Kiffin


UCLA: Rick Neuheisel


Oregon State: Mike Riley


Washington: Steve Sarkisian


Stanford: David Shaw


Arizona: Mike Stoops


Cal: Jeff Tedford


Utah: Kyle Whittingham


Washington State: Paul Wulff

Also see:
• Miller: ESPN.com's Pac-12 blog
• Gallo's preseason Top 25 breakdown
Who was your favorite athlete growing up?
I'd say Jack Nicklaus. ... He's from Columbus, and I was from Youngstown. ... My father was a big Nicklaus fan, and I know [Nicklaus] had a football background as well. His competitive spirit is what I always noticed in him.
What coach has influenced you the most?
My father had a big influence. ... He was a coach and teacher. We kind of grew up in that environment, and he was a very detailed and organized high school coach and very successful.
(In addition to his father, Ron Stoops, Mike also mentioned his college coach at Iowa, Hayden Fry; his defensive coordinator at Iowa, Bill Brazier, his boss at Kansas State, Bill Snyder; and brother Bob Stoops, whom he worked for at Oklahoma.)
How much did your first coaching job pay?
Kansas State -- $37,500.
What song or performer is on your iPod that might surprise people?
U2. Any of their stuff. It's all good to me.
Not counting your school, which Pac-12 university has the most attractive cheerleaders?
Oregon.
Not counting your school, which Pac-12 university has the best mascot?
Oregon. I love the Duck commercial you guys have.
Not counting yourself, who's the best dressed coach in the conference?
Me. They can't compare. I can't give anyone else credit for that.
What's your favorite restaurant anywhere?
Vivace in Tucson, Ariz.
What's your favorite place to vacation?
The Outer Banks of North Carolina. The natural beauty. They used to have wild horses running around. The isolation. Being in one of those big beach houses with my family. We would rent one, and we'd all stay in one house. It's a pretty spectacular place.
Which opposing player are you most glad you no longer have to face?
He's still around. [Andrew] Luck. LaMichael James. They're still here. ... I'd say Jake Locker.
What's a hobby or recreational passion of yours that might surprise people?
Shopping. ... All kinds. I love going to the grocery store. ... Because, I'm good at it. I know what fruit to pick out. ... I'm a regular. If they don't see me for a while, they ask me where I've been.
Cap or visor?
Visor. ... Just the style.
What's the best thing about living in Tucson?
The weather and the scenery. The natural beauty of it.
What's the biggest difference about the conference going from 10 to 12 teams?
An unbalanced schedule. It's the only thing I don't like about it. Nine games and an unbalanced schedule. We're in the South, and we've got to play Oregon and Stanford. [Two] teams don't play either one. ... You hope maybe over the years it evens out. But it just so happens this year, we're playing, theoretically, the best two teams. ... We're playing different teams than they are. Even though we play each one on our side, we could be good on our side, and lose to the other side and still not win the championship. ... Is that fair? ... To me, that's not the way it's supposed to be set up.
Thomas Neumann is an editor for Page 2.