Commentary
Washington St. coach Paul Wulff: Q&A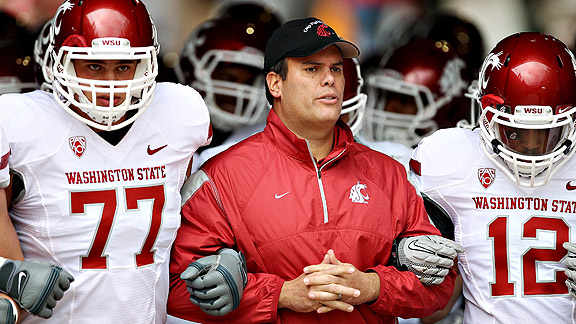 Ezra Shaw/Getty ImagesWashington State coach Paul Wulff firmly believes that the Cougars are building something special.
Paul Wulff has experienced both the highs and lows of Washington State football.
He played on the offensive line for Cougars teams that won just three games each in 1986 and '87. Then he played on the 1988 team that won nine games and finished in the AP top 20 under Dennis Erickson. As a senior, he played for Mike Price, who went on to lead the Cougs to two Rose Bowl berths.
Wulff enters his fourth season as head coach at his alma mater with a 5-32 record, but he knows the distance that must be covered to properly complete an extensive rebuilding project. So as Washington State aims for its first winning season since 2003, Page 2 interviewed the former Eastern Washington head coach during his recent visit to ESPN headquarters. Here's what transpired:
Page 2: How sick are you of hearing "Paul Wulff is on hot seat"?
PAC-12 COACHES QUESTIONNAIRE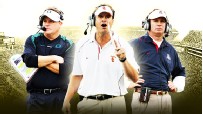 Which Pac-12 school has the most attractive cheerleaders? Best mascot? Most dapper coach? Page 2 quizzed the coaches themselves to get answers. Page 2's Pac-12 coaches questionnaire »
Wulff: It gets old, because I knew when I got there that we had a rebuilding job. I didn't know the extent of it. I didn't realize it was going to be as big of a job as it ended up being. But we're on pace, and we're doing great things. Our talent is way better. Our discipline is way better. Our grades are way better.
We got docked scholarships [for a low academic progress report score] the first year I got there. We had to dismiss a lot of kids that had off-field issues. We only operated with 72 scholarships my first year and 73 my second -- from a total of 85 -- and then 77 in my third. No human in the world is going to win enough games in those years for someone not to be called "on the hot seat."
It could've been Vince Lombardi there. It could've been Bill Walsh. No one was going to win games until we brought in enough talent, got some experience and got 'em older. ... We were playing seven freshmen on defense out of the 11 last year a lot of the season. You can't ask anyone to win at any level of college with that amount of youth on your program.
There's only five players that are still on our football team since I showed up 3½ years ago. So we'll bring in 100 new players this fall out of 105 in training camp. That's 100 that will be new in the last three years or less. ... You won't find that anywhere in the country. ... We're gonna be a good team. Not only are we gonna be good this year, we're gonna be even better the year after that and the year after that. It's really gonna take a jump. This isn't going to be a one-year wonder. I didn't come to Washington State to do that. It's my alma mater. I was going to do it the right way.
You've overcome some difficult things personally, yet you're also known as being a steadfast optimist. How do you get to a point where you're focused completely on the positive despite all the naysayers out there?
The majority of the naysayers are wrong, but they're never held accountable for what they say when they're wrong. They can write it or say it on the radio or say it to their friends in the shop, but when they're wrong they're not held accountable.
When I recruited all these kids that are currently in our program, I told them during recruiting that they were gonna lose when they came. They were gonna come in and play early, which was an advantage that few people could offer them, which was gonna make 'em better. But they were gonna get kicked in the teeth, and they were gonna lose some games. But ultimately, you're the ones who are gonna kick people in the teeth and bring Cougar football back and compete for a [Pac-12] title. That's the only way we can get there. Now, do you want that challenge? I lost some kids in recruiting because I was very frank, and then we also got great character kids that wanted that challenge. ...
People might think the kids would be disgruntled. Hell, our kids are so positive and happy about where we're at and what we're doing, because I laid out how we had to do it. So there's no surprises. The people in our football building are more optimistic than anybody out there. But in our world, people start looking at records and how many games and I understand that.
THE PAGE 2 INTERVIEWS

Page 2 interviewed each of the Pac-12's head football coaches during their recent pilgrimage to ESPN headquarters. What did your coach have to say?

Colorado: Jon Embree


Arizona State: Dennis Erickson


Oregon: Chip Kelly


USC: Lane Kiffin


UCLA: Rick Neuheisel


Oregon State: Mike Riley


Washington: Steve Sarkisian


Stanford: David Shaw


Arizona: Mike Stoops


Cal: Jeff Tedford


Utah: Kyle Whittingham


Washington State: Paul Wulff

Also see:
• Miller: ESPN.com's Pac-12 blog
• Gallo's preseason Top 25 breakdown
But our situation is way different than any other situation in the country. ... We wouldn't have beat Eastern Washington my first two years. I left a better team up the road, and it wasn't even close. Eastern Washington would've beat us by a couple touchdowns my first two years. That's how bad it was. But what's great is I always look forward, and I see the end of the road. I know what it's going to look like, and I know that our team is getting closer to what a quality team that can compete for championships should look like. We're closing the gap, and we're shrinking the field.
If you could take a mulligan on any coaching decision you've ever made, what would it be?
In 2004, [at Eastern Washington] we were in a semifinal championship game. ... We were ahead, trying to kick a field goal to go up by four and it got blocked on fourth-and-1. I should've went for it. I regret that, because they got the ball, went down the field and scored and won the game with no time left.
Who was your favorite athlete growing up?
Probably Michael Jordan. ... He's such a competitor and a hard worker. Then you add his natural gifts, and you don't get that combination very much.
What coach has influenced you the most?
Probably Dennis Erickson. ... He came in and [introduced] the philosophy of really opening the offenses up and spreading the ball out. We were really the first ones at the Division I-A level to spread the ball out in 1987 and '88. Just spread it out and have fun with it. Have fun playing the game. I think he's a players' coach in so many ways, and I thought he always allowed the players to be who they were. I always appreciated that, and I think he did the same thing with his coaches. He let them be who they were. He's not a micromanager.
What's it like having to match wits with him on the opposing sideline?
It's an honor to be able to coach against him. It's a lot of fun. So few people get the opportunity to coach against one of their mentors, so to be able to do that is very humbling.
How much did your first coaching job pay?
Nothing. I volunteered my first year. My first official job was a year after I volunteered, and I made $19,000 a year [as offensive line and strength coach at Eastern Washington].
What song or performer is on your iPod that might surprise people?
I don't know if this would surprise, but I'm a big Jason Aldean fan and a country kind of guy. But I also like hard rock. Guns 'N' Roses, AC/DC and Metallica are some musicians I used to listen to and still occasionally do.
Not counting your school, which Pac-12 university has the most attractive cheerleaders?
Boy, that's a tough one. There are two schools I'd have to put up there -- UCLA and Oregon.
Not counting your school, which Pac-12 university has the best mascot?
Probably the Trojan.
Not counting yourself, who's the best dressed coach in the conference?
That's not easy, because there's nobody I'd say was good. ... I'll go with Mike Stoops.
What's your favorite restaurant anywhere?
Wolf Lodge in Coeur d'Alene, Idaho. Steakhouse. Giant, giant steaks. They cook 'em indoors on open fire pits.
What's your favorite place to vacation?
Kauai in Hawaii. ... It's peaceful, and still has some traditional [feel]. It's not overpopulated. It's not commercialized. It allows you to explore the natural beauty and get to things and interact with it. That's what I like.
Which opposing player are you most glad you no longer have to face?
I was hoping it was Andrew Luck. ... Probably Stephen Paea, defensive tackle from Oregon State. He was a dominant disrupting force.
What about Jake Locker?
Yeah. Put him on there, too. ... As soon as the game was over last year, I saw him and told him, "I'm glad you're done."
What's a hobby or recreational passion of yours that might surprise people?
My daughter has show pigs that she shows in FFA and 4-H. I love working with them and helping her buy them, and I'll clean the pens for her. ... I grew up on a farm and had cattle and had pigs. I was in 4-H and FFA all the way through school. I've raised animals, and it's not been a part of my life since I went off to college at Washington State. Now I'm back, and it's back in my life. ... It completely takes me away from everything else.
Cap or visor?
Cap. I wear both, but generally the cap more often than not if the weather isn't great. If it's sunny and warm, I wear a visor. Anything else I wear caps, so I just generally wear caps more often than visors.
How do you recruit to Pullman, Wash., when your competitors are recruiting to places such as Los Angeles and Tempe, Ariz.?
You've got to cast a big net in terms of who you're reaching out and trying to communicate to. You tell them who we are and what we're about. We are way different from those schools, and a lot of parents don't want to see their kids in a big city. They want out of that, or they don't want those types of distractions. Being a college football player and a student-athlete is so challenging, and it takes up all your time. So if you're going to reach your ultimate goals -- which hopefully, that would be being the best player you can be and the absolute best student you can be -- you need an environment that's healthy for those things to be successful. In my opinion, you'll never convince me that being in a city -- in that environment with those types of distractions -- is healthier. It's not.
Thomas Neumann is an editor for Page 2.