Commentary
Washington coach Steve Sarkisian: Q&A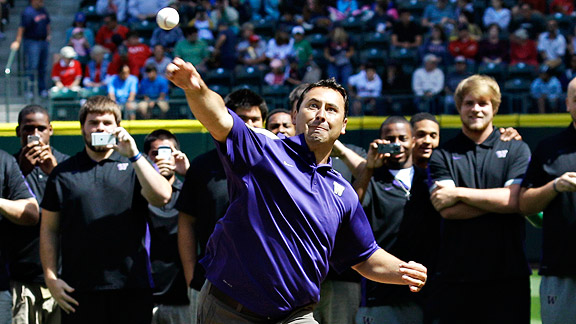 AP Photo/Ted S. WarrenWashington coach Steve Sarkisian uncorks a ceremonial first pitch for the Mariners earlier this month.
Washington coach Steve Sarkisian is already 2-0 against his former employer, USC, and his archrival, Washington State. He also piloted his program to an impressive Holiday Bowl victory over heavily favored Nebraska to conclude the 2010 season.
As the Huskies strive for greater success this season in year three of the Sarkisian era, Page 2 interviewed the former BYU star and Trojans assistant during his recent visit to ESPN headquarters. Here's what transpired:
Page 2: If you could take a mulligan on any coaching decision you've ever made, what would it be?
PAC-12 COACHES QUESTIONNAIRE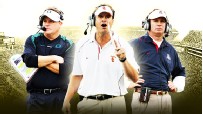 Which Pac-12 school has the most attractive cheerleaders? Best mascot? Most dapper coach? Page 2 quizzed the coaches themselves to get answers. Page 2's Pac-12 coaches questionnaire »
Sarkisian: We were playing Arizona State in 2009, my first season. We were backed up. I threw a deep ball on third down, instead of running it [to keep the clock ticking]. We had to punt the ball to Arizona State, and they threw a 50-yard touchdown pass to win the game [with five seconds left]. Bad decision. I would've ran the ball if I had it to do over again.
Were you offered the head coaching job with the Raiders in 2007?
Yes.
Obviously, you turned it down. What went into that decision?
I just didn't feel like it was the right fit. Every job that comes up, you assess separately. You look at the positives, the negatives, the future. I just didn't feel like that was the right job for me at that time.
Have you ever thought about appearing in a reality show? "Keeping up with the Sarkisians" has a nice ring to it.
Uhhh. I don't think I would mind it. But my wife would mind it.
Not counting yourself, who's the best dressed coach in the conference?
I think I'm the best-dressed guy. Without a doubt. Look at these shoes! Not counting myself? Mike Stoops. ... if you notice, Mike's always got a nice pair of shoes on. He accessorizes.
Who was your favorite athlete growing up?
THE PAGE 2 INTERVIEWS

Page 2 interviewed each of the Pac-12's head football coaches during their recent pilgrimage to ESPN headquarters. What did your coach have to say?

Colorado: Jon Embree


Arizona State: Dennis Erickson


Oregon: Chip Kelly


USC: Lane Kiffin


UCLA: Rick Neuheisel


Oregon State: Mike Riley


Washington: Steve Sarkisian


Stanford: David Shaw


Arizona: Mike Stoops


Cal: Jeff Tedford


Utah: Kyle Whittingham


Washington State: Paul Wulff

Also see:
• Miller: ESPN.com's Pac-12 blog
• Gallo's preseason Top 25 breakdown
Joe Montana. ... Because I was never the biggest, the fastest or the strongest, and I was just enamored with the way he played the game from a very cerebral approach. He always seemed to make the best plays at the most critical moments.
What coach has influenced you the most?
Pete Carroll, for sure, LaVell Edwards and my junior college coach John Featherstone [at El Camino JC in Torrance, Calif.].
How much did your first coaching job pay?
Zero. I coached at El Camino junior college.
How about your first paying gig?
Then I was a graduate assistant. Then I went to San Diego State, and my first job paid me $65,000.
What song or performer is on your iPod that might surprise people?
Jay-Z. "Young Forever" is the song. ... and also J-Boog, just to get people researching -- that's my favorite guy.
Not counting your school, which Pac-12 university has the most attractive cheerleaders?
Oregon.
Not counting your school, which Pac-12 university has the best mascot?
USC.
What's your favorite restaurant anywhere?
That's a tough call. I don't want to upset anybody in Seattle. Let's go with In-N-Out.
What's your favorite place to vacation?
Hawaii.
Which island?
All of them. I've been to almost all of them.
Cap or visor?
Visor all the way. Black visor. All day. Every game. ... I just started wearing a black visor when I was an assistant, and I never changed.
What's your perspective on the fact that the coaching trees are so intertwined in the Pac-12 because so many of you have worked together or played for one another in the past?
In some aspects, we're all pretty similar in the way we do things. We're all pretty much West Coast-type guys, with a couple exceptions. That's who we are. I think we're all good guys. We've all been around, and we've known each other from different places. This is a group of good guys that are great competitors and love to win and battle on Saturdays, but we're able to do a trip like this [to ESPN as a group] and get along really well with one another.
Which opposing player are you most glad you no longer have to face and why?
'Quizz Rodgers -- the guy was amazing!
What's a hobby or recreational passion of yours that might surprise people?
"[I] boat to work on Lake Washington."
Thomas Neumann is an editor for Page 2.