Commentary
Major preview of college football
Originally Published:
August 25, 2011
By
DJ Gallo
| Page 2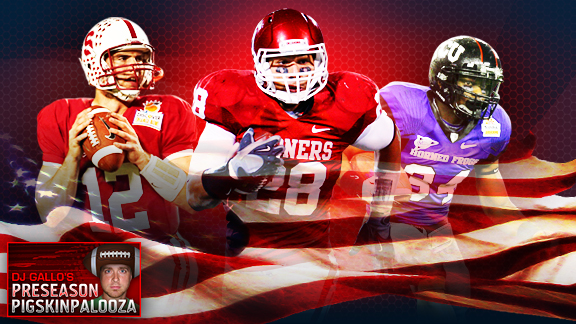 ESPN.com IllustrationAfter an offseason of scandal, it's time to celebrate the return of college football.
The college football offseason was full of scandal. But school is back in session and the games are about to start. So let's preview the season by assigning a fitting academic major to each team in the preseason Top 25.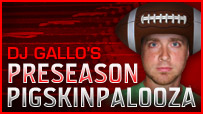 25. USC
Team Major: Philosophy
It's one of the great philosophical questions of our time: If a highly talented football team in a BCS conference can't go to a bowl game, does its season really even exist?
---
24. West Virginia
Team Major: Geography
Based on where they play, every year Big East "powers" West Virginia, Pitt and … UConn? -- yikes -- have a golden opportunity: Manage to go undefeated versus an easier schedule and maybe slip into the BCS title game. So far the problem has been going undefeated.
West Virginia, the only Big East team ranked in the preseason poll, has its toughest test of the season Sept. 24 when LSU comes to Morgantown. Last year the Mountaineers lost 20-14 to LSU on the road. If they can pull the upset a month from now, they'll take a major step toward celebrating a spot in the BCS championship game. Either way, you can bet Dana Holgorsen will enjoy some champagne.
---
23. Auburn
Team Major: Elementary Education
Junior Barrett Trotter has been tabbed to fill Cam Newton's big (and expensive?) shoes at quarterback. Trotter has thrown nine passes in his college career. Auburn has one wide receiver returning who caught more than three passes last year. But Auburn receivers coach Trooper Taylor told the AP that the passing offense is making great strides: "Now that we have a starting quarterback and getting timing down with routes, it's really improved a bunch." I'll take his word for it, even though "Trooper Taylor" is obviously a made-up person.
---
22. Florida Gators
Major: Psychology
New head coach Will Muschamp is trying introduce a new mindset to the Florida program. Based on his face on the cover of the Gators' media guide, that mindset is intensity. Probably. It could also be that he suddenly realized it was his day to pick up the kids after school. Or maybe the cuisine in Gainesville is not agreeing with his colon. But, again: probably intensity.
---
21. Missouri
Major: History
The Tigers return nine starters on offense and eight on defense. If the Big 12 was still intact, Missouri would be a heavy favorite to win the North. Unfortunately for the Tigers, the Big 12 is not still intact -- and now their 2011 schedule includes Oklahoma State and Texas, as well as trips to Oklahoma and Texas A&M. But the loss of divisions isn't all bad: The Tigers get to play Baylor every year now.
---
20. Mississippi State
Major: Dramatic Arts
The 2011 SEC West could be one of the best divisions in college football history, featuring preseason No. 2 Alabama, No. 4 LSU, No. 15 Arkansas and defending BCS champion Auburn. Maybe it's time Mississippi State and Ole Miss let the bad blood go and joined forces.
---
19. Georgia
Major: Meteorology
On the heels of a 6-7 season, Mark Richt's hot seat will increase in temperature if Georgia drops its brutal opening games against No. 5 Boise State and No. 12 South Carolina. And considering that the Boise State opener was scheduled by new athletic director Greg McGarity, you have to wonder whether he's trying to set Richt up for dismissal. Mark, if you're reading, whatever you do, don't accept McGarity's offer to scrimmage a team of prisoners from a nearby jail. They're actually quite good, and many of your players will get hurt.
---
18. Ohio State
Major: Exploring
That was Terrelle Pryor's listed major last year. Really. Either that means he was still exploring major options -- as a junior in college -- or Ohio State offers an exploring major, perhaps in hopes that its students will follow in the footsteps of famous explorers such as Columbus and Vasco da Gama and find a beautiful, undiscovered land free from NCAA oversight. Set a course for Miami!
---
17. Michigan State
Major: Communications
The Spartans' hopes hinge on the play of Kirk Cousins. The senior quarterback has the freedom this year to call plays at the line of scrimmage. Does he have the experience and maturity to do it successfully? Or will the urge to yell out Ohio State and Michigan jokes be too great?
---
16. Notre Dame
Major: Marketing
Brian Kelly has named Dayne Crist the Irish quarterback, saying "We have great confidence in his ability to lead our football team to a championship." (Kelly is still new to the job. And since a BCS championship isn't realistic this year for Notre Dame, you have to wonder whether he thinks "Independent" is a conference that has a title the Irish can win. Whatever. Innocent mistake.)
If Crist plays well, he can return Notre Dame to relevance and put himself in the Heisman conversation. And that's where marketing comes in. Former Notre Dame quarterback Joe Theismann changed the pronunciation of his name to rhyme with "Heisman," so why can't Crist say his name is pronounced "Christ"? Christ for Heisman. Good luck finding someone who won't vote for that.
---
15. Arkansas
Major: Pre-Med
The Razorbacks suffered a major blow in the preseason when Knile Davis, the SEC's leading rusher, suffered a season-ending ankle injury. They'll need to keep backups Ronnie Wingo and Dennis Johnson healthy to compete in the SEC West. Although one way to keep them healthy would be to never run the ball and pass on every play. You know that late at night, when he's alone, Bobby Petrino has fantasized about this.
---
14. TCU
Major: Zoology
The last eight BCS title winners were as follows: Tigers, Trojans, Longhorns, Gators, Tigers, Gators, Crimson Tide (an elephant) and Tigers -- intimidating creatures all. You can blame TCU's inability to get to the BCS title game on their conference, but maybe being named for the kind of animal that can easily be defeated with a pair of work boots hurts its perception even more. Step on a frog and it's dead. Step on a tiger, soldier, steer, gator or elephant, and you're dead.
---
13. Virginia Tech
Major: Engineering
The Hokies are replacing their starting quarterback, top two running backs and five starters on defense. So it's fortunate they can ease into the season with a cupcake-filled nonconference schedule: Appalachian State, East Carolina, Arkansas State and Marshall. Whew! No game against powerhouse James Madison this year. Give their AD a raise!
---
12. South Carolina
Major: Gym
Marcus Lattimore is a star at running back. But the Gamecocks need a distraction-free season from Stephen Garcia to keep the pressure off Lattimore. Considering that Garcia's courseload this semester includes Archery and a Navy SEALs class, he should be able to keep his mind on football.
---
11. Wisconsin
Major: Organizational Leadership
Bret Bielema has transformed Wisconsin into a program on the rise. And with Ohio State's fall from grace and Penn State still mired in near-mediocrity, the Badgers are an easy bet to win the first Big Ten Leaders Division title. And that's something to be proud of. (Note: Change "proud of" to "mocked for" if read outside Big Ten territory.)
---
10. Nebraska
Major: Geography
Nebraska has a new home, and it's the Big Ten. Specifically: the Big Ten Legends Division. Because when I think of a legendary program of the Big Ten, I think Nebraska.
---
9. Oklahoma State
Major: Natural Resources Management
Like T. Boone Pickens would allow them major in anything else. Quarterback Brandon Weeden and receiver Justin Blackmon can frack apart even the toughest team, leaving the opponent's defense burning like tap water flowing out of a sink.
---
8. Texas A&M
Major: Public Relations
The Aggies' Big 12 road schedule this year includes games at Texas Tech, at Iowa State, at Oklahoma and at Kansas State. Expect them to get booed heartily at each. Well, even more than normal. And then expect those boos to be followed by whispered questions like: "Hey, Aggies, apologizes for the booing. You guys understand. But I wanted to ask: If you guys get into the SEC, do you think you could put in a good word for us?"
---
7. Stanford
Major: Creative Writing
After a college football offseason full of scandal, prepare to be deluged with positive stories about Andrew Luck's decision to return to Stanford for his senior season. And for good reason: He should be commended for coming up with a good way to avoid the Carolina Panthers. Now he just needs to find the right grad school program to miss out on the Bengals.
---
6. Florida State
Major: Undeclared
The Seminoles' season could go any number of ways. They have received a lot of preseason hype for a team breaking in a new quarterback in EJ Manuel. He'll need to hit the ground running because Florida State's national title hopes hinge on their Sept. 17 home game against Oklahoma. But even if they lose that, FSU should still dominate the ACC and have a good season. And even if they don't win a single game, the Miami story is enough to keep them happy for at least a decade or two.
---
5. Boise State
Major: Design
Boise State has to have a complex by now. The Broncos can't get any love from the BCS, then they join the Mountain West Conference and Utah and TCU instantly leave. It's probably the way they look. I'll say it: Our country has something against blue people. This -- and a pinch of terrible writing -- is what did in "The Smurfs" movie, too.
---
4. LSU
Major: Criminal Justice
Everything was lining up for a great season in Baton Rouge, and now a stupid bar fight has the potential to sink the season. I just hope the Tigers players get an attorney who manages the clock better than Les Miles. Attorney Miles would foolishly wait to enter a "not guilty" plea until after his client was sentenced to jail.
---
3. Oregon
Major: Economics
The Ducks will have to play under a cloud all season as they still face questions about the fees paid to agent/scout Willie Lyles, who claims he steered Heisman candidate LaMichael James to Oregon. And while the ethics should be a concern, the money the program is spending shouldn't be. Oregon has an unlimited flow of cash as long as there are vision-impaired Oregon fans willing to plunk down money for a new alternate jersey.
---
2. Alabama
Major: Botany
The college football offseason was so dirty we almost forgot about the scandal dealing with actual dirt: the poisoning of the Toomer's Corner oaks by an Alabama fan. Harvey Updyke, the accused herbicider, will go on trial around the time of this year's Iron Bowl. Updyke faces felony criminal charges including criminal mischief and desecration of a venerated object. I had no idea desecration of a venerated object was a crime. This really opens up a whole can of worms. Can this Alabama fan be tried for desecrating the image of Bear Bryant?. What about the guy who did this to Nick Saban? It's a slippery slope. We could end up with the entire state of Alabama in prison.
---
1. Oklahoma
Major: Forestry
If Oklahoma stays No. 1 all season, Landry Jones will likely surpass Luck as the Heisman favorite. It is then that he could make real history. By regrowing his mustache, Jones would become the first mustachioed Heisman winner in history (the pencil-thin 'staches sported by Mark Ingram, Troy Smith, Billy Sims and others don't count) -- and his facial growth would be preserved forever in portrait form, just like Sims' fro and Archie Griffin's muttonchops. Plus, "A Real MAN Has a Mustache/Vote for a MAN for HeisMAN" might be an even better slogan than "Christ for Heisman."
DJ Gallo is the founder of SportsPickle.com. His first book, "The View from the Upper Deck," is available from only the finest bargain-book retailers. His next book project will be released soon. You can follow him on Twitter at @DJGalloESPN.