Commentary
Almonte can't steal Oceanside's spirit
Originally Published:
August 26, 2011
By
Doug Williams
| Special to Page 2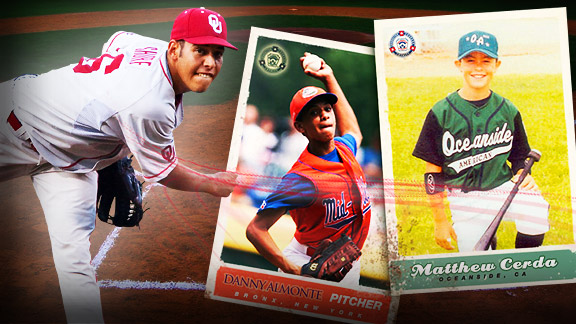 ESPN.com Illustration
Officially, it never happened.
Officially, Danny Almonte never struck out 16 of 19 batters, didn't throw a one-hitter and certainly didn't beat Oceanside American 1-0 in the U.S. semifinals of the 2001 Little League World Series.
Look it up. The Little League record book credits Oceanside with a 6-0 forfeit win on the night of Aug. 23, 2001.
Unofficially? The official records are a crock.
Almonte and his teammates from the Bronx, N.Y., did shut out Oceanside, denying the kids from California a chance to play for the U.S. championship and, perhaps, play Japan in the final. Millions saw it.
The West vs. East clash featuring Almonte, who was throwing like a little Sandy Koufax, drew unprecedented attention. With an estimated 3.32 million viewers, it remains the most-watched LLWS game ever on ESPN.
Though Almonte later was ruled ineligible for being too old, his team's victories and records wiped from the books, he dominated an Oceanside team that was hitting .333 coming into the game, a team that had come out of the West with an 18-0 record behind a trio of outstanding pitchers and was 20-1 overall.
The reality was that Oceanside had to go home the next morning, not the Rolando Paulino All-Stars from the Bronx.
OUTSIDE THE LINES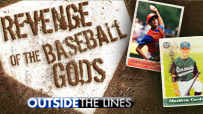 In the 2001 Little League World Series, Danny Almonte made Oceanside, Matthew Cerda cry. In the 2008 MLB first-year player draft, Cerda got even.
• OTL: Revenge of the Baseball Gods
Ten years later, Oceanside manager Daryl Wasano is left wondering.
"For me, the ending was, 'What if?'" he says. "What if he wasn't eligible? Or what if he wasn't there? Did we have a team that could have gone all the way? I think we could have. But that's the question I have, 'What if?'"
Remarkably, there is little bitterness from Oceanside players or coaches toward Almonte or the adults who tried to pass him off as a 12-year-old. Mostly, the 13 kids -- now young adults scattered across the U.S. -- say they're grateful they had the chance to play in South Williamsport, Pa., to meet other kids from around the world and to experience something special. The whole experience was positive.
That they caught a tough break in having to face someone literally out of their league isn't worth crying about.
"We had a good game, man," says Thomas Eukovich, who pitched against Almonte that day and gave up just one tainted run, thanks to a controversial missed call at second base. "It was such a nail-biter. They only won 1-0, and it really showed how good our team was, because even with a 14-year-old on the mound -- and I think they had some other 14-year-olds from what I heard -- they still only beat us 1-0."
Said Wasano: "They knew they had to throw Danny Almonte against us to beat us."
This month, as another crop of 12-year-olds gathered in Pennsylvania to play for the Little League World Series title, many of Oceanside's former boys of summer admit they're still hooked on the event.
As they tuned in this year to watch another story unfold, they remembered what the 2001 experience was all about.
The professionals
All the hype in 2001 was about Almonte, but 10 years later, Almonte's baseball days are over. Meanwhile, two Oceanside players -- the two smallest -- are in the minor leagues.
Matthew Cerda, Oceanside's 4-foot-10 catcher, grew almost a foot and became one of the best hitters to come out of Oceanside High School. He was drafted in the fourth round by the Chicago Cubs in 2008, and he's now an infielder for Class A Daytona in the Florida State League, hitting .282.
Bobby Shore, who was limited to pinch-hitting during the LLWS because of an arm injury, pitched in the College World Series for Oklahoma, was drafted by the Seattle Mariners and is now pitching for the Rookie League Pulaski (Va.) Mariners in the Appalachian League.
[+] Enlarge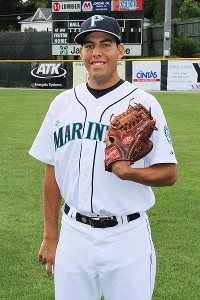 Photo courtesy of Pulaski MarinersBobby Shore went on to pitch for Oklahoma in the College World Series and now is a rookie in the Seattle Mariners organization.
"Cerda and I weren't the tallest guys on the team," recalls Shore, who has grown a foot from 5-foot-1. "We grew up and I think we just worked harder, loved the game a bit more and we caught up to the other guys.
"... You ask anyone at the time who would be playing professional baseball, you definitely wouldn't have picked me. They could have seen Cerda. Cerda was a little catcher who everyone loved to watch play. But I wasn't exactly projected to play professional baseball at the time."
When Shore thinks back to having to face Almonte, he laughs and says, "It didn't go so well."
It was strike one, strike two, strike three, despite pregame preparation that included his dad throwing to him as hard as he could from 30 feet away.
"We knew Almonte was going to throw gas," Shore says.
Just this week, he was watching the LLWS with some of his Pulaski teammates and telling them he wished they had the instant-replay challenge in 2001 that exists now. In Oceanside's loss to the Bronx, the only run of the game scored after a runner missed second base. Oceanside appealed it, but the base umpire ruled the runner touched the bag -- even though TV replays showed he didn't.
It was that call, even more than being beaten by an ineligible player, that Shore and some of his teammates cite as being the hardest thing to accept.
As Shore tries to work his way up to the majors, he's hoping for another World Series shot. He played in the LLWS and the CWS. Why not the real World Series too?
"That would be quite a story," he says, chuckling. "Not many people have done it."
The pitcher
Eukovich, 23, a junior at Cal State Fullerton, was one of three outstanding starters for Oceanside, along with Johnny Jimenez and Taylor DeMille.
Matched against Almonte, he struck out five in six innings, giving up just one run.
He was one of the most notable of Oceanside's players, looking a little like Mark Fidrych with his blond locks and an unflappable demeanor. He was an avid skateboarder dealing with diabetes (as he still does).
He still skateboards and loves baseball. This week, he got caught up watching the 12-year-olds, just as he does every year. It reminds him of what he says was "our 15 minutes of fame."
"Are you kidding me? I love it," he says. "It's so fun to watch because they're just kids. You see them cry and all these things. It puts it into perspective what it was all about. It was so much fun to experience."
In high school, he walked away from baseball to skate and got several sponsors. Today, he skates just for fun. And last year he had a blast playing in an adult baseball league.
When he thinks back to 2001, mostly he just remembers the parade in Oceanside when they returned, signing autographs and the joy they had playing against the best. He has no ill will toward anyone.
He does remember taking part in a photo shoot with Almonte and other players when he arrived at Williamsport and thinking, "Wow, there's no way this guy's 12."
"Obviously, I look back, and I think we were cheated now," he says. "But the one real emotion that it stirs is just confusion. Looking back, I just don't understand why adults would pick Little Leaguers to cheat. It just boggles my mind why they would think, 'Oh, I got the perfect con. We can get some 14-year-olds in Little League, and that's how we can achieve a level, get his name out there and hopefully people will remember and he can reach the pros.' I'm just baffled."
The slugger
As a 12-year-old, first baseman David Carroll was 5-foot-10, 185 pounds and capable of mashing the ball. It was his three-run, walk-off homer that gave Oceanside a win in its second game in the LLWS.
Today, Carroll works as an EMT in Mesa, Ariz. About Almonte, he says, "It is what it is. We still almost beat them even though they were older than us."
He remembers the talk during the tournament that Almonte was 14 but says it wasn't anything the players or coaches focused on.
"Either way, we had to go out there and beat him, whether he was 14 or 12," he says.
Like others, he says the missed call at second was the most vexing aspect of the loss.
"Who knows what would have happened," he says. "Almonte would have had to come out of the game, and we would have scored runs against any other pitcher they had, so it was a shame."
This week, as he was watching the LLWS, he caught himself thinking, "Honestly, I compare our team to the teams now, and I think we could have beat any of them."
The manager and coaches
Wasano says he wouldn't have time to manage a Little League team today. The downturn in the economy and fishing industry -- he has a company called Sumo Tackle in Oceanside -- keeps him too busy.
But he treasures the experience. It ended on a sour note, but the trip was sweet.
He actually feels sorry for Almonte, whom he says was exploited.
"Those people that did what they did, they have to live with it," he says of the adults around Almonte. "As far as do I feel any animosity toward them? No. It's just unfortunate what happened. And of all the times for it to happen, it had to happen exactly when we go there."
Dennis Carroll, a coach, remembers the kids instantly getting over the loss.
"There wasn't a kid on the team that I would say was angry or even really bitter," he says. "They were just over it. I mean, they're kids, just 12 years old."
The team
Mike Noble -- who played center field for Oceanside -- is the grocery manager for a health food company in San Diego County, engaged to be married and planning to own his own health food store one day.
He's still playing ball in an adult league and stays in touch with many of his former teammates. He laments the fact that Oceanside is forever joined at the hip to Almonte. The only time Oceanside is mentioned is in relation to one of the biggest scandals in Little League history.
But mostly he remembers the summer-long excitement of winning followed by a too-sudden ending.
As he dug in to face Almonte that day 10 years ago, he wasn't thinking about Almonte's age or whether it was unfair. He was just trying to make contact.
"I struck out like most," he says. "It was pretty intimidating."
The only player to get a hit that day was Johnny Jimenez. Jimenez is in the Army, stationed in Georgia with his wife and three children. Another teammate, Richard Cranford, also is in the Army.
Chris Scheunemann works for Legoland studios in Carlsbad, Calif. Josh Klimek has studied to be a paramedic. Tyler Varnals is a student at the University of Redlands. Wyley Szabo works for an energy company in Eau Claire, Wis. Josh Harris, who taught English in Korea for a while, is about to start graduate school in British Columbia. Taylor DeMille, who moved to Georgia and then returned to San Diego County, hasn't reconnected with his former teammates.
Noble says most of the players have stayed in touch, at least through Facebook.
When they do get together in small groups, conversation inevitably turns to "what if?" What if there were a rematch?
"We joke around every once in a while," Noble says. "We wonder what would happen if we got their team together now and our team together now and had a little game to see how that goes."
Unofficially, of course.
Doug Williams is a freelance writer based in San Diego.