Commentary
James Blake doesn't do grunt work
Originally Published:
August 27, 2011
By
Laura Lane
| Special to Page 2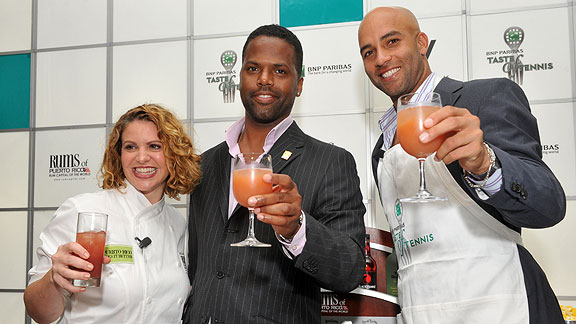 Diane Bondareff/AP ImagesChef Michelle Bernstein, TV personality AJ Calloway and tennis star James Blake lead a toast.
Tennis pro and New York native James Blake might feel right at home in the city for the U.S. Open, but when he was asked to host one of the pre-U.S. Open festivities, the BNP Paribas Taste of Tennis alongside celebrity chef Michelle Bernstein, it was a different story. Blake has never actually used his own kitchen -- ever.
"I feel like it's so easy to order in or go out and I'm so used to going out on the road that it comes naturally to me," says Blake, who got a mini-lesson from Bernstein at the event. "I never really learned how to cook."
Page 2 sat down with Blake to talk about other non-cooking related things such as what he really thinks about women grunting in tennis, his superstitions and the other James Blake -- the one who's getting all the Google alerts.
Did you know there is a musician named James Blake?
"I did! A couple friends of mine Google alert my name and he's getting very popular and they say, 'We're tired of getting these alerts every day and it's not you. It's some guy in England.' He's definitely up and coming. We'll have to meet, and one of us might have to change it to Jim so it stops the confusion."
I noticed he has the @JamesBlake Twitter handle. You didn't lock that down?
"I'm not Twitter- or Facebook-savvy at all, so let him have that. He can do all the social media stuff. I'm public enough. I don't need people knowing every time I run to the grocery store or anything."
Understandable, but your pal Andy Roddick is all about Twitter, and I have to say, he's pretty funny.
"Andy is funny. Andy I think has a little more to say. I'm a little more quiet."
When's the last time you hung out with your childhood pal John Mayer?
"I saw him during the L.A. Open this year, three weeks ago. He's doing great, unbelievable. I'm so proud of him always, and he has actually already agreed to do my charity event in November, so I'm thrilled. He did my first one and he's going to do this one. I know tickets will go quickly once everyone knows that he's going to be performing."
He's always dating pretty famous people like Jennifer Aniston; what about you?
"I've never really gone the celebrity route, but if I was in the position he's in, that's probably who he's around a lot more. I'm not around as many people like that but I've got the greatest girl in the world so I can't complain about a thing. I don't want to get into naming, but she's awesome."
We played poker together a while back, and I've talked to professional poker players about their superstitions. Do you have any when it comes to tennis?
"It's funny, I've got a ton in tennis, I never have any in poker and everyone tells me the longer I play, the more I'll have. I'm sure that's true because it's the same in tennis. When I started, I didn't have any, and now I have so many because if something works you just kind of stick with it and it gets stuck in your head."
So what are they?
"Same breakfast, whatever it was for the first match. On the court, I have to get the balls from the ball kid closest to the umpire before I serve, every time. I have to have the same routine when I sit down on the changeover. If I get broken, I get to change the routine. Otherwise it's the same: drink from the Gatorade, drink from the water and then go to the towel."
I'm curious to know what your thoughts are on the dispute over grunting in tennis? I find it all hilarious.
"I think it's pretty funny, too. When I was first starting on tour, Monica Seles was the big deal, how much she was grunting, and now I feel like she'd be considered quiet on the women's tour. I think some people need to do it, exhaling when you hit. It's always been taught as being healthy, but some of it sounds like screaming. I don't know how that's healthy, because I feel like you've got to think about it. The ones that I'm surprised by are the ones that don't do it in practice and then they go out on the match and it's that loud. I've never understood that. It's never bothered me when I've played against people that are grunting loud. I feel like I'm just worried about my side of the court and not theirs. I don't know how the fans like it because it could probably be distracting to them."
It seems like people get upset about the women more than the men.
"Well, I just think the women are louder. I don't know. I could be biased because I'm out there on the men's tour not noticing it as much, but I think they're just so loud. Some of them really seem like they're shrieking, and maybe it's just that it's more high-pitched and you can't hear it as well when the guys are a little lower."
How hung up do you get about tennis rankings? [Blake's ATP world ranking: No. 63]
"I don't worry about it too much now that I've gotten a little older. I've run the gamut of being up pretty high and being down pretty low. I don't feel like it always indicated how well I'm playing. Right now I feel like I'm playing very well, probably better than my ranking indicates, and there were times when I didn't feel like I was a top-10 player when I was a top-10 player. I don't worry too much about it. I just focus on that day of practice and that match coming up next."
Laura Lane is a regular contributor to ESPN.com, OK magazine and Esquire.com. She can be reached at laura@lauralane.com.