Commentary
Patrick Dempsey driven to succeed
Originally Published:
September 1, 2011
By
Sam Alipour
| ESPN the Magazine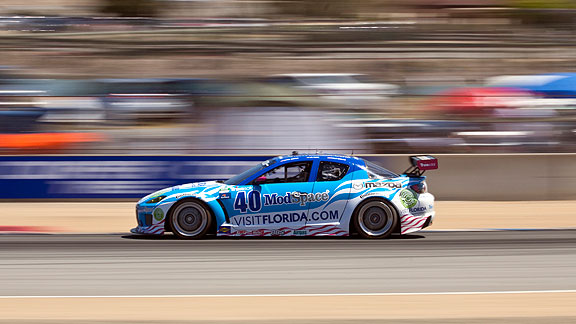 Alison Merion Padron Patrick Dempsey had three top-10 finishes in 2010 in the GRAND-AM Rolex Sports Car Series.
MONTEREY -- The driver of the No. 40 Mazda RX-8 GT sprang clear of his vehicle, leaped over the pit road barrier and jogged to his war wagon's monitor, eager to see where he stood in the standings.
"F--- yeah!" he yelped, before slapping fives with anything that moved.
The race -- the Continental Tire Festival of Speed at Mazda Raceway Laguna Seca, held in July -- wasn't over. The racer was merely swapping out for his co-driver at lap 27, after gaining three positions from 12th at the pole, a stellar if not spectacular showing in a 45-minute stint with the vehicle. But the driver was ecstatic, a total live wire.
It was at this moment when the crowd around his pit stall freaked out, too. There were squeals, a chorus of camera clicks and what appeared to be an incident of fainting -- all because the driver removed his helmet.
Yeah, McDreamy really is a dreamboat. But back to the racing thing...
[+] Enlarge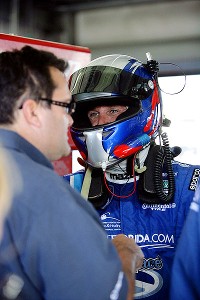 Alison Merion PadronDempsey has deftly played the celebrity role to find sponsors for his Dempsey Racing team.
"I want to get faster, but the best thing I can do is stay consistent," Patrick Dempsey, the film and television heartthrob and driver of the No. 40 Mazda, will say later of his midrace enthusiasm. "It's like an ensemble, and I'm playing my role, which is to stay patient, keep off the curbs, and hand the car off in one piece. You can't get greedy when you're out here with guys who've been doing this for 20 years. But today's race was a step in the right direction."
Dempsey, who is known by the English-speaking masses as "Dr. McDreamy" for his role on ABC's "Grey's Anatomy," talks like that nowadays. And because he talks like that, about his humble approach to competitive driving, he races like this: pretty damn well. In only his fourth full season of GRAND-AM Rolex Sports Car Series GT class competition, the lead driver and owner of Dempsey Racing is one of the most talked-about newbies in sports car racing, coming off a career-best three top-10 finishes in 2010, including a sixth-place finish at the Rolex 24 in Daytona. At this year's Rolex 24, in January, he led for a career-high 28 laps before finishing third, earning his first trip to the podium.
"Getting to the podium at Daytona blew the doors open," says Dempsey, who rose to fame in '80s teen comedies like "Can't Buy Me Love." "Suddenly, you're very credible as a driver. The other drivers look at you different. But more than that, it was a feeling, like it all clicked for me. I can do things I didn't think I could do. I've arrived."
Don't buy it? Ask the guys who drive for a living.
"There are drivers who you want to stay away from out there. Patrick isn't one of them," says Jon Fogarty, driver of the No. 99 GAINSCO and two-time series champion. "He's a good driver and he's committed. He isn't an actor who drives; he seems like a guy who has an acting gig just so he can race cars, which is pretty cool."
Dempsey's journey from set to track began in 2004, when his wife, Jillian, gifted to the longtime racing aficionado a three-day Skip Barber Racing School course, saying she was tired of seeing him on the couch, watching races. Hooked, he set about his slow and steady rise, focusing on schooling and celebrity races before debuting with the series in 2007. He partook in nine contests in '08, finishing a season-best ninth at Montreal. In '09, he finished sixth at mid-Ohio and ninth at the famed 24 Hours of Le Mans endurance race. After his breakthrough 2010 season, the podium finish at Daytona and another top-10 finish in Seattle last month, one thing is clear.
"We can make him into a race winner," says Joe Foster, Dempsey's co-driver and former instructor. "Maybe it's the actor in him, but he takes direction well and he has no fear. And he's willing to take small bites at the apple. With those tools, the sky's the limit."
Dempsey isn't the first actor to find success at the track. Steve McQueen won the 12 Hours of Sebring in 1970. Paul Newman won a slew of races across several series. But Dempsey may be the first of his kind to consider himself a driver first. Ask Jillian Dempsey about her husband's priorities, and she'll sound like a jilted lover. "If I could turn into a race car at home, he'd probably like that," she kids. "Patrick isn't just dabbling in racing. It's his addiction."
Dempsey seconds that notion.
"I can't not race," he says.
Does he feel the same way about acting?
"No, acting is completely unsatisfying," he says. "There's nothing tangible about it. In racing, you're either fast or you're not, and it shows. You can see who's good and who isn't."
While he has no definitive plans to exit the long-running "Grey's," it seems that his new gig trumps the medical drama in his heart.
"I've done 'Grey's' for so long; how do you keep it fresh and engaging?" he says. "With racing, you're expecting the unexpected. It's exhilarating, like IMAX on steroids."
Despite the success of Newman and McQueen, Dempsey's entry into the sports car series was met with snickers. Want to get under his skin? Give him a "don't quit your day job."
"First time I heard that, it drove me crazy. I was like, go f--- yourself," he recalls with a grin. "When I was starting out, I wanted one thing: credibility. The other drivers still give me s---, but I'm getting a lot more respect now. When you succeed, they're behind you."
Key to that support has been Dempsey's respect for the sport. Says Alex Gurney, Fogarty's co-driver of the No. 99 and fellow champ: "He's cool with everybody because he works really hard at this. And he's real, no Hollywood bulls---. Just a straight-up guy who loves racing."
[+] Enlarge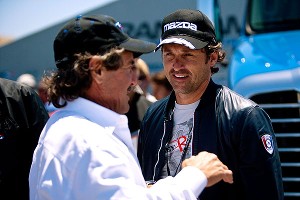 Alison Merion PadronDempsey is at home around the racetrack, and has earned the respect of his peers.
"For me, the journey is the destination," Dempsey explains. "I never got too far ahead of myself. I know who I can and can't beat, and I'm learning how to hang with the people I can't beat."
Dempsey readily admits that he'd be beating more people if it weren't for his acting obligations, which limited him to four GT races last year. "Acting constantly interferes," he says. "But it helped, too. I wouldn't be sitting here if it weren't for my success on the show."
Hollywood has helped Dempsey in other ways: money, of course, is the root of racing success -- and Dempsey has enough of it to ensure that Dempsey Racing's two-car operation is built to win. (Their other car, the No. 41, driven by James Gue and Dane Cameron, won at Watkins Glen last August.) He's also a dogged salesman, cleverly using his celebrity to lure sponsors and spread the Dempsey Racing word.
"I've tried hard to dispel the specter of Hollywood, but I use it when I need to," he explains. "If I can promote my sponsors when I'm on Letterman to talk about 'Transformers' [his latest big-screen outing], everybody wins."
Perhaps the biggest winner in all of this is the series itself. Unlike Newman, who kept a low profile at the track, Dempsey is an unabashed fan magnet. At Mazda Raceway, he scoffed when his handlers suggested he take a golf cart to the morning drivers meeting. Instead, he walked, engaging the public at every turn.
"I love you, McDreamy!" shouted one lady.
"Oh my God, he touched me!" yelped another.
Even a gaggle of dudes in jean shorts wished him luck.
"Initially, most of my fans were female," he says. "Now, it's 50/50. I'm proud of that. Part of my obligation at the track is to give fans a great experience and bring new people to the sport."
But Dempsey knows that his performance is what matters most. And he has lofty expectations: He aims to win a race this year and to become a champion within five years. "Most of the field is faster than I am, but I'm getting faster and I'm driving the best I've ever driven," he says.
Still, there have been speed bumps. After the Daytona breakthrough, Dempsey blew his engine in Miami. At Road America in June, Foster crashed. Then, during co-driver Charles Espenlaub's stint with the No. 40 at Mazda Raceway, their loaner car lost its water-pump belt and, along with it, the race, due to a six-laps-long repair.
But the race didn't go to waste. After the pit stop, Team Dempsey put its owner back behind the wheel for a second 45-minute stint and more on-the-job schooling. The additional seat time paid off: Dempsey rallied to cross the finish line in 13th. The final lap was his fastest time of the week.
"I'm still training on the go," he said.
Later that night, Team Dempsey dutifully hosted a business dinner with Mazda dealers at a Monterey eatery. Dressed down in a leather jacket and jeans, Dempsey turned showman, delighting his wide-eyed guests with stories from the set and apologizing often for his crass sense of humor. "It's the Merlot talking," he offered.
One dealer informed him that actor Stephen Moyer of "True Blood" is something of a driver, too.
"I'm always leery when actors say they want to race," Dempsey quipped.
When the final course had been downed, Dempsey thanked his guests and exited, ready to call it a night. Outside the joint, an older lady loudly lost her cool.
"Whoa! Is that Tom Cruise?"
The driver of the No. 40 smiled. The question went unanswered.
Sam Alipour is a writer for ESPN the Magazine. He can be reached at sam.alipour@gmail.com or on Twitter.