Commentary
Even the President is ready for football
Updated:
September 4, 2011, 9:57 AM ET
By
Jerry Greene
| Special to Page 2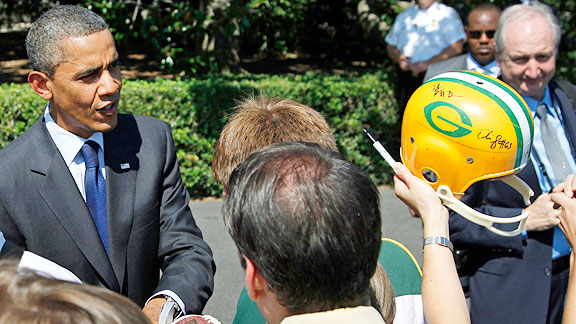 AP Photo/Carolyn KasterEven President Barack Obama is ready for the start of football season.
"To err is human," although the only time you hear that is right after someone fouled up. But not to worry, President Obama, you proved that you know "when to fold 'em" as you changed the start of your speech to Congress to 7 p.m. Thursday -- well before America embraces the return of the NFL to our TV sets.
Can't blame the president if he feels he was set up by those devious Republican congressmen. He was supposed to speak to Congress on Wednesday but was asked to change his time to avoid a conflict with a debate by Republican presidential candidates. So he did and then somebody in the White House must have said, "Say, what time is kickoff Thursday between Green Bay and New Orleans?"
Oops.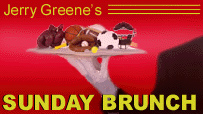 But if President Obama would like some advice from me (and why wouldn't he, considering some of the advice he gets already?), he could turn this into a triumph. How? Schedule his speech at halftime!
The NFL ignores halftimes anyway. Surely he'd be as entertaining as the Black Eyed Peas were during Super Bowl XLV although he probably wouldn't be as much fun as the "wardrobe malfunction."
And if he ran a little long, three words: "Picture in picture."
Probably too late to make that change, however, so he's stuck with his 7 p.m. start Thursday. But President Obama still can connect with the American public as long as he closes his speech with the words we want to hear:
"Are you ready for some football?!"
• America's most irritating man: We all know him and avoid him like a carrier of the plague. Yes, he's the man who feels compelled to tell you about who he drafted in fantasy football. He refuses to realize that nobody else cares (Got Philip Rivers in a steal) or that nobody wants to know it is a "keeper league" (Arian Foster) or the identity of a superstar he added (Ray Rice). And we really could not care less if he idiotically drafted a kicker (David Buehler) who will only be used on kickoffs. What a jerk.
• Be honest. When strange weather forced a stadium evacuation twice at Notre Dame, didn't you wonder if Touchdown Jesus was trying to prevent a victory by South Florida over the Irish?
• Breaking news: When the Miami Dolphins host Houston on Sept. 18, plans are underway to celebrate the 175th anniversary of the Battle of the Alamo.
• Can't help grinning every time I think about the "Dancing With the Stars" people trying to cope with the artist currently still known as Ron Artest.
• Jay Cutler, we have seen your offensive line. Carson Palmer is on Line 3 with some sound advice.
• When Tiger Woods agreed to play, a tournament official called it "the biggest day in Frys.com Open history." Probably so.
• Jay Leno: "Congratulations to the Little League team from Huntington Beach, Calif. They beat Japan to win the Little League World Series. That's pretty good. See, that proves that when math and science are not involved, our kids can beat anybody."
• And it's a strange world when Gus Johnson and Cris Collinsworth are being ripped for their announcing in "Madden NFL 12."
[+] Enlarge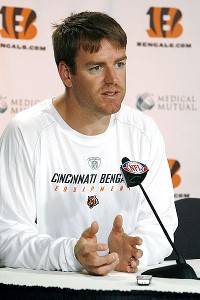 AP Photo/David KohlWonder if Carson Palmer is really done with football?
Ding, ding. That bell means it is time to turn to our Sunday Brunch stars who get us ready for Week 1 of the NFL season with a look at the reality and the fantasy of our hottest sport.
• Somewhat surprising to realize Roger Goodell had his fifth anniversary last week as leader of the NFL. Judy Battista of The New York Times takes a careful examination of those five years, noting the tremendous accomplishments but also pointing out how some players and others think Goodell acts too much like a king instead of a commissioner. Read it here.
• No word on whether Commissioner Goodell takes credit for the fantasy football explosion that centers on his league, but there is no denying it has become an enormous cottage industry. The Hollywood Reporter offers an entire section about our beloved pastime, including one actor that calls it a sickness. Read it here.
• Another industry on its own is Madden NFL football. But Patrick Hruby of The Washington Times tells us of a small cult-like group of men who still play other football games. Hey, anybody remember "Armchair Quarterback" from the '80s? Read it here.
• The semi-pros began the college football season this weekend. Are you as excited as ever or did the summer's scandals dampen your enthusiasm? Columnist Gary Shelton of the St. Petersburg Times is having a hard time dismissing what we keep finding when we turn over the rocks in the collegiate football garden. Read it here.
• You've probably forgotten this but they are still playing baseball. Really. And Boston Glove blogger Eric Wilbur examines something that apparently violates all that's holy when one player faces off with another -- clapping. That's what we said. Clapping. Read it here.
That's it for the Sunday Brunch except to send a closing prayer to Lee Roy Selmon, one of the greatest players and nicest men I have ever known.
Jerry Greene is a regular contributor to ESPN.com and can be reached at osogreene@aol.com