Commentary
Varsity Tailgate: Conference realignment
Originally Published:
September 8, 2011
By
DJ Gallo
| Page 2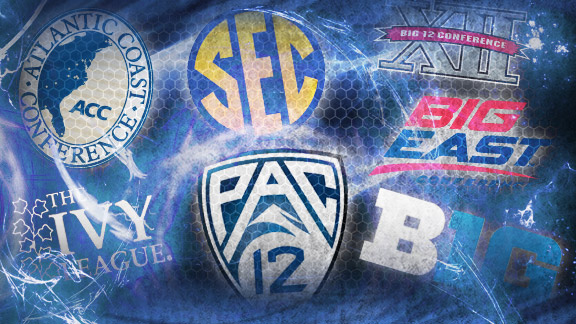 ESPN.com Illustration
We have another exciting week of college football on tap, but once again the biggest news of the week came off the field with Texas A&M's defection from the Big 12.
Conference realignment will remain an issue for the rest of this season -- and beyond, assuredly -- and the future of the Big 12 and several other BCS conferences remain in doubt.
With that in mind, I asked the top conferences to share their sales pitch to prospective members.
SEC
Hi. We're the Southeastern Conference, only the greatest football conference in all the land. But you know that. Here's the thing: We're working on adding a 13th member in Texas A&M, and we'll be needing a 14th. That could be you. If you're lucky.

Worried your program is not on the level of the likes of Alabama, LSU, Auburn, Florida, Georgia and Tennessee? Don't be. Of course your program is not on the level of an SEC program. If it were that good, it would already be in the SEC. Are we right or are we right?
But if you become a member of our conference, you instantly acquire all the rights and privileges of being an SEC school -- such as your fans being able to chant "S-E-C! S-E-C! S-E-C!" even if your football team stinks and contributes nothing to the prestige of the conference. (Feel free to ask Kentucky about this.)
Finally, if you are fortunate enough to receive an invitation from the SEC, please know that you will be held to the highest standards academically and ethically. Ha! No, just worry about football.
Big 12
What do we have to do to get you into the Big 12 today? Come on! PLEASE! We need this! You could literally save a conference's life all by yourself!

Do you want to play Kansas eight times a year in football and never in basketball? That can totally be arranged. Is it money? Do you want money? T. Boone Pickens will frack the crap out of your campus in exchange for a billion dollars. Just say the word. Come on, man, just join up. JOIN UP! We're dying here. We've got 12 in our name and only nine teams. It's humiliating! HELP!
Pac-12

We're not really going to put forth the effort for a big sales pitch here. The weather's great, and no one puts any pressure on us to win the BCS title. It's a totally chill conference.
Plus, we have no concerns about our conference folding. We're pretty much the only game in town on the West Coast. And once the Big 12 folds, we'll just add a few more of their top teams. Where else are those programs going to go -- the Mountain West? Gimme a break, bro.
ACC
Founded in 1953, the Atlantic Coast Conference is a historic and proud alliance of 12 member universities that stretch along the Atlantic Coast from Florida to Massachusetts and play in bowl games as diverse as the AdvoCare v100 Independence Bowl and the Military Bowl presented by Northrop Grumman.

We were proactive in expanding our conference several years ago by adding Boston College, Virginia Tech and Miami in order to become a football powerhouse. Unfortunately, Boston College and Miami ended up stinking, and now we're always under the threat of being raided by other conferences.
So why not join up and help us ensure our future is as prestigious as our past? We can get you tickets to Duke-North Carolina. (Basketball, not football, of course. We can't give tickets away to a Duke-North Carolina football game.) Or if your tastes are more carnal in nature, we can put you in touch with Miami. Let us know!
Big East
Ask any physician: Football puts great stress on the human body. Basketball is a much healthier sport to play. That's why we like to focus on basketball here in the Big East.

You like filling out NCAA tournament brackets for your office pool, right? It's a ton of fun! Well, last year the Big East had the most teams in the tournament and the tournament champion. We're like the SEC of football and, similarly, our crappy teams get to pretend they're great just by association.
Of course, football is still a thing that exists, and the Big East champion gets an automatic bid to a BCS bowl. Really! It's true. And don't let our "East" name fool you. We've got member schools in Wisconsin and Kentucky. We even just added one in Texas! We'll take Hawaii if it keeps our BCS status. Like every other conference, we have no shame. We just happen to be better at them at basketball.
Big Ten

The SEC is the best at football? The Big East is the best at basketball? Please. We can't sit by and listen to these lies anymore.
Sure, those statements might be true if you have a very narrow, 30-year viewpoint of college sports, but anyone who was alive in the 1950s knows that the Big Ten is where it's at. The choice is clear: You can be a Legend or Leader ... or a Liar and Loser.
Ivy League

The Ivy League is the most historic and revered collegiate sports conference in all the land.
Let's just take a look at your application materials here and ... oops. No. You're dumb. Sorry, you can't join. By the way, the fact that you charge less than $30,000 per year for tuition is absolutely adorable. Can you get us some coffee on the way out? Milk and sugar. Thanks.
All games are Saturday unless otherwise noted.


Game of the Week
No. 3 Alabama at No. 23 Penn State -- 3:30 p.m. ET on ABC
Both teams enter the game with their quarterback position still undecided. Don't expect that to be the case after the game. Alabama's defense will likely cause Penn State to decide that it doesn't have any quarterbacks.


Another Game of the Week
Notre Dame at Michigan -- 8 p.m. on ESPN
This will be the first night game in Michigan Stadium. As part of the stadium's $226 million renovation, $1.8 million was used for lights. Fortunately, Michigan can save on some electricity this week and just play by the light of Brian Kelly's glowing red face.

Cupcake of the Week
Charleston Southern
No. 5 Florida State welcomes Charleston Southern to Tallahassee on Saturday (6 p.m. ET on ESPN3.com). The Buccaneers, an FCS team, lost 62-0 to Central Florida last week. Last year, they went 3-8 in the Big South. Somehow, much to my chagrin, Big South is the name of a conference -- but not a country band. Seems like the most obvious country band name ever. It just sounds right. "And the Grammy award for Best Country Album goes to ... Big South!" But I digress. Let me get back to my point: Charleston Southern is going to get killed.


Rivalry Game of the Week
No. 12 South Carolina at Georgia -- 4:30 p.m. ET on ESPN
Sorry, Mark Richt. It doesn't matter if you dress your team up in uniforms that don't look like Georgia uniforms. People still know you coach Georgia. So you'll need to start winning if you want to keep your job.


Another Rivalry Game of the Week
Iowa at Iowa State -- Noon ET on FSN
Everyone wanted to make fun of the ill-conceived Cy-Hawk Trophy, which has since been scrapped for something less terrible. That's understandable, but please -- PLEASE! -- don't forget to also make fun of this.
Heisman Candidate in the Crosshairs

Denard Robinson, QB, Michigan: A big performance in prime time under the lights against Notre Dame would really help his candidacy. Although it will be tough to overshadow Stanford's Andrew Luck this week, who will throw for 1,100 yards and 19 TDs at Duke (3:30 p.m. ET on ESPNU). Conservative estimate.
Mascot Fact of the Week

The Baylor Bears are in the news thanks to conference-blocking Texas A&M, so let's learn about the Baylor Bear.
Last September, the U.S. Department of Agriculture told Baylor that its live bear mascots, Lady and Joy, can't be taken out in public due to threat of attack. It goes without saying that bears are dangerous animals -- especially when you give them a name like Lady or Joy, because that probably just angers them.
Tailgate Tip of the Week
Get a Can Grip: Do you want to look classy but can only afford canned beverages? Worry no more! Just purchase a Can Grip and instantly transform your PBR can into a sort-of beer stein! That's Can Grip: "Bringing Class to the Can." (Seriously, that's the actual slogan.)
Tailgate Recipe of the Week

Utah State Aggie Stew: Combine your favorite and freshest ingredients in a large pot and heat. Enjoy the delicious aromas as they simmer, and call everyone over to eat. Then, just before serving, knock the pot onto the ground and inform everyone that there will be no meal.
Tailgate Photo of the Week
[+] Enlarge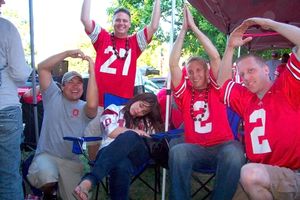 Courtesy DJ GalloNever, ever fall asleep near Ohio State fans.
Before we get into photos from this year, I wanted to share again a photo that reader Lisa sent in last year. It's from a tailgate before the USC-Ohio State game in 2009. Look at the Ohio State fans, so happy. And look at Lisa, asleep without a care in the world -- her team's legacy assured. Yep, 2009 was a long time ago.
(Have funny and/or horrible photos from your tailgates to share? You can send them to VarsityTailgate@gmail.com or via Twitter to @DJGalloESPN. Thanks.)
Quote of the Week

"I'd rather be hot than cold. Maybe this is the wrestler mentality I grew up with."
-- Luke Fickell, after coaching his Ohio State debut in a black wind shirt over top of a long-sleeved white T-shirt despite warm temperatures in Columbus.
Coaching on the heels of The Sweater Vest, Fickell's attire got more attention than most coaches would. Let's just hope his wrestling background doesn't cause him to dress like this.
Greatest Conference Ever of the Week

The much-maligned Big East opened the season 8-0, including South Florida's upset win over Notre Dame. Congratulations to the Big East on being the Greatest Conference Ever of the Week.
Worst Conference Ever of the Week

The Pac-12 began the season 8-4, with UCLA losing to Houston, Colorado getting crushed by Hawaii, conference champ Oregon getting hammered by LSU, Washington barely getting by FCS Eastern Washington and Oregon State losing to FCS Sacramento State. Now you see why everyone wants to join the Pac-12. Free wins!


Stat of the Week
3: Consecutive losses Duke has suffered to the Richmond Spiders. Here is a great video featuring Duke's highlights from those games.
Coach on the Hot Seat

Brian Kelly, Notre Dame: It's rude to feature Mark Richt every week, so let's give Kelly a week in the chair. Before the season started, Kelly said that he had "great confidence in [Dayne Crist's] ability to lead us to a championship." He then benched Crist two quarters into the season. Whoops! Bad call on the talent evaluation.
Player Name of the Week

Wave Ryder, S, Navy: Wade Ryder's Navy bio says that he "enjoys surfing, diving and other ocean sports." Weird.
Coach Name of the Week

Rockey Felker, director of player personnel, Mississippi State: Felker played quarterback at Mississippi State from 1972 to '74 and then embarked on a long coaching career in the SEC. Because if you have a name like Rockey Felker, by law you have to coach in the SEC.
Stone Cold Lock of the Week

Emboldened by their success in delaying the Aggies' move to the SEC, Baylor will try to block other things that hurt its football team, such as scheduled games against Texas A&M, Oklahoma State, Missouri, Oklahoma and Texas. Well, maybe not the Texas one. That game went pretty well for the Bears last year.
DJ Gallo is the founder of SportsPickle.com. His first book, "The View from the Upper Deck," is available from only the finest bargain-book retailers. His next book project will be released soon. You can follow him on Twitter at @DJGalloESPN.