Commentary
Maryland unis start social media buzz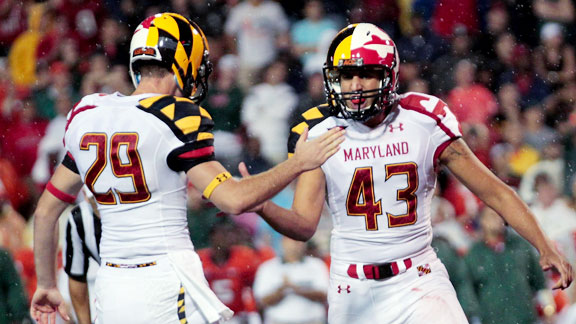 Rob Carr/Getty ImagesThe discussion about Maryland's uniforms spurred the Terrapins upward in social media indexes.
Few sports focus as heavily on rankings as college football. When it comes to the social mediasphere, there's no question that the University of Maryland has risen to the top spot this week.
The Terrapins beat Miami 32-24 in the teams' nationally televised season opener Monday. Such a result is enough to make Maryland fans happy, although not traditionally enough to cause a social media surge and ignite the blogosphere. However, throw in a unique, interesting, "insert-your-140-character opinion here" uniform and you've got yourself a near-instant trending topic.
"We knew the uniforms would make a bold statement when the team unveiled them on Monday night," said Dan Mecchi, Under Armour director of digital media. "As a brand we are always active on Facebook and Twitter."
The Maryland-Miami game certainly provided one of those hits. Within moments of taking the field in state-flag inspired Under Armour uniforms, Maryland football became the subject of fan chatter world-wide-web-wide. "University of Maryland" shot to the top of Google Trends and was Google's second-most searched term on game day. "Maryland Football" was among Yahoo's most searched sports terms and jumped to No. 2 in the sports category on the site's Buzz Log Movers' rankings, which gauge surges in a term's popularity.
MAN WITH THE PLAN

Under Armour's Kevin Plank, a Maryland alum, is helping put his alma mater's football program on the map with the team's "Pride Uniform" that it wore on Monday night. Michael Wilbon
"We thought we'd get a lot of play between Twitter and other social media, but it's really gone from being a sports story to a news story," said Shawn Nestor, the Maryland associate media relations director for football. "We didn't necessarily expect that."
What does this kind of social media attention translate to? Both the University of Maryland and Under Armour see tremendous worth in a social media surge.
"There's a ton of value, especially when you talk about building the brand," Nestor said. "And it's the whole University of Maryland brand, not just football. It gives us a stronger line with the fan base."
Coach Randy Edsall saw his Twitter following jump from 2,500 on Sunday night to more than 4,450 by midweek, a nearly 80 percent jump. With more engaged fans comes the opportunity to engage more with fans.
While a social media bump is brief, sports teams and brands seek to capitalize on the thousands of new followers such a surge can bring literally overnight.
The University of Maryland's athletic site saw its traffic in the past week spike by more than 50 percent from that same week a year ago. Measuring from when the university unveiled its new Under Armour uniforms on Aug. 22 (the flag-inspired uniforms were a surprise debut Monday) through this week, umterps.com has skyrocketed more than 120 percent from that spot a year ago.
An Under Armour Facebook post on the uniforms generated almost 1,300 likes and nearly 400 comments, far surpassing the average engagement on the page. Reaction to other recent posts on the page varied from a few dozen likes to a few hundred, averaging around 150.
Under Armour sees a definite benefit to being buzzed about.
"We put a great deal of value on not just being in the conversation, but actively playing a role in the conversation," Mecchi said. "From a social perspective, it's exactly what we strive toward: be in and participate in the conversation. It's all about participation."
As Under Armour and Maryland showed this week, it's not just about being in the conversation, but about getting people talking in the first place.
Baltimore-based Under Armour has become as synonymous with Terrapins football as Nike is with the Oregon Ducks. But even perennial power Nike would be challenged to generate the kind of impressive publicity that the Under Armour uniforms have.
According to some numbers Nestor received, from 2000-09, a total of 1,750 articles had been written on the Terrapins' uniforms. This week alone, more than 1,000 articles have been generated on the subject.
With everyone from professional athletes to commentators to anyone with a social media account weighing in, the feedback certainly hasn't been100 percent positive. That's just part of the deal when participating in social media.
"The great thing about the social and digital space is that we have the ability to listen to it all ... the good and the bad," Mecchi said. "In this space, you obviously have to be comfortable ceding some control and live with a variety of opinions."
It's not quite the adage that there's no such thing as bad publicity (after the headlines Miami made this summer, the Terps' opponents might argue that point). But when it comes to brand awareness, this kind of new media discussion helps raise the profile of both Maryland and Under Armour.
Of course, in social media and college football, the players only get about a day to enjoy success before it's old news and the focus shifts to what lies ahead.
Maria Burns Ortiz is based in Boston.