Commentary
Ohio State's Archie Griffin: Page 2 Q&A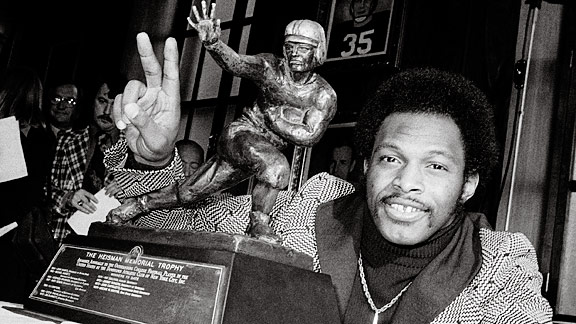 AP PhotoArchie Griffin smiles after besting Chuck Muncie, Ricky Bell and Tony Dorsett for the Heisman in 1975.
The name Archie Griffin is synonymous with Ohio State football.
He's the only two-time winner of the Heisman Trophy. He's the Buckeyes' career rushing leader with 5,589 yards. He was the first player to start in four consecutive Rose Bowls. During his collegiate career, Ohio State went 40-5-1 and finished in the top 10 in the AP poll each year.
He's also a tremendous ambassador for Ohio State, currently serving as president of the school's alumni association. Legendary Buckeyes coach Woody Hayes once famously said of Griffin, "He's a better young man than he is a football player, and he's the best football player I've ever seen."
Page 2 recently interviewed Griffin and asked him about conference realignment, the resignation of Jim Tressel and whether Urban Meyer will be the next coach of the Buckeyes. Here's what transpired:
Page 2: Where do you keep your Heisman Trophies?
[+] Enlarge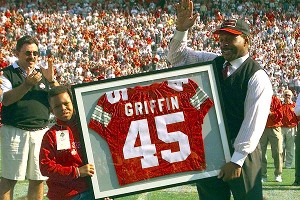 AP Photo/Chris PutmanGriffin and son Adam hold the famed No. 45 at his 1999 jersey retirement ceremony at Ohio Stadium.
Griffin: Right now, I've got one at the school at the Ohio Union. The ballroom has been named in my honor, and they've got a display case right outside of the ballroom, and I display one of the Heisman Trophies there. The other Heisman Trophy is in a restaurant called the Buckeye Hall of Fame Grill. It's a restaurant that really does a wonderful job of displaying the history of sports at Ohio State University, so I keep the other one there. I always figure that more people will see those trophies in those establishments than would see them in my home, and I really like for people to see them. I'm very, very proud of them because it speaks for the teams that I played on during my time at Ohio State. I always felt that I was at the right place at the right time with the right people, meaning the coaches and players I played for and played with. So I feel very fortunate from that standpoint.
Have you saved any memorabilia from your playing days?
Oh, yeah. Those trophies are certainly very personal to me and very important to me. But I've got a lot of stuff from my playing days -- even back through Little League. It's either with me or with my mother, so we've got a lot of stuff. ... When I was growing up -- and we've got eight kids in our family -- my mom and dad were very proud of all of our accomplishments. In our lower level of our house, they would always leave space for trophies and awards that we won in sports, and we were very, very proud of that.
Did you select uniform No. 45 or was it simply assigned to you?
It was simply assigned to me. I didn't have the nerve to request a number when I was coming out of high school, going into college. When I got to Ohio State, that was the number that was given to me, and I've kind of been wearing that ever since I guess you might say. ... In high school, I had two numbers, actually. I wore 33, and I wore 35. In my senior year, when they got the new jerseys, they forgot to do a 33. So I ended up having to wear 35 my senior year of high school, when I had worn 33 the previous two years. I guess I never really put a whole lot of stock in the number that I wore. When I was a kid, I always wanted to wear No. 32 like Jim Brown, because he was the guy that I wanted to be like. But when I got to high school and college, I guess I never would've had the nerve to ask anybody to give me a specific number. I just dealt with the number that was given to me and tried to make the most of that.
Obviously, it's been a tumultuous offseason at Ohio State. In your opinion, what would Woody Hayes think of the way Jim Tressel's tenure ended?
[+] Enlarge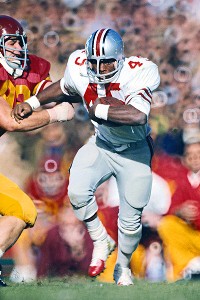 George Long/Getty ImagesGriffin was a three-time All-America selection for the Buckeyes.
I'm sure he would not like to see that happen, just like his did not end in a good way either. But I think that Woody would have realized, too, that Jim Tressel is a fine man. Jim Tressel has been a great coach at Ohio State. He's had a lot of success at Ohio State, and he's impacted a lot of young people in very positive ways at Ohio State. So I think that Woody would probably look at Jim Tressel, the man, and say that this is a man that made a mistake and he's paying dearly for the mistake that he made and he deserves another chance down the line if that's what he wants. I think [Woody] would probably say something to that effect.
Will Urban Meyer be the next coach of the Buckeyes?
I'll tell you what: Luke Fickell is our head coach right now at Ohio State. I'm wishing Luke Fickell the best this year because he has an opportunity to have a season that will allow him to be head coach of the Ohio State Buckeyes [on a permanent basis], and I'd like to see that happen because Luke has done a wonderful job at Ohio State as an assistant coach and as a former player. He's got a lot of support, and he's got a season ahead of him and hopefully this season will be a great one for him.
With the college football landscape evolving so quickly and teams seemingly switching conferences much more often than before, how do you envision the Big Ten will look a decade from now?
Whooo. That's a great question. With the way things are changing, I don't have any idea. I do think that these conferences will continue to grow into superconferences. I think that's the way that it's headed, and it will be interesting to see what's going to happen in the future as these conferences continue to grow. I know one thing: There's certainly going to be some powerful college football going on in the future, and you can see that now already with the way that these conferences have already gone and reorganized.
One of your sons, Andre, is the running backs coach at Saginaw Valley State. What's the best piece of advice you've given him in regards to his coaching career?
Basically, just to make sure that he develops great relationships with the young people in the program. You've gotta be up front, forthright and honest with those young people and try to do things that are gonna help them in their future, because that's really what it's all about. College is about learning and making these people better and preparing them for their future lives. Football is a game, and you wanna learn a lot of lessons of life in that game. But it's still a game. The main thing is that you teach these young people and give them good direction for life, and I think that's what he's all about.
Another of your sons, Adam, plays defensive back for the Buckeyes. Did he ever -- even as a joke -- tell you he was considering attending a different school?
He was considering going to the Air Force Academy, but he told his mom and myself that he's grown up a Buckeye, always wanted to be a Buckeye and that's where he wants to go to school. Having grown up here in Columbus and attending Ohio State football games and going to bowl games and things like that, you really learn to appreciate Ohio State and what Ohio State is all about. That's all he knew, and that's what he thought of college football. When he visited other places, it just wasn't the same. So when it came down to making that decision, it was Ohio State because that's what he knew and that's what he expected out of college football.
Archie Griffin is a spokesman for the Wendy's High School Heisman Program, which has recognized the accomplishments of more than 250,000 prep athletes since its inception in 1994. Click here for information on how to apply on behalf of a high school athlete.
Thomas Neumann is an editor for Page 2.