Commentary
Page 2's NFL win total projections
Originally Published:
September 9, 2011
By
DJ Gallo
| Page 2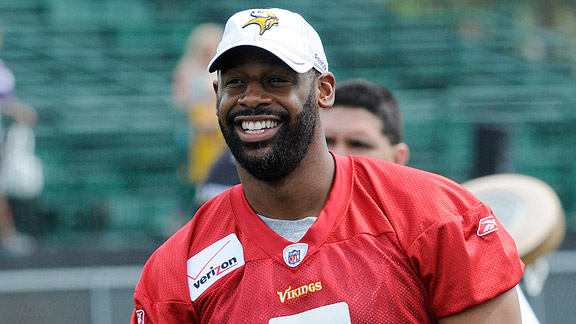 AP Photo/Jim MoneDo Donovan McNabb and the Vikings still have a window of opportunity to be a contender?
NFL season is here. YAY! Now let's determine how many games each team will win using Vegas' over-under win lines.

Arizona Cardinals: 6.5
Over. This year the Cardinals have Kevin Kolb, a member of the Dream Team as recently as six weeks ago. Just imagine how much better the 1992 Angola men's basketball team would have been had it acquired Christian Laettner from the original Dream Team. Sure, not a ton better. But this is the NFC West we're talking about: the Angola of NFL divisions. A little goes a long way.

Atlanta Falcons: 10.5
Over. The Falcons have the look of a team that is ready to defend its NFC South title, then get destroyed by the Packers again in the playoffs. But definitely destroyed by fewer points this time. I think.

Baltimore Ravens: 10.5
Over. The defense is overrated; Joe Flacco struggles in big games; they lost Todd Heap, Willis McGahee and Derrick Mason. Blah blah blah blah. The Ravens have four games against the Browns and Bengals. So the question is not whether they can go 11-5 or better, which is tough for any team. The question is whether they can go 7-5 against NFL teams. That's a pretty safe bet.

Buffalo Bills: 5.5
Over. Bad news for the AFC East: Science just proved that the Bills are the NFL's most attractive team. The Bills will be able to win a few extra games late this year when they catch their opponents flat-footed, staring at their dreamy faces.

Carolina Panthers: 4.5
Under. Any time Vegas makes a typo, you want to jump on it. I just don't know how they hit "4" when I'm sure they meant "0." Those numbers are six keys apart. Some intern is probably going to get fired. This is a mistake that will cost millions of dollars.

Chicago Bears: 8.5
Over. Enough with the stuff about Jay Cutler's knee or his supposed lack of "toughness." He played behind a lousy line last year and took hard shots all season long. He's plenty tough. And it's simply not possible to play a football game with a torn MCL. Everyone needs to get over it and go back to laughing at Cutler turnovers.

Cincinnati Bengals: 5.5
Under. OK, this is getting ridiculous now. Another typo. The internship coordinator needs to be let go, too.

Cleveland Browns: 6.5
Under. This time last year, Peyton Hillis was the Browns' backup running back. Now he's on the cover of "Madden." Introducing your "Madden NFL 13" cover boy: Montario Hardesty!

Dallas Cowboys: 9
Over. It's my opinion, OK? It's not like I feel good about it. I ruined three laptops while typing this in the shower.

Denver Broncos: 5.5
Over. This is a tough call. How much losing and smiting will the Broncos put up with before they give the job to Tim Tebow? If they make the change before Week 11, around the time the locusts will roll in, they can get to six wins.

Detroit Lions: 7.5
Under. By picking the Lions to go 7-9, you might think that I'm not drinking the Lions Kool-Aid. That's not true at all. But we're talking about the Lions, and I am a student of history. Although I enjoy Kool-Aid, I don't like Kool-Aid when it's been spiked with large amounts of alcohol. That's dangerous. Kids could get into that.

Green Bay Packers: 11.5
Over. Safe pick here. The Packers already have one win in the books, and next week they'll play the Panthers. OK, update: They already have two wins in the books.

Houston Texans: 8.5
Over. They should be the class of a division that features the Luke McCown-led Jaguars, the Matt Hasselbeck-led Titans and the Kerry Collins-led Colts. Congratulations, NFC West fans -- there might be a division you can make fun of now.

Indianapolis Colts: 9.5
Under. I pulled this over/under number before Peyton Manning had another surgery. I'm feeling pretty confident about this one. Pret-tay pret-tay confident.

Jacksonville Jaguars: 6
Under. As with the Colts, I also pulled the Jaguars' number before they released David Garrard and named Luke McCown the starter. But that quarterback change doesn't affect Jacksonville's fortunes this year. Most scouts say McCown projects as: "Exactly like David Garrard, but with a job."

Kansas City Chiefs: 7.5
Over. The Chiefs should win eight games, but I don't see them getting back to the playoffs. Ah, come on, Todd. Don't be that way.

Miami Dolphins: 7.5
Under. The Dolphins are going to be terrible this year, and best of all, I won't have to deal with any angry e-mails from Dolphins fans for saying that, as "Dolphins fans" don't exist.

Minnesota Vikings: 7
Under. We always hear about aging teams needing to win before "their window closes." It seems the Vikings' window has closed. Unfortunately, Donovan McNabb climbed in first.

New England Patriots: 11.5
Over. Tom Brady is clearly going places this year. Looks like shopping. But probably also the playoffs.

New York Giants: 9.5
Under. The Manning brand rests on Eli this year. Archie and Olivia may want to consider adopting Texans safety Danieal Manning.

New York Jets: 10
Over. Rex Ryan has predicted that the Jets will win the Super Bowl this year. To get into the playoffs and win a championship, the Jets likely have to win more than 10 games. So I'm hinging everything on a Rex Ryan prediction. No way this backfires on me.

New Orleans Saints: 10
Push. WILL THE SAINTS WIN A SINGLE GAME THIS YEAR?!?! Apologies. Sometimes I, too, fall prey to the media trap of freaking out over one game. Despite losing to the Packers in the opener, the Saints have a quality team, and 10 wins seems more than possible. But, seriously: WILL THE SAINTS WIN A SINGLE GAME THIS YEAR?!?!

Oakland Raiders: 6.5
Over. I can see the Raiders going 7-9. What I'm not clear on is when Al Davis will fire Hue Jackson. Probably sooner than later. "Hue FIRED!" sounds fun to say.

Philadelphia Eagles: 10.5
Over. So the Eagles are placing their talented roster in the hands of Andy Reid. No way this backfires on them.

Pittsburgh Steelers: 10.5
Over. The Super Bowl loser historically does not perform well the following season. But the Steelers are already bucking trends -- Ben Roethlisberger made it through an entire offseason without being accused of anything.

St. Louis Rams: 7.5
Under. The Rams have potential, but they have a brutal opening schedule: Eagles, at Giants, Ravens, Redskins, at Packers, at Cowboys, Saints.
(Note: The Redskins' inclusion was not an attempt at a joke -- you know, listing a terrible team with good teams. It's the Rams' actual schedule. Just wanted to clear up any confusion.)

San Diego Chargers: 10
Over. The Chargers are a popular Super Bowl pick this year, which means that this year is pretty much the same as every year in recent memory. It's good to know that even in these turbulent times, some things never change.

San Francisco 49ers: 7.5
Over. The 49ers' offense will be helped by the addition of Braylon Edwards, especially because Roger Goodell chose not to suspend him. It's good to know that Goodell's suspension dartboard has a "0-game" section.

Seattle Seahawks: 6.5
Under. Do the Seahawks have the potential to win more than six games? Sure. But what does a 7-9 or 8-8 season do? I think they should go for history and try to be the first 6-10 division winner. WE BELIEVE IN YOU, SEATTLE! YOU CAN DO IT!

Tampa Bay Buccaneers: 8
Push. The Buccaneers were close to making the playoffs last year, and they need only slight improvement to make it this year. Unfortunately, their biggest acquisition was punter Michael Koenen, who is also dubbed a "kickoff specialist." One problem: Under the new NFL rules, everyone with functioning legs is a "kickoff specialist."

Tennessee: 6.5
Under. After reporting to the Titans, Chris Johnson -- who said he was shooting for 2,500 rushing yards last year -- was asked what his goals are for the season: "We haven't been to the playoffs in two years, so I want to get back to the playoffs, hopefully win the Super Bowl here," he said. "I've got a lot of team goals. We haven't been in the postseason, so that's the big thing this team hasn't done, and I've always got that goal to rush for 2,000 yards again." Team goals?! This is the fantasy age, Chris. Your team goals are just selfish. I have you in a keeper league, guy. Knock it off.

Washington Redskins: 6.5
Under. I'm sorry, but I just don't think the Redskins will be very good this year. It's my honest opinion. Yet I fear Dan Snyder will see this as further persecution against him. He probably also saw the D.C. earthquake as a personal attack. You're a hater, tectonic plates!
DJ Gallo is the founder of SportsPickle.com. His first book, "The View from the Upper Deck," is available from only the finest bargain-book retailers. His next book project will be released soon. You can follow him on Twitter at @DJGalloESPN.