Commentary
Cam Newton makes list of top debuts
Updated:
September 12, 2011, 4:06 PM ET
By
Patrick Dorsey
| Special to Page 2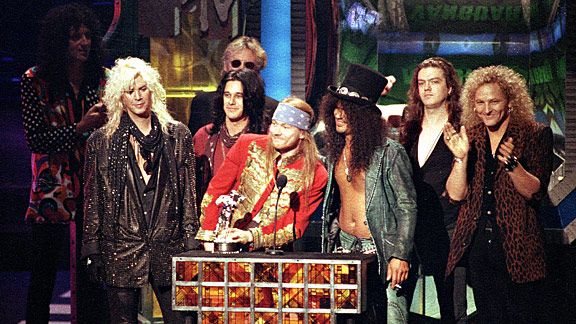 AP Photo/Kevork DjansezianCam Newton isn't the only one with an excellent debut. Don't forget about Guns N' Roses.
Well, that was impressive.
Sure, his Carolina Panthers lost to Arizona 28-21 on Sunday. And who knows where his career goes from here? But Cam Newton's first NFL game -- a rookie-debut record 422 passing yards, three total touchdowns, a 64.9 percent completion rate -- easily places him among the most impressive debuts. Not just in the NFL, alongside Randy Moss' and LaDainian Tomlinson's. We're talking ever.
And not just football. Alongside all of these:
15. J.P. ARENCIBIA
The still-young Blue Jays catcher homered on the first pitch he saw on Aug. 7, 2010, then proceeded to double, single and homer on his next three swings.
14. "48 HRS."
In 1982, there was a new sheriff in comedy town ... and his name was Eddie Murphy, who made his feature acting debut in this raw buddy-cop movie. Yeah, several actors/actresses have won Academy Awards for their first film roles, but none of those movies launched a comedy career like Murphy's. After all, he's hosting next year's Oscars.
13. ZINEDINE ZIDANE
The soccer star's international debut with France (in 1994) hardly could have been better: Subbed in with his country trailing 2-0 to the Czech Republic, Zidane scored two impressive goals to help earn France a draw.
12. RICKY BOBBY
When driver Terry Cheveaux (played by director Adam McKay, Will Ferrell's writing partner) chose a sandwich over returning to the car during a pit stop, crew member Ricky Bobby (Ferrell) got behind the wheel and drove from last place to third. If only he did as well in the post-race interview. (Side note: "SNL" vet McKay made his feature writing debut with "Anchorman." Not bad, either.)
11. BEYONCE'S BABY
While the child of Beyoncé and Jay-Z isn't here yet, that didn't stop it from absolutely stealing the show during the singer's performance at the MTV Video Music Awards last month (and setting a Twitter record, to boot).
10. THE CLEVELAND BROWNS
Hard as it might be to believe these days, the Browns stormed into the NFL after a few strong seasons in the All-America Football Conference. And on Sept. 16, 1950, they thrashed defending league champion Philadelphia 35-10 -- and then went on to win the title.
9. THE "LOST" PILOT
Forget the ending. This show's introduction to TV audiences pulled big ratings and grabbed major awards (including the Outstanding Drama Series Emmy), and still finds itself high on lists of best first episodes ever.
8. JUAN MARICHAL
Before there was Stephen Strasburg (14 K's in his first seven innings), Marichal produced his own Giant (sorry) debut as a midseason rotation addition in 1960: 12 strikeouts, one walk and one hit in nine shutout innings.
7. "TO KILL A MOCKINGBIRD"
As a novel, it was the first one from writer Harper Lee, and remains almost universally beloved. The film, meanwhile, gave us our first look at Robert Duvall -- who didn't steal the movie (Gregory Peck did) but played a solid Boo Radley.
6. LEBRON JAMES
Seven years after freshman-turned-No. 1 pick Allen Iverson dropped 30 in his first game, high schooler-turned-top choice James put up an even more impressive line in 2003: 25 points (12-of-20 shooting), nine assists, six boards, four steals and just two turnovers. He was 18 at the time.
5. "APPETITE FOR DESTRUCTION"
Guns N' Roses' first LP topped the charts, went multi-multi-multiplatinum, and bred several arena anthems. Now it's the best-selling debut album of all time, slightly ahead of Boston's "Boston" and Alanis Morissette's "Jagged Little Pill."
4. CAM NEWTON
"It was the Cardinals" is no excuse; last year Arizona held (loosely used word there) Drew Brees to 279 yards and picked him off three times (to Newton's one). Newton, meanwhile, zoomed past Randy Moss and LaDainian Tomlinson for best NFL Week 1 for a rookie.
3. "BEING JOHN MALKOVICH"
Sorry, "Citizen Kane" fans. Yours gave us Orson Welles, but this dark, trippy, funny, awkward "Malkovich" brought the film world two savants when it stopped on the 7 1/2 floor in 1999: Director Spike Jonze and screenwriter extraordinaire Charlie Kaufman.
2. MARIO LEMIEUX
Wayne Gretzky earned the Hart Trophy as a rook, but settled for an assist in his first game. Lemieux? He scored on the first shot of his first shift.
1. THE BEATLES ON "ED SULLIVAN"
Do we even need to describe this?
Nate Jones, Thomas Neumann and John Zoni contributed to this piece.