Commentary
Fans give reasons they need NFL QB
Updated:
September 15, 2011, 9:55 AM ET
By
Jerry Greene
| Special to Page 2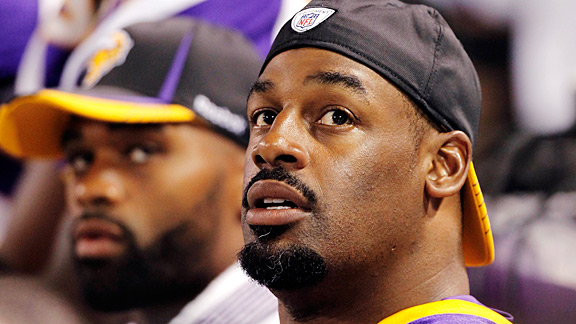 AP Photo/Andy KingFans once again are showing no love for quarterback Donovan McNabb.
OK, we're not talking about Tom Brady. But after Week 1 of the NFL season, fans of perhaps as many as half of the league's 32 teams have reason to fear they already need a new quarterback. And there's such a long way to go.
Consider these alarming statistics:
• Exactly half, 16 starting quarterbacks, had passer ratings beneath 90 after the opening weekend.
• Ten threw for less than 200 yards. (Donovan McNabb threw for 39 yards, which is about the same distance as a long putt.)
• Four had more interceptions than touchdowns. (Ben Roethlisberger, Matt Schaub, Eli Manning and Matt Ryan.)
• Three completed less than 50 percent of their passes. (Mike Vick, Colt McCoy and McNabb.)
• Two achieved first downs on just 20 percent of their pass attempts. (Alex Smith and, yes, McNabb.)
• And one (probably McNabb) accidentally killed a partridge in a pear tree.
Granted, I made up that last one but you get the idea. If these are the 32 best professional quarterbacks in the world, we have a problem. Of course, the problem is far worse in some NFL cities than others. And that brings us to this week's reader-generated list:
Top 10 Clues You Need a New Quarterback
10. "JaMarcus Russell is laughing at you," said Ben G. of Nashville, Tenn.
9. "Your quarterback really does wear a dress -- all the time," said Ginger D. of Phoenix.
8. "The rest of the offense won't let him into the huddle," said Susan A. of Coral Gables, Fla.
7. "You say to yourself, 'That guy reminds me of a young Tim Couch,'" said Chris K. of New York City.
6. "Ryan Leaf called and says your QB makes bad decisions," said Ben M. of Peoria, Ill.
5. "Your team was the first pick in Grantland's Bad QB Fantasy Draft," said Matt H. of Indianapolis. (Can you say Pittsburgh and Minnesota? If you don't know about the Bad QB game at Grantland, check it out here.)
4. "Your QB likes to pump fake deep to a cornerback, then dump it off to a linebacker," said Mike O. of Seattle.
3. "Brett Favre keeps calling your GM," said Lisa H. of Hamilton, Mont. (Yes, Favre's streak continues.)
2. "You place a trail of hamburgers leading into your locker room in hopes JaMarcus Russell will find his way," said Guillermo C. of Mexicali, Mexico. (Special kudos to JaMarcus for making the list twice.)
1. "You find an autographed photo of Ryan Leaf on the inside of his locker door," said Scott G. of Rockford, Ill.
Before we close, a special salute to Rex Grossman by not being mentioned once.
Jerry Greene is a regular contributor to ESPN.com and can be reached at osogreene@aol.com