Commentary
Colts need to consider Andrew Luck
Originally Published:
September 15, 2011
By
Sarah Phillips
| Special to Page 2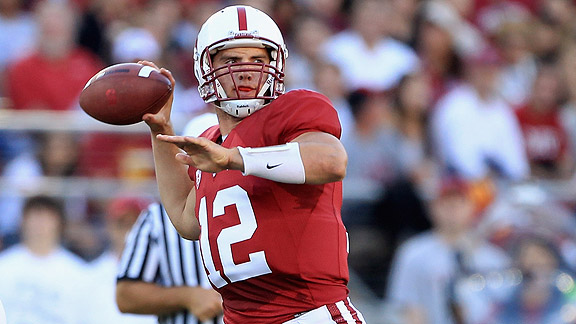 Ezra Shaw/Getty ImagesAndrew Luck might be the surest thing of any quarterback prospect since Peyton Manning in 1998.
Before the season, Las Vegas bookmakers set the total number of wins for the worst team in the NFL at over/under 2½.
But after Week 1, oddsmakers already expect the Indianapolis Colts -- previously expected to win 10 games -- to cover the under.
Vegas considered the Colts as one of the Super Bowl favorites during the offseason, so this massive shift in perception is a clear testament to the value of Peyton Manning. Manning is the brains of the Colts operation, so imagine how tough it will be for Indianapolis to function after having a lobotomy.
The reality of the situation is that Manning might not take a snap this season. If recovery from his third neck surgery in less than two years stalls, he's probably done for the season. Even if Manning is reasonably healthy by November, would the Colts rush him into action for a team that very possibility will be sitting at 1-6 or 0-7?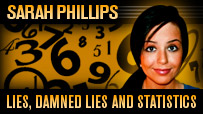 With Manning's prognosis still unknown, and his recovery timeframe reportedly increasing from missing one game to a two- or three-month absence, is it time for the Colts to begin considering life without Peyton? By no means am I trying to prematurely retire Manning. But Colts vice chairman Bill Polian attended the Stanford-Duke game last weekend, which looks like a Cardinal-red flag that Indianapolis is searching for a contingency plan. Either that or he was scouting players from a Duke team that's 12-26 since 2008 -- actually a huge improvement from the 4-42 mark of the previous four years. But I digress.
The Colts' current situation is a delicate one. Obviously, no one is celebrating Manning's injury. But the timing of the situation coincides with the likelihood that Stanford's star quarterback, Andrew Luck, will be the top pick in the 2012 NFL draft, and the disaster of a season without Manning suiting up could land the winning ticket in the Luck Sweepstakes.
With Luck, the Colts can secure the next 15 years of their franchise. It's another Aaron Rodgers-Brett Favre type situation -- except Manning and Luck have a rapport. If you recall, Manning was one of the people advising Luck to return to school this season. Talk about coincidence.
If the Colts draft Luck, the team will have a lot of cap space invested in two players at the same position. But consider the alternative: the Broncos and Dolphins are still trying to replace their franchise quarterbacks more than a decade after their retirements.
Ideally, Indianapolis could use Manning as a mentor for Luck. Spending time behind Manning on the depth chart would be a blessing for any up-and-coming quarterback. Can you imagine Manning in the role of Mr. Miyagi? Call him Mr. Manniyagi.
The Colts will be facing a future without Manning in the next few years regardless. He's 35, after all. So how do you get over losing one of the greatest quarterbacks in NFL history? With a little bit of Luck, of course.
True, the Colts could be facing a similar situation to when the 49ers had to choose between Joe Montana and Steve Young in 1993. But it sure beats choosing between Kyle Orton and Tim Tebow.
On to this week!
I went 10-2-1 (83.3 percent) on last week's picks to run my season record to 12-8-1 (60 percent). To put that in perspective, a winning bettor must win 52.3 percent of the time in order to see a profit. Professional bettors typically hit in the 55 percent range over the course of their careers. I'd discuss these results further, but I don't want to be flagged for excessive celebration.
This week's NFL picks
All games are Sunday unless otherwise noted.


Browns at Colts, 1 p.m. ET, CBS
I never thought I'd see the day when Cleveland would be favored on the road against the Colts. Manning should win the MVP award based entirely on that fact alone. The Colts are 0-1 against the number with Kerry Collins running the show. Make that 0-2 after this weekend.
Pick: Browns (-1)


Buccaneers at Vikings, 1 p.m. ET, Fox
Trends are essentially useless in this matchup, because both rosters are drastically different from their most recent meeting, in 2008. The only thing that hasn't changed is Minnesota's unsettled quarterback situation. I predict the Bucs will keep this vicious cycle going for the Vikings. Next up, Christian Ponder.
Pick: Buccaneers (+3)


Cardinals at Redskins, 1 p.m. ET, Fox
Mike Shanahan might be the most underappreciated coach in the NFL. I did an Google search for Shanahan, and it suggested I search for "Mike Shanahan fired." Haters gon' hate. Vegas has taken notice of Shanahan's work by favoring the Redskins at FedEx Field this weekend. Or, maybe it's the fact that Arizona comes to town 1-7 against the spread in its past eight games as a road underdog. Either way, the dudes dressed in drag will celebrate this Sunday in Washington.
Pick: Redskins (-4)


Eagles at Falcons, 8:20 p.m. ET, NBC
If this were a must-win scenario for Atlanta, I would probably take Matt Ryan at home. But since it's too early to call any game a must-win, I'm taking the Eagles for the Vick-tory. Since joining Philly, Michael Vick is 3-0 as a road favorite in September. Plus, Matty Ice is 0-2 covering the number against Philadelphia.
Pick: Eagles (-2½)


Chargers at Patriots, 4:15 p.m. ET, CBS
Tom Brady dancing at Carnival in Brazil over the summer? Yikes. Brady dancing on the Dolphins defense on Monday Night Football? Much better. After limiting Donovan McNabb to 39 yards passing last week, San Diego must now face a much more formidable air attack. The Chargers' reputation for being slow starters is well deserved, but Philip Rivers is capable of keeping this one within a touchdown versus a very un-Belichick-like Patriots defense. The underdog is 6-2 against the spread in the past eight meetings between these teams. I like it.
Picks: Chargers (+7½).
This week's college picks
All games are Saturday unless otherwise noted.


No. 1 Oklahoma at No. 5 Florida State, 8 p.m. ET, ABC
Last year's matchup between these two was pretty competitive . . . for five minutes. It was 7-7, and then it went like this: Sooners touchdown, Sooners touchdown, Sooners touchdown, Sooners touchdown, Sooners touchdown and -- just to ease up on the beating -- Sooners field goal. Midway through the third quarter, Oklahoma led 44-7. I'm banking on a change in scenery from Norman to Tallahassee being the recipe for reversing Florida State's fortunes. Oklahoma is 1-5 against the spread in their past six games as a road favorite. Cue the Seminole war chant.
Pick: Florida State (+3½)


No. 3 LSU at No. 25 Mississippi State, Thursday, 8 p.m. ET, ESPN
I felt terrible for Mississippi State after the Bulldogs lost at the goal line on the final play to Auburn last week. So, I spent quite a bit of time trying to find an angle to choose the Bulldogs over the Tigers. I considered the rowdy home environment a Thursday night game typically provides, but Mississippi State is 1-6 against the spread in their past seven Thursday night games. I tried to take the Bulldogs based on their history against the Tigers, but they're 1-7 against the spread in their past eight games against LSU at home. Hey, I tried, MSU fans. Admittedly, I was never good at finding Waldo, either.
Pick: LSU (-3)


No. 4 Boise State at Toledo, Friday, 8 p.m. ET, ESPN
All right, Boise fans. I'd like to visit Idaho at some point in my life, so let me use this week's Boise pick as a peace offering for last week's column. The Broncos are 5-1 against the spread when set as a 10½-point favorite or greater, so that bodes well for impressing the computers. Drilling Toledo this week is the equivalent of throwing spinners on the Boise State RAV 4. Let's work together on tricking it out to make it presentable at the end of the season to the BCS. Deal? Oh, and if you're going to create a Boise State "I Hate Sarah Phillips" group, at least get membership in the triple digits. You're better than that.
Pick: Boise State (-17½)


No. 6 Stanford at Arizona, 10:45 p.m. ET, ESPN
There's a reason the 2012 NFL draft is being coined the Andrew Luck Sweepstakes. Not only are the Cardinal 4-1 against the spread during their last four visits to Tucson, but they're also undefeated against the number in their last eight games overall. Go ahead and add "consistently beats the spread" to Andrew Luck's lengthy résumé.
Pick: Stanford (-9½).


No. 15 Michigan State at Notre Dame, 3:30 p.m. ET, NBC
It's cliché to say a team that is 0-2 should be 2-0. But Notre Dame should be 2-0! It's really cliché to say an underperforming team is finding ways to lose games. But the Irish are finding ways to lose games! It's difficult to back a team with Notre Dame's self-destructive habits. It's even tougher when you consider the road team is 9-1 against the spread in the last 10 meetings between the Spartans and Irish. It's tougher still because Michigan State has covered the last seven spreads at Notre Dame Stadium.
Pick: Michigan State (+5½).
Sarah Phillips is a featured columnist for the sports betting information website Covers.com.
You can follow her on Twitter @RealSarahPHI.