Commentary
Crew rows 460 miles to North Pole
Updated:
September 16, 2011, 12:07 PM ET
By
Jim Caple
| Special to Page 2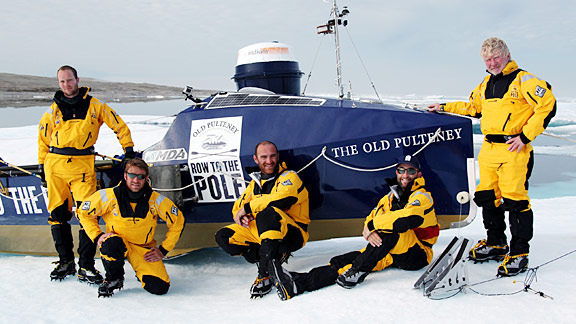 Courtesy of Mark BeaumontJock Wishart (far right) and his team rowed, rowed, rowed their boat all the way to the North Pole.
So what did you do this summer? Memorize the price of gas at every station you passed while driving to the Grand Canyon in an SUV that got 12 miles to the gallon? Breathe in certain plant scents as well as some indescribable body odors in youth hostels while backpacking across Europe? Gripe and moan that all your friends were having fun while you were stuck painting the house?
No matter what your summer involved, it paled in comparison to what Jock Wishart did. The Scottish adventurer led a six-man crew that rowed to the magnetic North Pole in the longest, most grueling summer expedition that did not include standing in line for the Finding Nemo ride at Disneyland. In becoming the first people to ever row to the pole, they oared their 9-meter-long boat more than 450 miles through icy waters, burned 7,000 a calories per day, survived subfreezing temperatures and dangerous ice floes, evaded hungry polar bears and endured the pungent body odors that can develop only after a month without bathing.
Kind of makes that Fourth of July 5K you ran seem a bit tame, doesn't it? Even if you set a personal best.
As Wishart said, pretty much no one had attempted such a voyage since Ernest Shackleton's crew rowed from Elephant Island in Antarctica to South Georgia in 1916. Shackleton and his crew, of course, did it only because they had to after their ship had been trapped and destroyed by ice. Wishart and colleagues chose to make this voyage.
"I prefer a slightly warmer climate for a holiday," Wishart said from Resolute Bay in Canada after completing the expedition. "But when you have a good bunch of guys around you and the chance to make a history, you give up some of the pleasures of the body."<.p>
You can see the route, watch video and read accounts of the trip at rowtothepole.com.
Now, this was not the first time Wishart has journeyed to the magnetic North Pole. Since 2003, he's led four biannual 350-mile Polar Race walks to the Pole. But he had never rowed there before this summer. No one had. For the simple reason that it was impossible -- until 2007, when the ice cap had melted enough due to global warming.
He says he got the idea at the end of one his Polar Races when he had taken a rowing machine out onto the ice for some exercise. Someone asked him whether he planned to row to the North Pole. After thinking it over, he decided that yes, he would row to the pole to highlight the effects of global warming.
Even with global warming, though, there is only a very narrow window of opportunity in August when the ice opens enough for a row to the pole. And then pretty much everything has to go right. Or as right as possible when you're talking about rowing to the North Pole.
"I reckoned we had a 50-50 chance," Wishart said. "Nothing like this had ever been attempted before, so we had nothing to refer to. We took a big, big chance. The crew all worked together wonderfully, there was not a single cross word the whole journey. And we had a great support crew. We had ice people and weather people who were able to communicate on a daily basis."
The crew set out at the end of July from Resolute Bay, rowing shifts of three hours on and three hours off. Wishart said the weather was incredibly good, though incredibly good for the Arctic is a little different than say, incredibly good for the Wisconsin Dells. There were days when it took three hours to travel five miles and days when they simply couldn't move at all due to the fierce winds and rains.
It must have seemed like being stuck in the worst road construction backup in interstate history. While driving a Zamboni machine in midwinter.
Wishart said the crew had to drag the boat most of the last two miles across ice to finally reach the pole, a segment that took nine hours. And when they reached the magnetic North Pole last week, the crew celebrated by drinking Old Pulteney Scotch (an official sponsor) and tossing Wishart into the near-freezing water. And some NFL coaches get upset about a Gatorade shower? "I got out very quickly," Wishart said.
Because the waters were freezing up around and behind them, the crew could not row back. So the men winterized the boat as best they could and carried their gear to the extraction point about 15 miles away, where a plane picked them up.
And get this: Wishart hopes to return next year to get the boat.
"What did I learn from this?" Wishart said. "I suppose the biggest thing is it's all about human nature -- if you really want something hard enough and work hard enough to achieve it, you can do it.
"I set out in the beginning knowing the odds were very remote. By doing so, we did four things. One, we broke one of the last true global polar records. Two, rowing to the pole is very special. Three, it was one of the great ocean rows of all time. Four, it was one of the great small boat journeys of all time."
And what were Wishart's plans for when he finally reached home after his expedition? "The first thing I'll do when I see my wife is make love to her." And after that? "I'd like to try to get to the Caribbean. It's a little warmer there."
Jim Caple is a senior writer for ESPN.com. You can follow him on Twitter at jimcaple.