Commentary
Stun gun at Cowboys-Jets baffling
Updated:
September 19, 2011, 11:13 PM ET
By
Jerry Greene
| Special to Page 2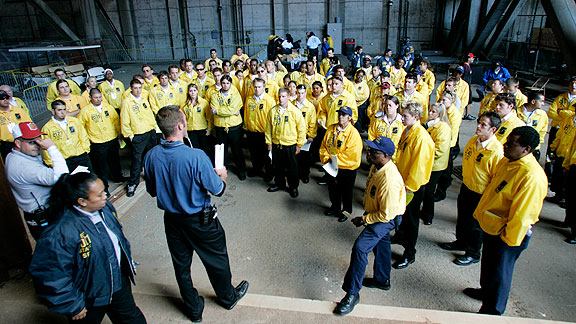 Tom Hauck/Getty ImagesSecurity guards get some instructions before a game. Wonder if a stun gun is mentioned?
Are you baffled by the story last weekend of the Dallas Cowboys fan who got into a brouhaha with a former Marine at MetLife Stadium? The baffling part is that Leroy McKelvey ended the dispute by stunning the other guy.
Come again? The NFL tries hard to please everyone but, as far as I know, it never sells stun guns during games. "Get your stun gun, right here! Can't enjoy the game without a stun gun!"
McKelvey apparently brought it in. And according to his son, New York DJ Charlamagne Tha God, he was wearing it on his hip.
That's not good.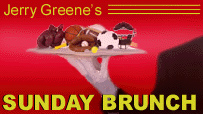 Perhaps the problem is too many of the folks hired to put on a yellow "Security" shirt and inspect the incoming crowd are as old as I am. To me and others, all the new electronic gizmos look alike. You could hold me up by pointing your BlackBerry at me and I'd never know the difference.
So the yellow shirts have got to try a little harder. Besides, for some of us, a little pat down is the highlight of the week.
Before we get to some truly tasty dishes in the main portion of this Sunday Brunch, here are a few more appetizers:
• Did you hear NFL Network deep thinker Michael Irvin explain the symbolism of the Colts not being prepared for the loss of Peyton Manning? His comment went like this: ""The young ladies today ... they're not learning from mom ... how to cook. We're losing recipes. ... That's the reality." Sure it is, Michael. Thanks to the NFL, we have a serious recipe gap.
• Please be on the lookout for an erratic war eagle displaying signs of a severe concussion. If found, please alert the University of Alabama athletic department as they promise to give the eagle all the care it deserves.
• We're going to be asked every Monday night if we're ready for some football. Will anyone care if we aren't?
• Be honest: Would you really hate it if we had a 50-game NBA regular season that didn't start until football was nearly over?
• Late Breaking News: After the NFL's opening weekend drew 107.4 million TV viewers, NFL owners have confirmed there will be another lockout in 2012.
Now the main courses of the Brunch, which are particularly fine:
• We often close with sports humorist Greg Cote of the Miami Herald but this time he leads off with one of his outstanding notes columns. This one begins with his search for a nickname for the Miami Dolphins' defense after it gave up a historic amount of passing yardage to Tom Brady. Read his notes here.
• Let's jump to The Wall Street Journal for two strong stories about golf. First John Paul Newport examines the names of the 13,000 registered golf courses in this country. My favorites are Nutters Crossing and Krooked Kreek, which probably says more about me than it does about golf. You decide by reading it here.
• In our second selection from the Journal, Stephen Miller tells us about Ralph J. Lomma, 87, who died last week. Mr. Lomma opened about 6,000 miniature golf courses in this country over the last 60 years. If you ever hit a ball through a windmill and into an alligator's mouth, chances are you had Mr. Lomma to thank. Check it out here.
• Our prized feature of the Brunch is a long and compelling examination of the NCAA titled "The Shame of College Sports." It's from The Atlantic and it's written by Taylor Branch, who happens to be a Pulitzer Prize winner. Read this here and you'll understand why.
• We close with a shameless plug. I comment on and predict the outcome of every NFL game along with providing a free contest where you can try to beat me and everyone else. Try it here.
Have a great Week 2.
Jerry Greene is a regular contributor to ESPN.com and can be reached at osogreene@aol.com