Commentary
Andrew Luck worth sacrificing season
Originally Published:
September 19, 2011
By
DJ Gallo
| Page 2
Only 12 percent of teams that have started NFL seasons 0-2 have gone on to reach the playoffs. An 0-2 start is essentially the end of a team's season.
But this year there is a great reward for not winning. A team can get star Stanford quarterback Andrew Luck. Let's take a look at the 0-2 teams and determine whether they should continue to try to win or -- as it's become known on Twitter -- #SuckForLuck.
Seattle Seahawks

After going 7-9 a year ago, they went out and downgraded at quarterback. Seattle was purposely trying to #SuckForLuck long before it became fashionable. Pete Carroll: true football visionary. He lives by the "Win Forever" code, but he probably believes it's OK to lose constantly for a year on purpose if it results in future winning forever. The guy didn't briefly win a BCS title by being stupid.
Minnesota Vikings

The Vikings are in a bind. They believed bringing in Donovan McNabb would make them a playoff contender while Christian Ponder was being groomed for the job. Unfortunately, the Vikings are bad, and the majority of Minnesota fans didn't want McNabb and hated the Ponder pick. Management could really excite the fan base by promising to lose every game this season. Verdict? #SuckForLuck
Carolina Panthers

They have Cam Newton. He's the real deal, so they obviously don't want to #SuckForLuck. They should still consider going 0-16 for the first pick, though. They could get a huge haul in a trade for the top pick. Or, who knows, maybe they can keep the pick and draft defense. Surely there is a good college defensive player whose name rhymes with #Suck or #Lose.
Kansas City Chiefs

"The season will not be canceled as far as I know," Chiefs coach Todd Haley said after Sunday's loss to the Lions. Unfortunately for the Chiefs, he's right. The 2012 season won't be canceled either. That's where Kansas City must turn it hopes and dreams. #SuckForLuck
Indianapolis Colts

Similar to the Vikings, the Colts have a tough call. If they believe Peyton Manning can be back to 100 percent next year, there's no reason to go after Luck. Manning won't retire any time soon; he doesn't seem like the kind of guy who has many interests outside of football. But they do have a chance to improve their defense, never an Indianapolis strong point. How to improve that defense? Draft Luck and let him rot on their bench. He can't shred their defense if he's on their team. #SuckForLuck
Miami Dolphins

This is an easy call. The Dolphins don't have much going for them. It's a #SuckForLuck team if there ever were one. Luck is the kind of quarterback who can be the next Dan Marino, but it will be a long and ugly season to make it happen. Tony Sparano might want to ditch the sunglasses and just close his eyes. #SuckForLuck
Quote of the week
"I'm a well-conditioned athlete. I don't need oxygen."
-- Vince Wilfork, the New England nose tackle generously listed at 325 pounds, on his 28-yard interception return against the Chargers.
He's right. Wilfork doesn't inhale oxygen. The only thing he inhales is food. If some oxygen happens to get in there while swallowing, well, that's what burping is for. Gas takes up useful space where solids could be. Solids like ham.
Stat of the week
854 -- Cam Newton has 854 passing yards through his first two NFL games. You've heard all about the records he's set already -- most yards in an NFL debut, most yards through two games of a career, first player in NFL history to open a season with consecutive 400-yard games -- but to really put that number in perspective, consider that 854 is approximately one-fifth of 4,083. So through two NFL games, Newton already has one-fifth of the career passing yards that JaMarcus Russell achieved in 31 games over three seasons.
Let me be the first to go on record, assuming someone else hasn't done so already: When it comes to recent No. 1 overall quarterback selections, Cam Newton > JaMarcus Russell.
Strong opinion, I know. Controversial even. But I know you expect nothing less from this column.
This Week's Horrible Fantasy Team That Crushed Your Team
Jason Campbell, QB, Raiders -- 23 for 33, 323 yards, 2 TDs, 1 INT, 1 rushing TD
Jahvid Best, RB, Lions -- 123 total yards, 2 TDs
Willis McGahee, RB, Broncos -- 28 carries, 101 yards, TD
Denarius Moore, WR, Raiders -- 5 catches, 146 yards, TD
Eric Decker, WR, Broncos -- 5 catches, 113 yards, 2 TDs
Fred Davis, TE, Redskins -- 6 catches, 86 yards, TD
Pictures of the Week
"Yeah, I'm sure you guys would be very competitive in the Pac-12, but I think that's a discussion for another time."
"Tough loss. One of us had to lose. Heck, I'm surprised we both didn't lose."
MORE GALLO PHOTO CAPTIONS!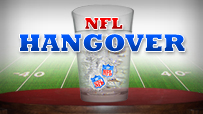 Want more photo captions? No, you NEED more photo captions. You're welcome!
DJ Gallo's NFL Hangover photo gallery

"Later I'm using this sign to say 'Hi' to my mom."
"Yeah, Mike, but did you see our game last week? It was totally awesome."
"I wonder if I should say or do something."
"My grandpa says he used to love watching you play in college."
"Come on, man. Get up before you get killed on Twitter."
"Yes! One week off from getting destroyed by the media. And all I had to do was break a rib."
"Perfect. I can't see Tim's angelic glow with these on."
Five things I think I thought to think
1. I know what you're doing, and you should stop. It's lazy and dumb. You take my "Horrible Fantasy Team" from each week and use it as tips for your fantasy league's waiver wire. Well, the joke is on you, because the reason those guys are on my list is because they stink. For example, last week the team featured names such as Ryan Fitzpatrick, Ben Tate and Scott Chandler. And how did those guys do this week? Pretty well, actually. OK, so maybe you're not dumb, but you're lazy. Definitely lazy.
2. The Chiefs are without their best defensive player, Eric Berry, and their best offensive player, Jamaal Charles, for the rest of the season. This means two other players on the Chiefs will now be referred to as "best." That's a misnomer waiting to happen. Let's go with "least bad."
3. Cleveland's arrival in Indianapolis on Saturday was delayed by 3½ hours because their team plane got stuck in mud at Cleveland Hopkins International Airport. The Colts season has been reduced to this.
Colts' "Keys to the Game"

Hope their opponent's plane gets stuck in the mud, which is apparently something planes can do.
What's that? They got on a different plane.
Oh, well.
4. Peyton Manning reportedly went to Europe to receive experimental stem cell therapy for his neck that is not approved in the United States. It's great that he's going above and beyond to get back on the field, but I doubt he got the best care in Europe. They don't follow American football and don't know who Peyton Manning is. Just imagine if the tables were reversed.
U.S. doctor's office receptionist: "Excuse me, doctor. There's a man here named 'Tevez' or something. He claims he's a big star overseas and wants to see you."
U.S. doctor: "Ha! Good one! See if anyone in the psych ward is available to see him. If not, just have security show him out. Thanks."
5. Tim Tebow played some snaps as a wide receiver against the Bengals. Expect to see more of it as Denver continues to install its "Maybe This Will Be Enough to Make Our Fans Shut Up Package."
DJ Gallo is the founder of SportsPickle.com. His first book, "The View from the Upper Deck," is available from only the finest bargain-book retailers. His next book project will be released soon. You can follow him on Twitter at @DJGalloESPN.