Commentary
Big bucks
Travis Pastrana to compete in Big Buck Hunter World Championships
Updated:
September 21, 2011, 11:12 AM ET
By
Alyssa Roenigk
| ESPN The Magazine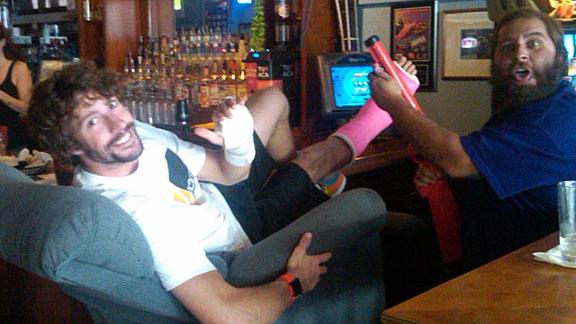 Courtesy of Travis PastranaTravis Pastrana's friends hauled a La-Z-Boy to a bar so he could qualify for the Big Buck Hunter World Championships and keep his broken leg elevated above his heart.
This story appears in the Oct. 3, 2011 issue of ESPN The Magazine.
It's all fun and games until someone gets hurt -- or if you're Travis Pastrana, it's all fun and games when you're hurt. Since undergoing surgery in August to repair breaks in his right ankle and leg from a botched freestyle motocross trick at the X Games, Pastrana has been saddled with a knee-high pink cast. In his newfound free time, he picked up a plastic gun and started training for the Big Buck Hunter World Championship, an annual arcade game event that launched in 2008. "Never underestimate the determination and competitiveness of an injured athlete," says Pastrana, who placed eighth last year. To qualify for this year's event at the legendary Cubby Bear Bar (across the street from Wrigley Field on Sept. 23-24), 64 people in four regions logged their top score in an online tournament. Pastrana's doctors required that his foot remain elevated above his heart, so his buddies transported his basement La-Z-Boy to the Acme Bar & Grill in Annapolis, Md., where Pastrana qualified with the 12th-highest score in the East. "I rise to the level of the competition," he says, "but my chances of winning the whole thing are very slim." Hey, it beats watching the grass grow. Follow the championships here.
Follow ESPN The Magazine on Twitter: @ESPNmag.
ESPN The Magazine senior writer
Alyssa Roenigk is a senior writer for ESPN The Magazine and ESPN.com whose assignments have taken her to six continents and caused her to commit countless acts of recklessness. (Follow @ESPN_Alyssa on Twitter).
ESPN The Magazine: October 3, 2011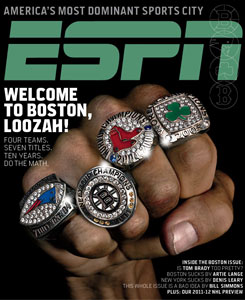 Boston Features
NHL Preview
Columns & Go/Play