Commentary
Readers: 10 unlikely sports movies
Updated:
September 22, 2011, 8:54 AM ET
By
Jerry Greene
| Special to Page 2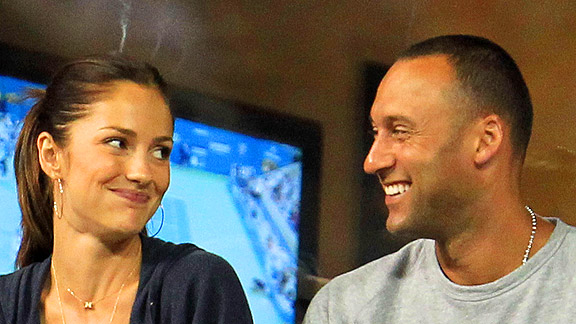 Chris McGrath/Getty ImagesWould Derek Jeter, who is here with Minka Kelly, ever be the "Bachelor"?
When you ask readers to create their own movies, including casts, you discover a couple of things about our readers.
If there is a black man in a sports movie, you expect it to be either Denzel Washington or Will Smith with a little love for Eddie Murphy.
If there is a white man in a sports movie, you expect it to be either George Clooney or Brad Pitt.
Pitt, of course, is the star of "Moneyball," which opens around the nation Friday. According to Rottontomatoes.com, critics are going ga-ga. Out of 37 early reviews, 34 thought it was ripe and only three found it rotten. "'Moneyball' takes a dry story about numbers and no-name ballplayers and turns it into something funny, deep and illuminating. And as [Billy] Beane, Brad Pitt gives perhaps his smartest, subtlest performance ever," wrote critic Roger Moore of the Orlando Sentinel.
To celebrate "Moneyball," Rottentomatoes.com has listed the top 20 baseball movies, based on the critical reviews listed there. You can check it out here.
But come back because we have our own treat: our reader-generated list of new movies, as inspired by the risky thought that millions of Americans are eager to pay for a movie about the stats behind daring baseball management. Trust us, this flick doesn't get made without Brad Pitt.
Two suggested flicks have been disqualified because everyone thought of them: The "Air Bud" sequel, in which the dog either sacks Mike Vick or replaces him to win the Super Bowl, and "Sucker Punch II," with Eddie Murphy playing Floyd Mayweather Jr. You had trouble casting Victor Ortiz but Frank R. of Providence, R.I., may have nailed it with Rey Mysterio.
Enough. The reader-generated list of the week:
Top 10 Unlikely Sports Movies for 2011-12
10. "Technical Foul: The Rasheed Wallace Story," suggested by Scott G. of Rockford, Ill. (Dwight Howard called and wants to be in the sequel.)
9. "A Nightmare on Lansdowne Street." Tagline: "If pitcher John Lackey doesn't wake up screaming, it means he didn't wake up at all." Suggested by Kyle A., "a suffering Red Sox fan in Baltimore."
8. "Sink Like a Brick: The Shaq Story," Starring Shaq as himself, Denzel Washington as Kobe Bryant and Sam Elliott as Phil Jackson, as suggested by Ben M. of Peoria, Ill.
7. "Rudy II: "The Best We Can Do Now," starring Sean Astin as a 40-year-old ex-walk-on who is granted an extra year of eligibility at Notre Dame. As suggested by Howard M. of Charlotte, N.C.
6. "I Am Legendary," starring Will Smith as "the last man" who teaches zombies to play football. The zombies are played by the Kansas City Chiefs. Suggested by David T. of Parts Unknown, Ore.
5. "First Round and Down." Tagline: "A man without a team, a city without a savior," starring Channing Tatum as Tim Tebow, Gary Busey as John Elway and Brad Pitt as Kyle Orton. As suggested by Gabe S. of Tampa.
4. "Winning: The Chicago Cubs Story," starring Charlie Sheen as everybody. As suggested by Carey S. of Palo Alto, Calif.
3. "Chariots of Favre," the story of Brett Favre teaming with Dale Earnhardt Jr. and Danica Patrick to become the most overhyped racing team in NASCAR history. Favre's No. 4 vehicle is sponsored by John Deere and Wrangler. As suggested by Lisa H. of Hamilton, Mont.
2. "Real Moneyball: The Yankees Story," suggested by Janice H. of Palo Alto, Calif.
1. "The Bachelor and the Budget Analyst." Tagline: "Can a 37-year-old shortstop find romance with a 51-year-old woman?" Starring Derek Jeter as the bachelor and Lisa A. of Benson, N.C., as the budget analyst. As suggested by Lisa A. of Benson, N.C.
Good luck, Lisa. That's certainly one movie you'd want to see. (Note: First time our lists had the final three lines suggested by women, including two named Lisa.)
Jerry Greene is a regular contributor to ESPN.com and can be reached at osogreene@aol.com