Commentary
Think before you ink
A trio of inked-and-ditched fans show how much they love their teams
Updated:
September 26, 2011, 11:57 AM ET
By
Jason Feifer
| ESPN The Magazine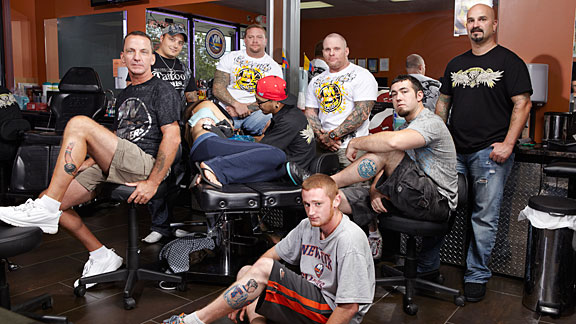 Timothy Devine for ESPN The MagazineRumor has it the Islanders will be leaving town soon. That won't stop fans from getting inked.
This story appears in the October 3 issue of ESPN The Magazine.
IN A BOLD MOVE to generate fan appreciation, the Islanders will open a tattoo parlor inside Nassau Coliseum this season. Bold because rumor has it the Islanders will be skipping town when their lease is up in four years. If you're considering volunteering your epidermis for the ultimate sign of team loyalty, shouldn't you want to know if the club will still be around before the ink fades? Well, not according to the Islanders' official tattoo shop owner, Lou Rubino Jr., president of Tattoo Lou's in Deer Park, N.Y. "If you grew up as an Islander fan and all of a sudden they move, they were still part of your life," he says.
Inked Islanders fans will likely feel the same. A trio of inked-and-ditched fans we found around the country backed his sentiments. Here's what they said about their outdated marks.
---
SHARKEE KATZ, 31, Northampton, Mass.
TATTOO: Hartford Whalers, on hip, in 2003
THEN: "At the time, I was taking myself too seriously," he says, "and so I thought a good way to fix that would be to get a Whalers tattoo -- after all, they had moved to Carolina six years earlier."
AND NOW: "I was at a bar and met this girl who said she dreamed she'd marry a guy with a Whalers tattoo. When we were outside, she came over and just gave my tattoo a hickey." (They did not marry.)
TODAY'S ALLEGIANCE: Boston Bruins
---
TRAVIS DICKSON, 41, San Antonio
TATTOO: Houston Oilers, on arm, in 1995
THEN: "I was out drinking with a buddy who's a Vikings fan, and we decided to get tattoos of our teams," he says. That was spring. Six months later, the Oilers announced they were moving to Tennessee.
AND NOW: "It reminds me of my dad. I miss him a lot. He was my sports buddy, and he passed away too early. He died in '99 -- didn't even get to see them go to the Super Bowl. They were the Titans by then, of course."
TODAY'S ALLEGIANCE: Tennessee Titans
---
MATT HERRING, 43, Springfield, Mass.
TATTOO: Montreal Expos, on arm, in 2004
THEN: The Expos had just played their final season in Montreal. "My heart was broken," he says. "For me, the Expos were one of the longest relationships I've had in my life."
AND NOW: "It's my identity -- that I stuck with something from beginning to end. I was going to give up baseball, but a friend said to me, 'You'll still love your daughters when they get married and change their name, right?' I said, 'Of course.' So I put a W in the middle of the tattoo, for Washington."
TODAY'S ALLEGIANCE: Washington Nationals
Follow ESPN The Magazine on Twitter, @ESPNmag, and like us on Facebook.
ESPN The Magazine: October 3, 2011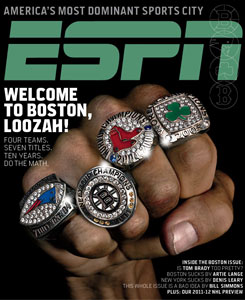 Boston Features
NHL Preview
Columns & Go/Play