Is he your ideal (team)mate?
The Mag puts the Seahawks' Mike Williams and Sidney Rice to the test
Updated:
September 28, 2011, 2:50 PM ET
ESPN The Magazine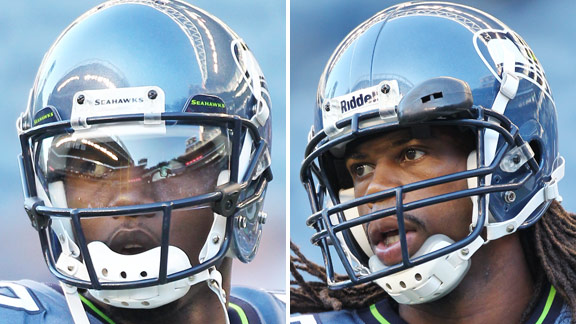 Getty ImagesMost importantly, the teammates agree on the importance of the royal wedding.
This story appears in the Oct. 3 issue of ESPN The Magazine.
Both played college ball for a USC. Both have overcome adversity to make it in the NFL. But will the Seahawks' newest wideout, Sidney Rice, mesh with fellow deep threat Mike Williams, who helped propel Seattle to the NFC divisional playoffs last season? We turn to our Compatibility Test for answers.
SCORING:
0-2: They put the split in split ends.
3-5: Destined to share playbacks.
6-8: XO, XO.
---
WHICH USC IS BETTER?
Rice: The original: University of South Carolina. Coach Spurrier's program is going in the right direction.
Williams: The real one: University of Southern California. This really isn't even a competition.
SCORE: 0
---
STARBUCKS: YES OR NO?
Rice: Definitely. I like to get my caramel macchiato with extra caramel.
Williams: No. If I drink coffee, it's going to be from the Coffee Bean & Tea Leaf.
SCORE: 0
---
FAVORITE NON-NFL SEATTLE SPORTS TEAM?
Rice: Mariners.
Williams: The M's. They were my favorite team growing up, with Ken Griffey Jr. and Tino Martinez.
SCORE: 1
---
'HAWKS GO-TO RECEIVER?
Rice: Tavaris Jackson finds the open receiver. I ain't going to be selfish. Throw it to Mike, or someone else -- as long as we win.
Williams: Sidney. But it depends on what play is called, so it's hard to say.
SCORE: 1
---
WHO'S BETTER ON TWITTER?
Rice: Mike. I took the preseason to really prepare, but now that we're in the season, I'll chat with fans (@sidneyrice).
Williams: Me, by a landslide. I'm more informative, humorous and better-looking (@BigMikeWill17).
SCORE: 2
---
THE BIGGER COACH'S PET?
Rice: I'd say Mike and Pete Carroll. Mike was 17 when he was recruited by Coach Carroll to attend USC.
Williams: Myself and Coach Carroll. I've known him since 2002. We have more history.
SCORE: 3
---
MOST IMPORTANT 2011 WEDDING: ROYAL OR KARDASHIAN?
Rice: The royal wedding. People were up early in the morning just to watch it on TV.
Williams: The royal wedding. When I'm older, it'll be pretty cool to say I remember when the prince got married.
SCORE: 4
---
LMFAO OR LIL WAYNE?
Rice: Weezy, baby!
Williams: "Party Rock Anthem" is a big song, but I'll go with Lil Wayne. LMFAO is kind of new, and Wayne has a bigger catalog.
SCORE: 5
Follow ESPN The Magazine on Twitter, @ESPNmag, and like us on Facebook.
ESPN The Magazine: October 3, 2011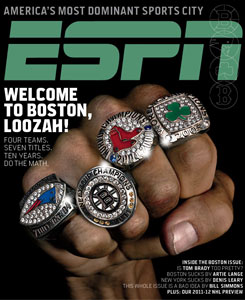 Boston Features
NHL Preview
Columns & Go/Play