Commentary
J. Cole talks CD, love of basketball
Updated:
September 27, 2011, 11:40 AM ET
By
Jemele Hill
| Page 2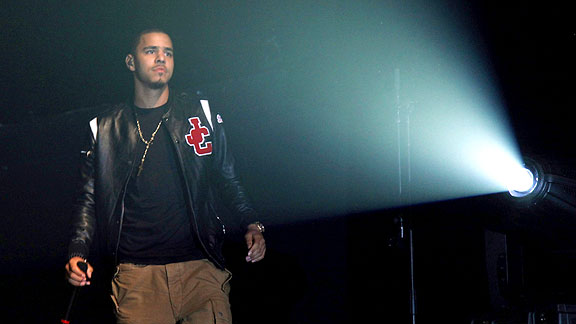 Johnny Nunez/Getty ImagesJ. Cole's debut album "Cole World: The Sideline Story" is being released on Tuesday.
Rising hip-hop star J. Cole and icon Michael Jordan have something interesting in common beyond both of them being from North Carolina.
Cole, like Jordan, was cut from his high school basketball team. Only Cole, a Fayetteville native, wasn't cut once, but twice.
"It was the ultimate motivation," said the 26-year-old Cole, whose highly anticipated debut album, "Cole World: The Sideline Story," is being released on Tuesday. "That's when I started going hard for the first time in my whole life."
Being cut in high school was one of two seminal moments for Cole that involved basketball. The other came at his alma mater, St. John's, where Cole was on the verge of making the team as a walk-on when ... well, we'll let him tell you the story in this Q & A with Page 2.
He'll also discuss his favorite athlete (hint: It's not Michael Jordan), the Duke basketball player he considered to be "trash," and who he thinks is a better player, Kobe or LeBron.
ESPN asked several notable artists, including you, to remake the "Baseball Tonight" theme song. For the last five weeks, your rendition has beat out Steve Earle, Travis Barker and Grupo Fantasma, among others. How do you feel about that?
"I didn't even know they were making it into a contest. If I had, I would have gone so much harder. I would have brought in an orchestra and went crazy."
What did you think about the fact that you knocked off Travis Barker?
"I saw I was going against Travis Barker and I was thinking, 'Yo, it's finished. It's a wrap.' And to make it so bad, Rihanna, my Roc Nation sister, sent out a tweet to her 8 million followers like, 'Hey, vote for Travis Barker' and I was thinking, I'm finished now. But somehow I pulled it out."
Because you're signed to Jay-Z's label [Roc Nation], do you think people have the perception your success came easy?
"I hope not. I know people that listen to me know that it's not. Anybody that's familiar with me, they know it's not because I talk about it a lot. I hope they don't think I have it made because I don't."
What is it like to work with Jay-Z?
"It's incredible. Matter fact, I was talking to him and I'm like, man, I'm super blessed, to say the least. I always thought that I would be signed. I believed I'd get a record deal and I would put out albums, but never, not once, did I ever cross my mind that I could be signed to the greatest to ever do it. Having him just a call away or a text away, get the type of advice that I receive from him, somebody who has been through what I'm going through ... it's just incredible, man. Words can't even really describe the feeling."
Has your success happened even faster than you expected?
"In the grand scheme of things, it's super fast. But it's been a very long process at the same time, if that makes sense. In terms of, where I'm at now, I do think, man, three years ago I was broke, trying to figure out what I was going to do and if things were really going to work. But I also know what I've been through in terms of making an album and after I got my deal. It went fast and slow at the time."
I read somewhere you compared yourself to Rudy Ruettiger, the inspiration behind the movie "Rudy." Why did you make that comparison?
"I'm that guy you want to root for. Rudy is heart. He didn't have everything in terms of the ability. His ability was what it was. I have the heart. My ability is there, but I had some learning and growing to do. I'm still learning and growing, but I have that potential to be a starter."
How much pressure do you feel to succeed with your debut album?
"I want to win. I want to succeed. (A) For myself. And (B) for the people who supported me, from the fans to the label, everybody. The definition of success has to be clarified because success is such a broad word. I feel like I have to re-evaluate my expectations. Really, right now, I have no radio smash. This is off the fan base I've built. I have to have realistic expectations for that. For me, it's not the numbers, but how do people feel about the album."
What would you consider a successful debut, then?
"I don't want people to just think the album is good. I want people to think the album is incredible. If people think it's incredible, I feel like I've done my job and the album will do the rest."
I hear you're a huge basketball fan.
"Yeah, I am. Just playing and loving the game. I'm a huge, huge, huge Penny Hardaway fan. He's my favorite player. I followed him and my favorite team became wherever he was at. I'm a fan of players. I'm a Laker fan, but only because of Kobe. Once he goes, I'm sure I won't watch the Lakers anymore. I'm a big Kevin Durant fan. Derrick Rose. Chris Paul. I'm a fan of players. I'm looking for home, though, so I'll be taking applications for my favorite team."
You can dunk, right?
"Yeah, I can dunk."
What's the best part of your game?
"I'm a scorer, but I can score many different ways. I'm not a pure jump shooter. I'm more like poor man's Dwyane Wade. I'm more comfortable doing a step-back or a fadeaway. The harder the shot, the more determined I am to make it. I definitely have defense. I have reach, so I use that. But my favorite part of my game is the scoring. I'm becoming a better passer as time goes on."
Since you're a North Carolina fan, what Duke player did you hate the most?
"J.J. Redick is definitely on the list, even though I give him respect for what he's done in the league. I definitely thought he'd never amount to anything. He's surpassed my expectations. But man, Josh McRoberts ... he's so trash! They tried to say he was the truth. I couldn't believe it. I was like, 'Am I the only one who sees that this guy is terrible?' But that's why Coach K really is one of the greatest. He takes these mediocre, talented players who might have an incredible jump shot or do one thing really well and he just hones in on it. He turns them into a college star, but when they get to the league, they're exposed. Oh man, I was such a hater of Josh McRoberts, but I hope he's doing well in life now."
Who's your favorite athlete ever?
"Michael Jordan is definitely my favorite athlete of all time when it comes to the greats, just for what he stood for and what he represented. But my personal favorite was Penny Hardaway. I was such a huge fan of his game, to the point where I followed his whole career, at every stage."
What happened with your basketball career at St. John's?
"I played my best basketball, period, my freshman and sophomore year of college. My freshman year, I was brand-new to New York, didn't have any family there. I didn't take the necessary steps to figure out what I had to do to try out for the team. So I missed the tryout freshman year. Come to find out these dudes made the team -- and no disrespect to them -- I'm like, what? Y'all made the team? I felt terrible because if I would have went out, I would have definitely made the team. The next year I go out with maybe 70 kids trying out. I had a great day of tryouts and they called back 10 of us out of the 70 to come back the next day at 6 a.m. But I had seen from the previous year the kids that did make that team, I saw how their life totally flipped. Once you made that team, they went from hanging out with us every day to waking up at 6 a.m., walking back around like [midnight], tired as hell, three practices a day. Your whole life is devoted to that and you're not even getting into the game. To go from a walk-on to actually getting some time, is a fight. I believed I could do it, but it was a problem because I knew it wasn't my real calling at the time."
How did you get cut twice from your high school basketball team?
"I had to go to a different middle school because my mom wouldn't allow me to go to the school I was supposed to go to because she didn't think it was the best school for me. I went to a middle school that was a public school but you had to wear uniforms, it was more focused on academics and they didn't have a basketball team. I was still playing rec ball and all the people I grew up playing basketball with were playing middle school ball. So when I got to ninth grade, I was good, but I was still at that level of when we were all playing rec ball together. I had talent, but I didn't have the organizational skills. Instead, I became the manager of the team. Now, you would think that next year I'd just make the team off of GP [general principle]. Don't you know my name was on the cut list? I was heartbroken. You talk about disbelief. I realized I had to kick it into the next year."
When did you realize your future was in music?
"I could tell you that I always believed it, from the time I started rapping at 13 or 14. I really did, but I still had the basketball dreams, too. But I knew I was better than a lot of people. I wouldn't broadcast it, but in my mind, I knew that I had something special and I believed I could do it."
Jemele Hill can be reached at jemeleespn@gmail.com