Commentary
Off Base's playoff Rootability Quotient
Originally Published:
September 28, 2011
By
Jim Caple
| Page 2
Who should you root for this postseason if your favorite team has been eliminated? I mean, other than whoever is playing the Yankees? To help, I've ranked all the possible postseason teams by their Rootability Quotient. RQ is a sabermetric (and fully copyrighted) analysis of each team based on the following criteria:
Time spent on waiting list: i.e., years you have moaned, cursed and wondered whether your grandparents, your parents, you, your children, your grandchildren or your great-grandchildren will live long enough to see the team win a World Series.
Character and characters: How many of a team's players are headed for Cooperstown and, equally important, how many are coming off (or headed back to) careers as bartenders, teachers, greeters at Wal-Mart, etc.
Wallet size: Did the team earn its way into postseason or just buy its way in by slipping the bouncer a $120 million six-year contract?
Intangibles: These include the team's ballpark, its likely October weather, average length of games, uniforms, mascot and attractiveness of the WAGs.
Here are the rankings -- and remember, RQ is totally objective and scientific.
1. Milwaukee Brewers, RQ 101.5
Pros: These fans deserve it. Milwaukee hasn't reached the World Series, or even won a postseason series, since 1982. You could find "Happy Days" on a network's prime-time schedule in late October more recently than the Brewers. Yet despite being in the smallest market in the majors (Raleigh-Durham is bigger), Milwaukee drew three million fans this year. And why not? This high-powered, entertaining team includes the slugging, vegetarian son of a home run king (Prince Fielder); a former film major/bartender/cellphone salesman (closer John Axford); an MVP candidate and restaurateur (Ryan Braun); and the irrepressible outfielder with the "gentleman's name" of Tony Plush (Nyjer Morgan). Management could have traded away Fielder ahead of his walk year but instead invested in the team by trading for Zack Greinke, Shaun Marcum and eventually K-Rod. That approach -- and Milwaukee's Plush-damentals -- should be rewarded.
Cons: If the Brewers win, we'll be saturated with Nyjer Morgan-inspired "gentlemen's names" to the point that your boss will refuse to answer unless you address him as "Nigel Humperdink."
2. Texas Rangers, RQ 92.37
Pros: No, wait. These fans deserve it most! Include their 11 woeful seasons in Washington as the Senators and the Rangers have gone 51 seasons without a world championship. That won't earn sympathy in Cleveland and Wrigleyville, but it means the Rangers franchise has suffered longer than any other team in the postseason. Unless you count the 12 seasons Milwaukee was home to the Braves, because really, we're talking about the same exact fans even if their allegiance was to a different uniform. Although in that case you also need to subtract the year the Brewers were in Seattle as the Pilots. And I don't know what to do with 20 "home" games the White Sox played in Milwaukee in the late '60s. Aw hell, let's just say Texas fans deserve it because they've never won a World Series, and MVP candidate Michael Young is a heckuva guy who has been as tough and dependable in Texas the past dozen seasons as a good pair of cowboy boots.
Cons: George W. Bush would probably throw out yet another first pitch. Regardless of how you feel about him politically I don't think it would be right for him to break Hoyt Wilhelm's career innings record.
3. Detroit Tigers, RQ 91.28
Pros: Forget about deserve, these fans need it. Detroit's unemployment rate (15.7 percent) was the highest for a major metro area this summer and that was before the Tigers dumped David Purcey. I mean, this city has suffered (and by that I'm thinking mostly of the Lions in recent years). But at least Detroit has Cy Young/MVP/Nobel candidate Justin Verlander, who is as invigorating as that Eminem commercial for Chrysler, as dazzling as the fins on a late-50s sedan and as reliable as a bumper-to-bumper, 100,000-mile warranty. Verlander led the league in ERA, wins, strikeouts, innings, WHIP and no-hitter alerts on Twitter. He didn't get to pitch in the All-Star Game, but the World Series would make up for that.
Cons: Brief employment blip in Detroit due to World Series merchandise sales offset by 30 percent rise in teen smoking due to frequent dugout shots of Jim Leyland.
4. Tampa Bay Rays, RQ 90.65
Pros: Forget whether the fans deserve it or not -- just root for the Rays -- please! -- because somebody should. The Rays catching Boston from nine games back is the greatest major league comeback that didn't include Charlie Sheen and a naked poster of the owner. If Tampa Bay reaches the postseason, it will mark its third appearance in four years despite operating on a payroll that includes post-dated checks and IOUs. This is the team that should have been the basis for "Moneyball" (though you probably wouldn't have needed Brad Pitt to play Andrew Friedman). Not convinced they deserve your support? Then just think of the agony Red Sox fans would endure if the Rays went all the way to the World Series.
Cons: Catwalks and vast empty sections are never a good look in the World Series.
5. Arizona Diamondbacks, RQ 84.10
Pros: The Diamondbacks may have the most talent and experience you've ever seen … on a coaching staff. And Kirk Gibson, Alan Trammell, Matt Williams, Don Baylor, Charles Nagy and Eric Young helped translate their career success into a team that went from last place and 97 losses to the NL West championship. Justin Upton is one of game's rising stars and a decent cricket player. A World Series also would cap baseball's most amazing comeback since Roy Hobbs -- Arizona infielder and former Little League World Series hero Sean Burroughs was out of baseball and dumpster-diving for cheeseburgers last year. And speaking of Roy Hobbs, wouldn't you love to see Gibby activate himself for one pinch-hit at-bat?
Cons: Could Cubs fans handle it if the Marlins and Snakes each had two world championships in the past 15 years?
6. St. Louis Cardinals, RQ 71.21
Pros: Are you kidding? By overcoming the season-long loss of Adam Wainwright, Albert Pujols' brief trip to the disabled list and a 10½-game deficit, the Cardinals have survived every baseball obstacle other than having Carlos Zambrano in their rotation. The deeper they go, the longer St. Louis fans get to see Pujols, the future free agent who looks even better in a Cardinals uniform than Don Draper does in a tailored suit. And remember, the Cards repeatedly do this postseason thing despite playing in a market smaller than Sacramento (what's your excuse, Kansas City?).
Cons: If Cardinals win, someone may write yet another book about what a genius Tony La Russa is.
7. Philadelphia Phillies, RQ 43.79
Pros: Underdogs are fun and inspiring but sometimes it's just a good thing for the World Series winner to also actually be the best team in baseball. And with Roy Halladay, Cliff Lee and Cole Hamels, we might see dazzling World Series games that end before "Modern Family," let alone midnight. Plus, I believe Philly already has the world championship parade route planned.
Cons: Three World Series in four years? Not even the Yankees have been that greedy lately.
8. New York Yankees, RQ 13.60
Pros: I'm thinking, I'm thinking!
Cons: Four-hour games, the Steinbrenners, TV backgrounds of empty box seats purchased by billionaires with lower tax rates than you and me who can't be bothered to sit in their seats, four-and-a-half hour games, A-Rod, the Yankees, five-hour games …
CSI: BOX SCORE
You know the rules. You get a fragment from an old box score and the challenge of determining what game it is from and why it is significant. I give this one a difficulty rating of 6.0. (Hint: I'm featuring late-season games this month.)

Kurt Snibbe/ESPN.com
BOX-SCORE LINE OF THE WEEK
There were some brutal lines in the regular season's final week. San Francisco starter Eric Surkamp threw 41 pitches but didn't get out of the first inning Saturday (2/3 IP, 3 H, 6 R, 6 ER, 4 BB, 0 K). Felix Hernandez had a painful final start the same day, partly because a line drive hit him in the right forearm and partly because he gave up 12 hits (3 1/3 IP, 12 H, 7 R, 5 ER, 1 BB, 2 K, 1 HBP). Anaheim rookie Jordan Walden blew his 10th save in 42 chances (a terrible percentage) and ended the Angels' postseason hopes when he blew a three-run lead in the ninth Sunday (2/3 IP, 4 H, 4 R, 4 ER, 1 BB, 1 K). And St. Louis reliever Jason Motte somehow turned a four-run lead into an eventual crushing loss Friday despite not allowing a hit (1/3 IP, 0 H, 4 R, 3 ER, 3 BB, 0 K).
But amid all those ugly lines, this week's award goes to Tampa Bay for this gem in Tuesday's game against the Yankees:
TP-Tampa Bay (Longoria-Zobrist-Rodriguez)
It was one of the most incredible plays in pennant race history. Trailing 3-2 in the sixth with the bases loaded, the game slipping away and the season on the line, the Rays turned a 5-4-3 triple play to get out of the inning and stay close. Matt Joyce then won the game with a three-run homer the next inning and leave the Rays and Boston tied heading into the season's final day.
"What I was hoping for was maybe a double play and giving up one run," Tampa Bay manager Joe Maddon told reporters. "But my God, how do you even envision a triple play?"
How could anyone envision any of this final week? Can't wait to see what the season finale brings.
[+] Enlarge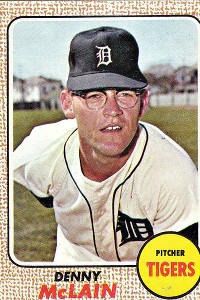 Topps
BASEBALL CARD OF THE WEEK
Denny McLain looks more like your junior high shop teacher than a 30-game winner in this card (1968 Topps, No. 40), or for that matter, like someone who would steal from a pension fund. Yet McLain went 31-5 that 1968 season to become the first 30-game winner since 1934 -- and no one has done it in the 44 years since. So what is McLain thinking as he squints into the camera? Probably "I wonder how much money I can scam off those guys in the box seats before they get wise to me and break my legs."
YEAH, WELL, THAT'S JUST LIKE YOUR OPINION, MAN
I Would Love To Watch A Debate Among These Candidates: The biggest difference between voting for president and voting for baseball's MVP is that there are so many deserving candidates in baseball. I have a ballot for American League MVP and I'm still trying to narrow my vote from at least three -- and possibly more -- deserving candidates (Verlander, Ellsbury and Curtis Granderson). Trust me, I never have this dilemma when sorting through the presidential candidates. The big issue this year is not the economy, health care or foreign policy but whether a pitcher should be considered with position players. The answer is yes, even though starting pitchers win the MVP vote about as often as a Whig Party candidate wins the presidential election. Many think the MVP should go only to position players because they are in the lineup every day, as opposed to a starting pitcher who spends four out of every five days in the dugout chewing sunflower seeds and checking the stands for good-looking women. A position player may be on the field most every day but he has far less impact on any of those games than a pitcher in the game he starts. A position player only bats four or five times a game and fields a couple of balls. He can go 0-for-4 and his team can still have a good chance of winning. A starting pitcher faces more than 800 batters a season (Verlander faced 969). If he has a bad game, his team's chances of winning are dramatically damaged. Simply put, the one game he pitches every five days is equivalent to the five games a position player will play in the same span. Or consider it this way: If you have one game you absolutely must win, would you be more concerned with who your starting pitcher is or your right fielder?
Anyway, so what does my MVP ballot look like? As I said, I'm still mulling over Verlander, Granderson and Ellsbury for the top spot. As for the other BBWAA awards if I had a vote? AL Cy Young, Verlander; NL Cy Young, Clayton Kershaw; AL rookie, Mark Trumbo; NL rookie, Freddie Freeman; AL manager, Manny Acta (or Maddon); NL manager, Kirk Gibson. …
It's Not Broke, Don't Make Us Wait Around All Day For The Cable Guy: The current sagas with the wild-card races are a further argument against adding another one to each league. One, why is there a problem when you have a final week like this one? Two, imagine the potential scheduling mess if there was a tie for the second wild card. That would require a playoff for that wild-card slot, followed by a one- or three-game series between the two wild-card teams, and only then would we get to the division series. With the regular season ending Oct. 4 next season, the World Series may not start until after "The Simpsons Treehouse of Horror." Baseball has been pretty fortunate with the weather since expanding the playoffs in 1995. One of these years there will be a nightmare … and adding rounds only increases the odds of that happening. …
Fantastico! Fantastique! Fantastisch! Seattle rookie Alex Liddi became the first player who grew up in Italy to hit a major league home run last week (he hit three total). This season's Mariners clubhouse had players who spoke the following languages as their first language: Italian (Liddi), French (Eric Bedard), Spanish (many players), Dutch (Greg Halman), Japanese (Ichiro), English (many players), and whatever language Milton Bradley communicated in. …
BALLPARK RANKINGS
Fenway Park, Boston Teams blackmail communities into spending hundreds of millions of dollars to build them ballparks that will make them financially competitive and remind fans of the old days. Meanwhile, Fenway Park is finishing up its 100th season and is still baseball's most beloved ballpark, as well as home to the second-richest team. A decade or so ago the then-Red Sox owners were pushing for a new stadium, claiming that they couldn't be competitive in Fenway, which they said was falling apart. Then the new owners came in, stopped bitching and started fixing up the place. They poured money into the park to steadily upgrade it without changing its character. Every time I go there I see another improvement. It may not be baseball's best stadium -- Pittsburgh has that honor locked up -- but it is my favorite because of all the history. Babe Ruth pitched here, Ted Williams hit here, and as it heads into its second century, Fenway looks better than ever.
Score: 96. Current Rankings:
1. PNC Park, Pittsburgh 98
2. Fenway Park, Boston 96
3. AT&T Park, San Francisco 94.
4. Camden Yards, Baltimore 92
5. Target Field, Minnesota 91
6. Wrigley Field, Chicago 90
7. Angels Stadium, Anaheim 89
8. Dodger Stadium, Los Angeles 88
9. Safeco Field, Seattle 87
9. Comerica Park, Detroit 87
9. Coors Field, Colorado 87
12. Kauffman Stadium, Kansas City 86
13. Petco Park, San Diego 84
14. Comiskey Park, Chicago 83
15. Progressive Field, Cleveland 82
16. Citi Field, New York 81
17. Minute Maid Park, Houston 80
18. Yankee Stadium, New York 79
19. Busch Stadium, St. Louis 78
20. The Ballpark in Arlington 77
21. Miller Park, Milwaukee 77
22. Chase Field, Arizona 76.5
23. Nationals Park, DC 76
24. SkyDome, Toronto 75
25. The Oakland Coliseum 74
26. This Space For Rent, Florida 73
27. Tropicana Field, Tampa Bay 68
CSI: BOX SCORE ANSWER
There are a couple of clues here. The big one is the "W, 31-5" next to McLain's name, which tells us this is from late in his 1968 season. The other one is the "HR-Mantle (17)." Put those two clues together and you may recognize this was the Sept. 19, 1968, game in which McLain grooved Mantle a fastball so he could hit a home run in his final at-bat in Tiger Stadium, and perhaps the last time McLain ever did anyone a favor without also slipping a hand into their back pocket. The Mick recalls the moment here.
Not many people saw this happen, by the way. Despite the matchup of a 30-game and a 20-game winner, as well as a game between the vaunted Yankees and the first-place Tigers --who were eight victories into an 11-game winning streak and had clinched the pennant the previous night -- Detroit drew just 9,063 that day.
Jim Caple is a senior writer for ESPN.com. You can follow him on Twitter at jimcaple.