Commentary
Carlos Tevez joins list of refusals to play
Originally Published:
September 28, 2011
By
Patrick Dorsey
| Special to Page 2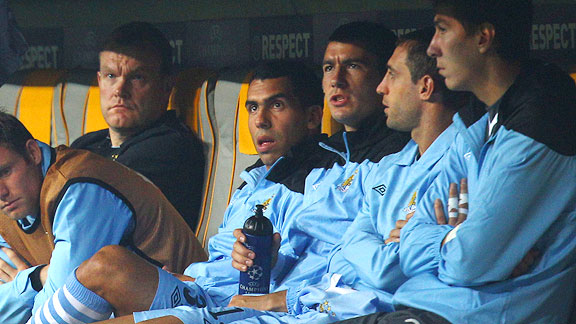 Alexander Hassenstein/Bongarts/Getty ImagesManchester City's Carlos Tevez refused to play on Tuesday, according to the team's manager.
Roberto Mancini told Carlos Tevez to play Tuesday. Tevez said no.
That's the story told by Mancini, manager of Manchester City, after the club's Champions League loss to Bayern Munich. Tevez denies it, but it's not hard to believe; the enigmatic Argentine has had his share of odd moments (more on that below).
Of course, if true, Tevez is far from the first person to say thanks but no thanks, to refuse to go on, for one reason or another.
Here are Page 2's biggest refusals of all time, featuring Tevez and 11 more (because of soccer, of course):
12. Bobby Fischer
The enigmatic chess star forfeited a game in the 1972 "Match of the Century" against Boris Spassky. The reason: A film crew had set up cameras, and Fischer wanted no part of it.
11. Han Solo in "Star Wars"
"What good's a reward if you ain't around to use it?" Solo asked Luke before the Rebels' attack on the Death Star. Ultimately, though, Solo's conscience forced him into last-minute action to save the day (and Luke's life). But could he have done more if he fought the whole time? Note: If you consider that a spoiler … well, there's just nothing to say to that.
10. Jim Riggleman
Riggleman waited until after his game, but the point remained: With no longer contract in place, Riggleman this summer refused to keep going as manager of the Washington Nationals -- right after the team pulled to above .500 in June for the first time in six seasons.
9. Ozzy Osbourne on "American Idol"
Ozzy and "Idol." You'd think those two would mix so well. And Osbourne was scheduled to show it, too, before refusing to sing a duet with "hairstyle-challenged idiot" (his words, not ours) Sanjaya Malakar in 2007.
8. Pavel Bure
The former Russian star once spent most of a season back home while refusing to play for the Canucks (ultimately getting him a trade to the Panthers late in the year). And this came years after a rumored -- and we emphasize rumored -- threat from Bure to sit out a crucial playoff game in 1994 if his contract wasn't renegotiated.
7. Carlos Tevez
Really, Tevez followers should not be surprised by the latest incident; he's asked for a transfer before, and despite his immense talent long has been an enigma (a "bad apple," perhaps?). Also, it's not the first time a footballer has asked to stay out; Javier Mascherano (with Liverpool) and Dimitar Berbatov (with Tottenham) are among the many to do it in the past few years.
6. Former AC/DC frontman Dave Evans
Or so the story goes, as Bon Scott -- the Australian hard rock band's first big singer, before his untimely death -- supposedly went from the band's chauffeur to its vocalist when Evans refused to go on stage one evening. Evans' son has disputed this, saying Evans and other band members long had clashed before his ultimate exit, and also Evans wasn't getting paid. But if it's true …
5. Thurman Munson and Graig Nettles (and Jorge Posada)
Remember all of a few months ago, when Posada asked out of the Yankees' lineup (supposedly because he was too low in the batting order)? That wasn't the first Bronx breakdown, with the melodramatic 1970s Yankees producing a similar situation: Munson and Nettles, bristling at a fine, told Billy Martin to sit them out. The Bronx is burning, indeed.
4. Axl Rose
Metallica. Guns N' Roses. Stadium Tour. Can't miss, right? Well in 1992, it did -- and did big, as the GNR frontman cited voice problems and refused to keep going after 55 minutes during a Montreal show (during which Metallica's James Hetfield also got hurt).
3. Detroit Pistons
Coach Doug Collins pulled his team off the floor in 1996, protesting a last-minute triple-double attempt for the Magic's Anthony Bowie. Ten years later, Ben Wallace reportedly said no thanks to the final 7:57 of a game after being pulled. But those were nothing compared to this season, when a host of players skipped a shootaround, supposedly to protest (now former) coach John Kuester.
2. Marlon Brando at the Oscars
One of the most iconic roles in one of the most iconic films earned one of the most iconic actors his second Oscar in 1972. Only he didn't go to the 1973 ceremony, instead sending actress Sacheen Littlefeather to the show -- and the stage -- to instead iterate Brando's objection to the entertainment industry's treatment of Native Americans. Some in the crowd cheered, but a few weren't so happy.
1. Scottie Pippen
Pippen made key contributions to six Chicago Bulls championships. But in the 1994 playoffs, sans-Jordan, coach Phil Jackson called a play for Toni Kukoc -- not Pippen -- with the Bulls and Knicks tied and 1.8 seconds left. Oops. Pippen reportedly refused to go on the floor for the game's crucial moment … and Kukoc made the shot anyway.
Page 2 editors Jim Wilkie and Dave Wilson contributed to this story.