Commentary
Here's sports at University of Phoenix
Updated:
October 2, 2011, 2:47 PM ET
By
Kevin Duffy
| Special to Page 2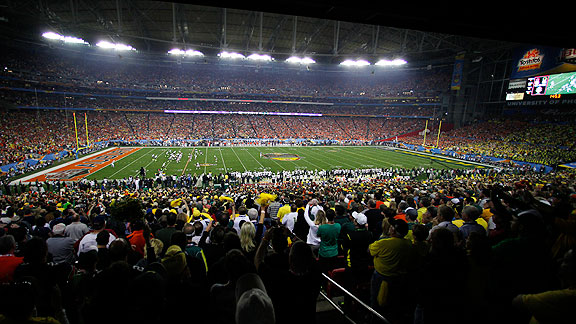 AP Photo/Charlie RiedelAt our proposed University of Phoenix, what would it be like at the stadium?
In 1991, a small group of University of Phoenix MBA students became the first college graduates to earn their degrees online. Back then, the whole concept -- going to school on the Internet -- probably seemed silly.
This is when "Oregon Trail" was at the cutting edge of computer gaming, when logging on to the Internet meant humming along to this catchy melody for 30 seconds.
It made sense to use the Web for help with schoolwork, but how could you actually go to school on the Internet? It's "You've got mail," not "You've got class."
Well, today, 398,400 students have class at the University of Phoenix, a predominantly online institution that ranks as the nation's largest private university. The school offers more than 100 degree programs and has advertisements all over the Web.
It doesn't, however, have an athletic program.
A University of Phoenix spokesperson said the school had no comment on whether or not there are plans for athletics in the near future. And that's quite puzzling.
A pioneer in this new digital era, Phoenix already has a tailor-made NCAA football recruiting pitch: Its name is on a state-of-the-art facility (the Arizona Cardinals play their home games at the University of Phoenix Stadium, which holds 63,400 fans) and it provides a college experience that LSU, Alabama, Notre Dame or Oklahoma simply cannot match.
Put yourself in the shoes of an 18-year-old kid deciding on a college. Let's examine life at a major program versus the life you'd have at the University of Phoenix. You decide what's better.
TRAINING CAMP
At current Division I programs: Boise State safety George Iloka says the Broncos are up at 6:30 a.m. and not finished with football activities -- meetings, workouts, conditioning drills -- until 9:30 or 10 p.m. UConn cornerback Blidi Wreh-Wilson is a bit more descriptive: "You see people looking at their pads like they want to cry."
At the University of Phoenix: The meetings are unavoidable, which means you should be efficient about everything else: Lift and condition on Monday, change clothes in between sets and take enough photos of yourself to last until Friday. TwitPic these photos daily so Coach doesn't become suspicious.
ROOKIE HAZING
At current Division I programs: Aside from the cliché "carry my bag" or "sit against the goalpost while we tie you up and spray silly string in your face," freshmen are sometimes asked to perform skits and sing for the upperclassmen. "We had to do solos," says Oregon tight end David Paulson. "That wasn't too fun. I don't even remember what I did -- I try to block it out."
At University of Phoenix: Two choices: lip-synch a famous song or take a photo on FatBooth and make it your Facebook profile pic for a week. Coaches strongly recommend FatBooth; it's kind of like a "voluntary" practice.
BREAKFAST CHECK
At current Division I programs: Players must check in to the cafeteria as early as 7 a.m. Depending on individual weight goals, there are various options -- omelets, yogurts, fruits -- to choose from. "Like our strength coach says, you can't outwork a bad diet," Iloka says.
At University of Phoenix: Arrive home at 5 a.m. from a night of partying and shoot out a quick email as you shove 20 McNuggets down your throat: "Hi Coach, I know it's a little early for breakfast check, but I decided to do an extra workout this morning. And I know it's the fifth day in a row I've worked out early, but that's just a reflection of my relentless work ethic. Anyway, I'll see you at the team meeting." Set your alarm for the meeting and pass out.
DISCIPLINE
At current Division I programs: Missing a breakfast check -- or skipping a class -- comes with a price. At LSU, there's a points system that determines early-morning punishment. "If you get too many points, you have to run at six in the morning," says Tigers offensive lineman T-Bob Hebert. "You don't want to be waking up at 5:30 to run. And that means the strength coach has to wake up at 5:30, too -- and he doesn't like that."
At University of Phoenix: In the event that you forget to email Coach (hey, it happens), you'll have to suffer the consequences and "run." Wake up at 6 a.m. and crank the hot water in the shower. Nap on the bathroom floor until you become sweaty enough to convince Coach -- via pix message -- that you actually worked out. Back to sleep until meetings.
TEAM MEETINGS
At current Division I programs: Watch film of the previous day's practice, study the upcoming opponent and dissect the intricacies -- footwork, taking proper angles, etc. -- that make the difference on game day. Many players, like Iowa State's Jake Knott, take notes and revisit them throughout the day. "Especially freshman year," Knott says. "I had my [football] notes in my books as much as possible."
At the University of Phoenix: Prior to entering the Skype session, place your laptop directly in front of your TV so you can watch "The Hangover" while Coach drones on about the DeVry Institute secondary. Nod your head and say "right, right" every few minutes.
PRACTICE
At current Division I programs: Any athlete nursing an injury heads to treatment before practice. After stretching and general warm-ups, position-specific drills and a controlled offense-versus-defense scrimmage are standard.
At University of Phoenix: If you need an ankle taped, download the athletic tape and quick-drying adhesive off the University website and print it out. FaceTime (on your university-issued iPhone) with the trainer; he or she will walk you through the taping process. Once practice starts, go in your backyard and await the mass text for the play call. Run the appropriate route -- or make the appropriate block -- and return to the digital huddle. Repeat.
MEDIA DAY
At current Division I programs: "It's whatever," Iloka says. "The media already has their story written and you'll sit there for 10 minutes while they try to get you to say things they need for the story." Sometimes, those sneaky reporters will try to pull a fast one. "I think last year before the Iowa-Iowa State game, there were some questions about getting recruited by Iowa," Knott says. "That's kind of a tricky subject."
At University of Phoenix: Every Tuesday, you're required to email a one-paragraph statement to the media. If any reporter responds -- via Facebook, Twitter, email, text or, god forbid, telephone -- with another question, just ignore them. As far as your media coordinator knows, you're too busy with schoolwork … or "Mario Kart" and Reese's Puffs.
GAME DAY
At current Division I programs: The grind of camp, the mind-numbing film sessions, the late nights and the early mornings are all worth it when Saturday rolls around. For Hebert, the anticipation inside the locker room is palpable: "It's a lot of anxiety. A lot of pressure built up. It's three hours of scratching and clawing; there has to be a winner and there has to be a loser. You can feel it building up and building up. All that works starts to pay off."
At University of Phoenix: Fly to Glendale, Ariz., on Saturday morning (the University trims its monstrous online advertising budget to pay for these flights). Arrive at the stadium four hours before the season opener against archrival USC. You've never met your teammates, but you've shared so much with them already -- like hysterical "FIFA 12" glitch videos on their Facebook walls. As you run through the tunnel, you feel the rush of the big stage jolting through your veins. You see the nerves, the raw excitement on your brothers' faces. And you hear the roar of 63,400 tweeting fans, their heads buried in their iPhones and their Twitter notifications echoing through the stadium. Let this feeling sink in. There's nothing else like it.
Welcome to the big-time, kid. Welcome to the University of Phoenix.
Kevin Duffy writes for The News-Times in Danbury, Conn. He can be reached at Kevin.r.duffy@gmail.com.