Commentary
NFL award winners -- after four games
Originally Published:
October 3, 2011
By
DJ Gallo
| Page 2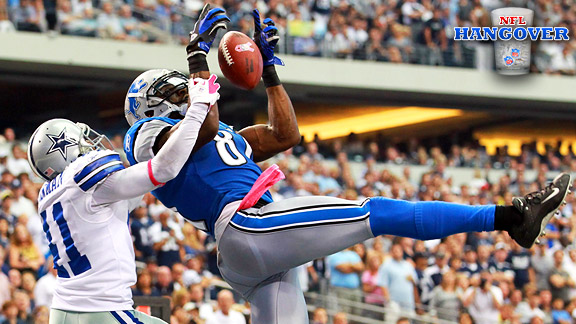 Getty ImagesPage 2 salutes Lions receiver Calvin Johnson for embarrassing opposing defensive backs this season.
We're one-quarter of the way into the NFL season. That's more than enough time to forecast some end-of-season awards that will almost all change in the last three-quarters of the season.
To the projections!
Most Valuable Player: Calvin Johnson, WR, Lions

There's not a better feeling on a football field than being able to chuck the ball way downfield and have confidence that your teammate will come down with it. The original Calvinists believed that salvation is predestined. Modern Calvinists believe it is predestined that Calvin Johnson will catch anything you throw near him.
Least Valuable Player: Kerry Collins, QB, Colts

Some people have said Peyton Manning should win the MVP this year because his value to the Colts has become painfully obvious in his absence. But that's not realistic or fair to the players who have actually, you know … played. Giving this award to Collins is a fitting alternative.
Coach of the Year: Jim Schwartz, Lions

The Lions are 4-0 and have overcome huge deficits the past two weeks against the Vikings and Cowboys. If Schwartz doesn't win Coach of the Year, he should at least win Coach of the Year: Second Halves of Games.
Worst Coach of the Year: Tony Sparano, Dolphins

Sparano is the prohibitive favorite, although he might not be around to accept the award at the end of the season. Also in consideration: Leslie Frazier, Jason Garrett and whoever else blows huge leads over the Lions this season. And of course: Andy Reid. Someday the Worst Coach of the Year trophy probably will be called the Andy Reid Jug. And the jug will be full of pancake batter.
Offensive Player of the Year: Aaron Rodgers, QB, Packers

Oh, no. Please don't do the belt thing. Come on. That was mildly entertaining last year. But now it's … ah, you did it. Please stop doing it. This isn't even a real award.
Worst Offensive Player of the Year: Kerry Collins, QB, Colts

I'm sorry, Mr. Collins, but you get this one, too. I was taught to respect my elders, and in a way, this is giving you deserved credit for what you've done so far.
Defensive Player of the Year: Vince Wilfork, NT, Patriots

Two interceptions aside, has he really been the best defensive player this year? No. But I just want to throw him the award and watch him run with it.
Worst Defensive Player of the Year: DeAngelo Hall, CB, Redskins

Hall's acceptance speech: "I'd just like to blame my coaches and the refs for this award."
Offensive Rookie of the Year: Cam Newton, QB, Panthers

Unlike the Andy Reid Pancake Batter Jug, this award might truly be renamed after Newton someday.
Worst Offensive Rookie of the Year: Christian Ponder, QB, Vikings

Ponder hasn't played, and that's where he's erred. He probably needs to step up for the team and lock Donovan McNabb in a utility closet before kickoff next week.
Defensive Rookie of the Year: Ryan Kerrigan, LB, Redskins

Kerrigan has 2.5 sacks, an interception and two forced fumbles through his first four games. He's a great counter to the NFL's Worst Defensive Player of the Year.
Worst Defensive Rookie of the Year: Nick Fairley, DT, Lions

Fairley was highly touted, but he hasn't been on the field yet. So this means the latest image we have of him was his glasses/bow tie draft combo. BUST!
Comeback Player of the Year: Wes Welker, WR, Patriots

Welker struggled last season coming off an ACL tear. Now he's on pace for 160 catches, 2,464 yards and 20 touchdowns. I've had receivers on pace for numbers like that in "Madden," only to feel guilty and start the season over on a harder level. Welker is doing it in real life.
Worst Comeback Player of the Year: Bob Sanders, S, Chargers

He's the winner everyone predicted. Unfortunately.
Quote of the Week
"He knows that I believe in him. Our staff believes in him. His teammates believe in him."
-- Cowboys head coach Jason Garrett
Garrett was talking about Tony Romo, but he easily could have been talking about Santa Claus. Or the Easter Bunny. Or Bigfoot. An adult believing in Romo is no less foolish than an adult believing in any of those. The Cowboys should replace their football helmets with tinfoil helmets.
Stat of the Week: 4
Calvin Johnson tied Cris Carter on Sunday to become just the second NFL player with two or more receiving touchdowns in four consecutive games. Johnson's second touchdown against the Cowboys, the game winner, came in single coverage. It's easy to criticize Dallas for putting just one man on Johnson, but his first touchdown came over the top of three guys. Why waste manpower on a doomed endeavor? He will score on one defender or seven. Defensive coordinators may want to seriously consider leaving Johnson wide-open and double-teaming everyone else.
This Week's Horrible Fantasy Team That Crushed Your Team
Alex Smith, QB, 49ers -- 21-for-33, 291 yards, 2 TDs
Ryan Torain, RB, Redskins -- 19 carries, 135 yards, TD
Stevan Ridley, RB, Patriots -- 10 carries, 97 yards, TD
Jordy Nelson, WR, Packers -- 5 catches, 91 yards, TD
Sidney Rice, WR, Seahawks -- 3 catches, 79 yards, TD
Jared Cook, TE, Titans -- 2 catches, 93 yards, TD
Pictures of the Week
"This is great. We got a win, and now I'm getting a three- or four-week vacation."
"I'm out of ideas. Maybe people will pay attention to me if I just yell."
"I'd better warm up. This is pathetic."
MORE GALLO PHOTO CAPTIONS!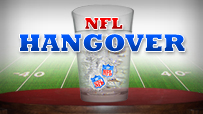 Work can wait. Bonus NFL captions can't.
DJ Gallo's NFL Hangover photo gallery

"Where are you taking me?" "I'm throwing you in the trash."
"Good news, bro. We didn't blow a second-half lead this week. You need a new message for your head box."
"Well, at least I'm not on the Eagles."
"Does anyone over there know how to block?!"
"I just want you guys to take it easy on us today."
"Yay! We caught one! Good for you!"
"Can you change that scoreboard? The score is a little close for comfort. We're trying to get Andrew Luck."
"Oh, come on. They put up a billboard here, too?"
"Harf. Harf. Harf. Yeah, Clay Matthews' hair does look dumb."
"Hey, maybe you won't be fired. Somehow I stick around year after year."
"We are bound forever by tonight. Like the co-stars of the worst movie ever. This was our 'Battlefield Earth.'"
Five Things To Think I Think To Have Thought
1. The Cowboys blew a 14-point lead in the fourth quarter for the first time in franchise history, and 24 points is also the largest lead the team has blown in a loss. Three weeks ago, when Dallas linebacker Keith Brooking said that Tony Romo will "probably shatter every record," we all laughed. But now we look pretty stupid, huh? No negative record may be safe.
2. Romo's first pick-six Sunday went to Lions linebacker Bobby Carpenter, who was a groomsman in Romo's wedding. That's a pretty bad groomsman. You hear about best men who give awkward speeches detailing past relationships, but what Carpenter did was far worse.
"At my wedding, my best man talked about my old girlfriends and one-night stands and how I wasn't sure about my wife at first."
"Oh, that's nothing. My one groomsman intercepted me on national television, which led the way to the worst collapse in my team's history and got everyone talking about whether I should even have a job."
3. After Pittsburgh's loss to the Texans, quarterback Ben Roethlisberger was using crutches, according to one report. That might be the best approach for the Steelers' offense going forward. Those thin strips of wood on either side of his body will protect Roethlisberger far better than Pittsburgh's offensive line does.
4. Mark Sanchez and Joe Flacco combined to go 21-for-66 on Sunday -- a .318 percentage. The Brewers combined to go 12-for-35 on Sunday -- a .343 percentage. As the saying goes: "Baseball, and playing quarterback for the Jets and Ravens, is a game of failure."
5. October is a great month for sports fans with football and playoff baseball on TV almost every night. It's easy to watch both because the paces of the two sports complement each other perfectly. On Sunday, I watched 98 percent of the NFL action between pitches. Roger Goodell owes Tony La Russa and the Yankees a thank-you.
DJ Gallo is the founder of SportsPickle.com. His first book, "The View from the Upper Deck," is available from only the finest bargain-book retailers. His next book project will be released soon. You can follow him on Twitter at @DJGalloESPN.