Commentary
Power Rankings: Detroit Bliss Edition
Originally Published:
October 3, 2011
By
Greg Hardy
| Special to Page 2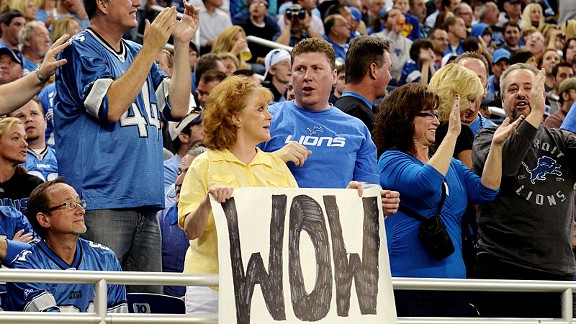 Mark Cunningham/Getty ImagesYes, the Detroit Lions are doing great and the Detroit Tigers are in the playoffs, but ease up, folks.
Welcome to the assembly line of smack talk we call the ESPN.com Page 2 Power Rankings! Our formula combines the results of two surveys: a human poll concocted by ESPN Page 2's Greg Hardy and a scientifically calibrated poll generated by computer analysis. Unfortunately, our computer spent the weekend failing to figure out whether it was wiser to devote its time in joining the Occupy Wall Street protests or organizing its McDonald's Monopoly game pieces. To the results! To the results!
| | | | |
| --- | --- | --- | --- |
| Human Poll | Computer Poll | Power Points | Trending |
| 9.6 | 9.5 | 19.1 | |
Credentials: What in the world is going on when the Lions are 4-0 masters of the comeback and the Tigers are ready to ask Justin Verlander what size he needs his World Series MVP ring to be? Look, true Detroit sports fans are as loyal as they come, but the fact that a bandwagon is needed for all the fans joining the parade makes us think here's one vehicle to get behind for everyone who demands a "Made in the USA" sticker. (P.S. Fantasy autodraft computer that picked Calvin Johnson for us when we were trying to push the button to give us Steven Jackson? Thank you!)
| | | | |
| --- | --- | --- | --- |
| Human Poll | Computer Poll | Power Points | Trending |
| 9.4 | 9.0 | 18.4 | |
Credentials: Cowboys fans are ready to rip their starting QB apart again after a three-interception afternoon (with two pick-sixes!) against Detroit that blew a 24-point lead. How many times do we have to explain: You can't just cut Romo from the roster. By that, we're not talking about a salary-cap hit. We mean in terms of putting Romo in a position to have an ordinary job. You want him screwing stuff up in the real world, too? Keep him in a Cowboys uniform and suffer the monumental, Cowboys Stadium-TV-screen-worthy disasters, and be quiet! Otherwise, he could be a financial adviser who destroys your portfolio, a surgeon who removes your healthy kidney, or a pizza delivery guy who shows up at your door with a Whopper and fries. There's a reason we're keeping Miles Austin on our reserve fantasy roster -- because they'll be back in form in no time. Though we're sure that if Romo had a fantasy team, he would have traded Austin for Jon Kitna by this point.
| | | | |
| --- | --- | --- | --- |
| Human Poll | Computer Poll | Power Points | Trending |
| 8.7 | 8.2 | 16.9 | |
Credentials: By far, the most entertaining NBA lockout subplot involves Black Mamba signing a 10-game contract to play for Virtus Bologna in Italy. Reports indicate that the No. 1 sticking point in negotiations is that the Bryant camp is demanding that the 10-game contract guarantee he will be allowed to convert 15 game-winning shots at the buzzer.
| | | | |
| --- | --- | --- | --- |
| Human Poll | Computer Poll | Power Points | Trending |
| 7.7 | 7.2 | 14.9 | |
Credentials: Kudos if your starting lineup included Aaron Rodgers (53 points picking apart the Broncos in our league) and the opportunistic Ravens defense (feasting for 31 points against the Jets). If you started Mark Sanchez and the Denver defense, you have our permission to start padding your stats with UFL special-teams numbers until your commissioner notices you've risen from dead last to second-to-last in your league.
| | | | |
| --- | --- | --- | --- |
| Human Poll | Computer Poll | Power Points | Trending |
| 7.1 | 7.3 | 14.4 | |
Credentials: If one city's stock goes up, that means another city's fortunes could be teetering. So while Detroit is toasting its rise, Philly could be staring down a baseball division series collapse to the surging Cardinals and the Eagles could be out of the NFL East race by Halloween. On the bright side, the Temple Owls are putting together a season that could see them in the Little Caesars Bowl. Oh wait, that game takes place at Ford Field. Well, maybe it's time to check out a Flyers game.
| | | | |
| --- | --- | --- | --- |
| Human Poll | Computer Poll | Power Points | Trending |
| 6.2 | 6.2 | 12.4 | |
Credentials: Look out, Diamondbacks, the Brew crew has a 2-0 lead in a playoff series for the first time in franchise history. And given that Major League Baseball needs all the showmanship it can get, we want to see Brewers manager Ron Roenicke guarantee that his team will advance to the NLCS … or Miller Park will serve only nonalcoholic beer for every home game next season. Talk about getting the hometown fans invested in the outcome. Next year's season-ticket orders that have already been placed are nonrefundable, right?
7. 'Arrested Development'
| | | | |
| --- | --- | --- | --- |
| Human Poll | Computer Poll | Power Points | Trending |
| 5.3 | 5.1 | 10.4 | |
Credentials: Great news for fans of the Bluth family: Stars are aligning for a continued patch of episodes that will serve as a springboard for an "AD" big-screen movie. And this couldn't come at a better time for Jason Bateman, who -- by our stopwatch -- hasn't been in a new movie in almost 17 minutes. Jason, we're big fans whenever you step on the screen, but honestly some of these projects are starting to run together. For example, did you just star in movies called "The Switch" and "The Change-Up" or "The Change" and "The Switch-Up"? All we know is that neither really had audiences buying advance tickets for "The Change-Up 2: The Switchening."
| | | | |
| --- | --- | --- | --- |
| Human Poll | Computer Poll | Power Points | Trending |
| 5.2 | 4.7 | 9.9 | |
Credentials: The regular season begins Thursday, and the league is poised to capitalize on the absence of a competing NBA schedule by … um … ah … actually, it looks as though the NHL will go about its business as usual. The sad thing is, we can envision an alternate reality in which the NBA used scab players to cross the union lines … and those scab hoopsters were NHL players trying to earn a few extra bucks on their days off. Then again, when do athletes such as Alexander Ovechkin who are constantly shackled by ice skates every night ever really get to show off their vertical leap?
| | | | |
| --- | --- | --- | --- |
| Human Poll | Computer Poll | Power Points | Trending |
| 5.1 | 4.1 | 9.2 | |
Credentials: The Lynx dominated the Dream with a 13-0 fourth-quarter run to take Game 1 of the best-of-five series that will settle the bragging rights between the cities of (hold on, let us look this up ….) Minnesota and Atlanta. Wait, we thought bragging rights between Minnesota and Atlanta were going to be decided in Week 12 of the NFL when the Vikings visit the Georgia Dome. Then again, the Vikings might be in better hands if Seimone Augustus were their quarterback.
| | | | |
| --- | --- | --- | --- |
| Human Poll | Computer Poll | Power Points | Trending |
| 5.0 | 4.1 | 9.1 | |
Credentials: Kurt Busch and Jimmie Johnson finished 1-2 at Dover to create a bit of a traffic jam in the Chase for the Cup standings with seven races left. The important thing is that Johnson is still in contention for his sixth title in a row. Whereas, if the Boston Red Sox had a car in the field, this is the point in the playoffs when it would appear to have an insurmountable lead before Johnson nabbed it in the final race after the BoSox car drove straight off a cliff.
| | | | |
| --- | --- | --- | --- |
| Human Poll | Computer Poll | Power Points | Trending |
| 4.1 | 4.0 | 8.1 | |
Credentials: Attention, parents of kids who attend Big East schools. The next time they come home for a weekend, you're going to find in their backpacks fundraiser packets to start handing out to other colleges that might be interested in joining the conference to stop it from imploding. And you thought you were done with this embarrassing type of begging after those cookie dough drives from middle school.
| | | | |
| --- | --- | --- | --- |
| Human Poll | Computer Poll | Power Points | Trending |
| 4.1 | 3.2 | 7.3 | |
Credentials: The family-friendly flick about helping an injured Flipper won the weekend box office race with $14.2 million. No word on whether the 1972 Miami Dolphins alumni popped champagne corks because of that. But if Warner Bros. is interested, we can get to work on a spec script for "Dolphin Tale 2" in which an injured dolphin bravely swims to California and tries desperately in dolphinspeak to persuade Stanford's Andrew Luck to start taking marine biology classes.
| | | | |
| --- | --- | --- | --- |
| Human Poll | Computer Poll | Power Points | Trending |
| 3.1 | 2.3 | 5.4 | |
Credentials: Further proof that football makes life worth living: What if a loved one slipped into a coma during the NFL lockout but started coming out of the fog this weekend. And the first question he asks is, "Are the Redskins playing yet?" Someone might make the mistake of saying, "Sorry, Grandpa, there's no game for a while." Quick, before the brain activity shuts down, tell him, "But they're tied atop the division and come back after the bye to host the Eagles, who can't do anything right!" It's a matter of life and death, people!
Also receiving votes
• Pumpkin flavor: Poor is the palate that associates the tastes of this time of year only with Oktoberfest and beer. Don't you know that, from now until Thanksgiving, every food service establishment is required by federal law to offer at least one thing that's pumpkin-flavored? Which works out well at Starbucks with pumpkin spice latte and at the supermarket for your pumpkin Pop-Tarts. But please, Taco Bell, gives us a heads-up first if you're going to introduce a Pumpkin-Habanero Chalupa.
Never receiving votes
• Boston Red Sox managerial search: With the departure of Terry Francona, the baseball seas around Boston Harbor are far from settled. For example, it's not even a certainty that Theo Epstein will stick around as general manager. Then again, the next Red Sox skipper will quickly learn that no matter who the GM is, his job appraisals each fall will be handed in by Joe Girardi and Joe Maddon.
Greg Hardy is a Page 2 contributor. It's all pop culture all the time at Twitter.com/HardyVision.