Obstacle course
Yachts in the Volvo Ocean Race must avoid a handful of potential hazards
Updated:
October 6, 2011, 10:56 AM ET
ESPN The Magazine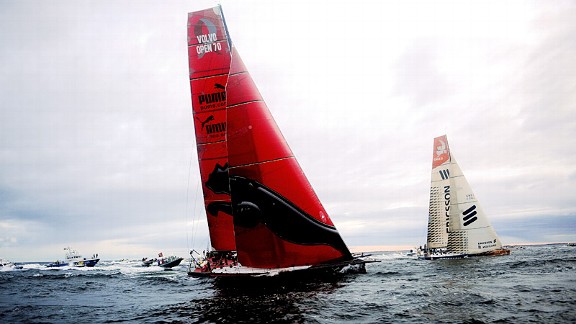 Oliver Morin/AFP/Getty ImagesParticipants have to watch out for everything from pirates to whales during the race.
This story appears in the Oct. 17, 2011, issue of ESPN The Magazine.
ARRR! ORGANIZERS OF THE VOLVO OCEAN RACE, a triennial around-the-world yacht event that begins Oct. 29 in Alicante, Spain, decided to alter the route to avoid those pesky pirates in the Indian Ocean. Smooth sailing now, right? Not exactly. Extending an eyeglass to the horizon, race director Jack Lloyd shares with The Mag all the big potential hazards the seven seafaring teams will have to negotiate.
---
THE LAW: "Most countries near Morocco are protective of their waters. They try to prevent people from entering, trafficking or leaving, and the security forces around the Strait of Gibraltar regularly stop boats. To keep our racers away, we created an exclusion zone -- an area on the map where boats are not allowed to enter."
---
EVEN MORE PIRATES: "Due to the threat of pirate attacks, almost the entire Indian Ocean is a problem. Our plan is to start the second leg, from Cape Town to Abu Dhabi, as scheduled. But before reaching the dangerous areas, we'll load the yachts onto armed transport ships. Then the racing crews will be flown to a port in the Emirates."
---
FISHERMEN: "The Strait of Malacca is a very narrow channel filled with debris, such as fishing nets. There's not much you can do to avoid sailing through them, and doing so sometimes leads to shouting matches with locals."
---
ICE: "Once sailors get around Cape Horn, they may encounter ice near the Falkland Islands. Before that they'll hit two more drifts near Auckland, New Zealand, that are even worse, and boats must sail north to avoid the floes. A piece of ice the size of a truck will do considerable damage to a 70-foot yacht. And if teams sail too far north during the final leg, near Newfoundland, they'll be right around where the Titanic went down."
---
BIG SEAS: "Off Cape Horn, Chile, is the Drake Passage, one of the most violent places on earth. The Andes are on one side, and Antarctica isn't too far away on the other. That's a relatively narrow opening of 400 miles, and the wind coming across the water gets squeezed through it, which causes problems for sailors."
---
WHALES: "Moving north along South America, racers may encounter migrating whales. We usually have an incident with at least one each race. They can take the rudder off a boat -- but sadly, the boat often does more harm to the whale."
Follow The Mag on Twitter: @ESPNmag.