Commentary
Sabres, fans are subject of documentary
Originally Published:
October 7, 2011
By
Greg Sukiennik
| Special to Page 2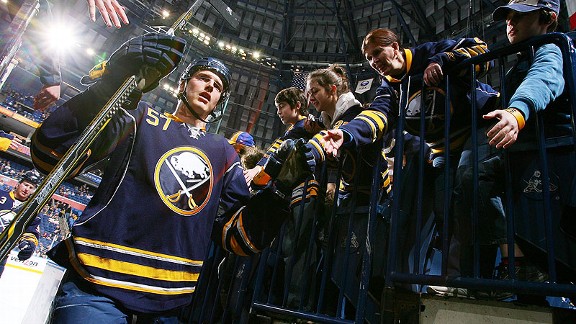 Bill Wippert/NHLI/Getty ImagesTyler Myers and the Sabres are the muses of a fiercely loyal fan base in Buffalo and western New York.
There's every indication this could be a memorable NHL season in Buffalo, where the Sabres have suddenly amassed one of the league's highest payrolls and lofty expectations to match.
That could, in turn, make for a memorable film for Mary Wall, who will spend the season following the team and its fans for a documentary.
Wall, a native of Hamburg, N.Y., just south of Buffalo, works as a production assistant on the NBC comedy "The Office." She's also a Sabres fan, dating to the days when players such as Hall of Famer Gilbert Perreault and Mike Foligno patrolled the ice at the old Memorial Auditorium. She plans to follow the team all season and tell the stories of people who love their city and their hockey team.
PAGE 2'S TEAM-BY-TEAM PREVIEWS

The NHL is back, so Page 2 laces up the skates for a two-pronged season preview:
• Gallo: Thirty teams ... zero negativity
• Lukas: Uni Watch's 2011-12 primer
The Sabres have been in business for 41 years and have never won the Stanley Cup -- though they've come close. Buffalo has been in business for centuries and is trying to get back a measure of the prosperity it once enjoyed. Wall sees parallels between the city's struggles to rebuild and the team's quest for the Cup -- and the resilience both have shown.
"Frankly, if the Sabres won a Stanley Cup, I couldn't make this documentary any more. I had to make it before they won the Cup, and if it happens while I'm shooting, that would be delightful," she said in an email.
Casting calls were held in August at locations around the city. Shooting will also take place on the Sabres' season-opening European road trip and in other NHL cities where ex-Buffalo residents congregate. While Wall isn't ready to share the fans' stories yet, she can sense the anticipation.
"I was definitely not surprised by how much people love the team. I've spent enough time in Buffalo to know that," Wall said. "However, there are a lot of people with Sabres tattoos. A lot."
Hopes have soared on America's North Coast since Terry Pegula bought the Sabres in February and uttered the most famous words in franchise history not spoken by broadcaster Rick Jeanneret: "Starting today, the Buffalo Sabres' reason for existence will be to win a Stanley Cup."
As if on cue, the Sabres, who started the 2010-11 season dreadfully, surged to a playoff berth and battled the second-seeded Flyers in the opening round before losing in seven games.
Wall had experienced this kind of run before, in 2006, when a roster bereft of big-name stars came within 20 minutes of the Stanley Cup finals.
[+] Enlarge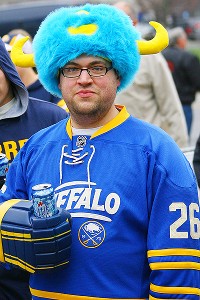 Bill Wippert/NHLI/Getty ImagesSabres fans are hungry -- and thirsty -- for the franchise to
win its first championship.
"Everyone talked about it everywhere, but it wasn't just talk. There was this electric energy that ran through the city with it," Wall said. "And then they lost. Yet fans were still waiting (at the airport) late into the night to welcome the team home and thank them for a great season. They had just lost! That particularly spoke to me about the sense of community and support in Buffalo. People stick through the tough times together and keep hoping."
That same feeling came back even stronger last spring, Wall said.
"I was visiting my family at Easter and felt that same energy around the team that I felt in 2006, but it was a very focused energy," she said. "With Pegula coming on board, people were (and are) so convinced that we will win the Stanley Cup, if not this season, in the next few years."
What's different this time?
For starters, under previous ownership, the Sabres were sellers at the trade deadline and on the free-agent market. General manager Darcy Regier has made up for lost time and lost players with a vengeance, trading for Flames defenseman Robyn Regehr and signing Canucks defenseman Christian Ehrhoff and Flyers forward Ville Leino to front-loaded, cap-friendly contracts. Former Calder Trophy winner Tyler Myers is locked up for the next eight seasons. Forward Drew Stafford, who blossomed as a scorer last season, is signed through the next four.
Let's put it this way: Before Pegula arrived, it would have been highly unlikely for the Sabres to trade a fourth-round draft pick under any circumstances, let alone for negotiating rights with a soon-to-be free agent, as they did with Ehrhoff. Fans would have already been fretting about keeping Myers. And jet-powered flying pigs would have spun laps around Niagara Square before the Sabres had the highest payroll in the NHL -- a distinction they held through most of training camp.
Billionaires simply do not drop out of the sky in Buffalo, let alone billionaires who once had season tickets at The Aud. But here was a man who cried at his introductory news conference when he saw Perreault in the audience and told fans accustomed to penny pinching, "If I want to make some money, I'll go drill a gas well."
Pegula backed it up, opening the checkbook for the free-agent spending spree and plowing millions into facility improvements. Those investments would make headlines in any NHL city. But in Buffalo, it has fans downright giddy.
As one fan wrote during an online chat with team president Ted Black, "Do you have any idea how stoked the fans are for this year? It's never been like this." Another fan wrote "Thanks for all you guys are doing here. It means so much to our city."
So Wall isn't the only one hoping for a Hollywood ending to her documentary.
"Maybe more than what (the Sabres) mean to Buffalo is what they are to the residents, and I think the team is something to believe in and to rally around," Wall said.
Greg Sukiennik is a news editor for ESPN.com.