Commentary
Sculpture to highlight new Marlins?
Updated:
October 9, 2011, 9:03 AM ET
By
Jerry Greene
| Special to Page 2
No secret that Miami sports has its problems but it apparently is far worse than we realized. We knew that the Dolphins stink like yesterday's fish and that the Heat might as well take their talents to Cancun but what we didn't know is that the Marlins have been possessed by the ghost of Liberace.
(If you're too young to recognize the name, Google Liberace and you won't believe your eyes.)
You also won't believe the "mechanized sculpture" that the Marlins say will appear in the outfield of their new stadium next season. It's hard to describe as it gives "gaudy" a bad name. It's got diving Marlins and some kind of flying white birds, plus something strange moving at the bottom that I can't even identify. Imagine the entrance way to the world's tackiest casino.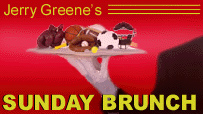 They say it will be activated each time the Marlins hit a home run in their park. So if there is any justice in this world, the Marlins will never hit a home run. I will say this -- it's going to badly scare opposing outfielders.
Now, while our main literary chefs are applying the finishing touches to this Sunday Brunch, here are a few more tid bits to chew:
• Sticking with Miami, unemployed QB David Garrard says he turned down the Dolphins because their offer did not respect what he accomplished over his career. Uh, David, I've been giving this a lot of thought and so far …
• Did you see that public schools in Hawaii will start offering surfing competition? How many of you assumed Hawaii always has had competitive surfing? Yeah, me, too.
• EA Sports will decide which player will join Tiger Woods on the cover of "Tiger Woods PGA Tour 13 by a fan poll. I'm voting for Peyton Hillis.
• Woods is now representing Rolex. But it would have been cool if he'd signed with Timex, which then brought back its old slogan: "Takes a licking but keeps on ticking." I'm just sayin'.
• Jay Leno jumping on the anti-Miami bandwagon: "The No. 1 movie in the country is 'Dolphin Tale.' That just goes to show you how well dolphins can do if they just don't play football."
• Sigh. Another year goes by and no invite from ESPN The Magazine to be photographed for the "Body Issue." In fact, they won't even let me buy a copy.
Ding ding. Time to sit down for the main courses that are a delectable collection from some of out best. Check it out:
• Baseball is deep into its playoffs. Remember the two MLB Fan Cave dwellers who watched all 2,429 games? Did they survive? Do they go into convulsions if you even mention baseball? Jacob E. Osterhout of the New York Daily News has the interview and the answers. Read it here.
• Remember Don King? The boxing promoter still is working his shtick at 80. Mike Berardino, South Florida Sun Sentinel columnist, visits with King before his latest fight promotion. Much is predictable but stick around to hear King remember his beloved wife. You might think a little differently of him. Check it out here.
• Think you could do NFL play-by-play or game analyzing? Pete Dougherty of the Albany Times-Union gets a top 10 list of things you'd better be able to do. Study it here.
• Baseball, boxing and NFL. How about something we don't know well, such as bullfighting? And how about the end of bullfighting in Barcelona? Kevin Paul Dupont blogs on Page 2 of the Boston Globe, so we like him just for that. Beyond that, he brings us a fascinating look at the end of bullfighting in one of its strongholds -- and weighs the pros and cons. Decide for yourself here.
• You've read about the passing of Al Davis. We wanted you to hear from Pulitzer-winning Dave Anderson of the New York Times. The same age as Davis, they had an adversarial but respectful relationship for decades. Anderson gives you some insight into Davis here.
• And in shameless self-promotion we close with a link to our NFL prediction column. Hey, we were 12-4 straight up and 10-6 against the jelly last week which wasn't bad. Finally. Call me out here.
Have a great NFL Sunday and don't forget that moment of silence for Al at the start of your game of choice.
Jerry Greene is a regular contributor to ESPN.com and can be reached at osogreene@aol.com