Commentary
Disgruntled NFL fans unleash billboards
Originally Published:
October 10, 2011
By
DJ Gallo
| Page 2
On Sept. 29, the first pro-Tim Tebow billboard was spotted in Broncos Country. Located just north of downtown Denver, it read: "BRONCOS FANS TO JOHN FOX: PLAY TEBOW!!"
Ten days later, Tebow replaced Orton as Denver's quarterback. If billboard ads really work, soon we may see them popping up all over Denver and all the other cities that are home to NFL teams.

Quote of the Week
"No. 1, there's nobody to blame but me. That's how I look at it. I take full responsibility for it. It's my team."
-- Eagles coach Andy Reid, after his team dropped to 1-4
Andy Reid news conferences are starting to become cliché. He opens every one with this line now. He could save a lot of time by recording his postgame news conference for Philadelphia's next loss in advance. But then, time management has never really been his strength.
Stat of the Week: 325
Tom Brady threw the first regular-season red zone interception of his career at the end of the second quarter against the Jets. He had thrown 325 passes in the red zone up to that point -- 91 for touchdowns, zero interceptions. That's amazing. Of course, you can point out that Brady got intercepted by Champ Bailey in the red zone in the 2005 playoffs. So Brady has been intercepted at least twice in the red zone in his career, if you include the playoffs. That really changes things. He's terrible.
This Week's Horrible Fantasy Team That Crushed Your Team
Matt Cassel, QB, Chiefs -- 21-for-29, 257 yards, 4 TDs
BenJarvus Green-Ellis, RB, Patriots -- 149 total yards, 2 TDs

Jackie Battle, RB, Chiefs -- 19 carries, 119 yards

Doug Baldwin, WR, Seahawks -- 8 catches, 136 yards, TD

Jason Hill, WR, Jaguars -- 5 catches, 126 yards, TD

Joel Dreessen, TE, Texans -- 5 catches, 112 yards, TD



Pictures of the Week
MORE GALLO PHOTO CAPTIONS!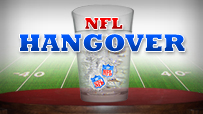 The term "intangibles" can't describe what bonus photo captions mean to the NFL Hangover column.
DJ Gallo's NFL Hangover photo gallery

"Don't think I can't see you because of my eye. I'll break your camera in half."
"I hope this game is over soon. I want to hit up some of the wing places here in Buffalo."
"Yes, Mr. Manning. By the way, did I ever tell you that you dress and stand exactly like my dad?"
"Perhaps all this isn't necessary for an 0-5 team."
"So, yeah, if you need any more sunscreen, they have some over there. I imagine your kind struggles in the Florida sun."
"All right, fellas, can you feel it? It's called intangibles, and they're about to be unleashed."
"Really? It's a surprise? What is it? A starting job?"
"You guys are always such generous hosts for us here. Thank you. I love Southern hospitality."
How They Spent Their Bye Weeks
Browns: Playing "Madden" on the easiest level.
Cowboys: Holding tryouts for the team's new fourth-quarter quarterback position.
Dolphins: Helping Tony Sparano pack up his office.
Rams: Trying -- and failing -- to get Cardinals NLCS tickets.
Ravens: Swapping stories about how great they are.
Redskins: Taking pictures of the NFC East standings.
News Conference Questions Someone Should Have Asked
To Eagles coach Andy Reid: "In the offseason, you made your offensive line coach your defensive coordinator. Do you have any coaches on staff who you think would be a good head coach?"
To 49ers coach Jim Harbaugh: "Do you hope that putting 48 points up on the Buccaneers will impress the voters?"
To Jets coach Rex Ryan: "Did the 2010 Seahawks inspire you to make the Jets the first 7-9 Super Bowl champions?"
Five Things I Think I Thought Or Maybe You Thought I Think
1. We may have found a story that can be the sequel to "The Blind Side." The Steelers cut offensive lineman Max Starks in the preseason, partly because he was overweight. With their offensive line in shambles through four games, Starks got a call last week about suiting up again. He not only played but started at left tackle -- football's second-most important position, according to "The Blind Side" -- on Sunday, and the Steelers won in a blowout. Ben Roethlisberger got sacked only once, and Starks got a game ball from head coach Mike Tomlin.
From overweight and on the couch one week to starring in the NFL the next -- that's a story millions of Americans dream of. "The Blind Side 2" might be the best sequel since "Godfather 2."
2. Speaking of the large, I'm starting to wonder whether the good citizens of Philadelphia have something against the hefty. The story of Philadelphia fans' mistreating Santa Claus has been well-documented. In defense of Philadelphia fans, it happened decades ago. It's an old, tired story. So let's fast-forward to the present day. Ryan Howard: now hated by Philadelphia sports fans. Andy Reid: now hated by Philadelphia sports fans. Santa Claus, Ryan Howard, Andy Reid … I'm detecting a pattern here. That's a lot of self-loathing for a town whose economy is cheesesteak-based.
3. Todd Haley's days as Chiefs head coach have to be numbered. He ruined a perfect 0-3 start with back-to-back comeback wins over the lousy Vikings and Colts to all but ruin Kansas City's chances at drafting Andrew Luck in April. With the Chiefs on a bye next week, now is the time to make a move and bring in a head coach who can do the job right. Rich Kotite is probably available. No, Rich Kotite is definitely available.
4. Michael Vick told GQ in an interview this past summer that NFL commissioner Roger Goodell guided him to sign with Philadelphia over the Bills and Bengals. At the time, it was viewed as Goodell playing favorites. But no one ever considered that Goodell's pushing Vick toward the Eagles was perhaps a part of his ongoing punishment of the quarterback for his felony conviction. Well played, Commissioner Goodell. Well played.
5. Broncos coach John Fox won't admit that the Tebow billboard campaign spurred his move to bench Kyle Orton -- and it probably didn't. But Tebow looks like the better player right now, and that means the fans were right and Fox was wrong. It would be interesting to see an NFL team coached by fan mob rule. From NFL games I've attended, that would look something like this:
Fan Coach Keys to the Game

Tackle him! Get him! GET HIM!
Go! Go! Go! Go!
He was wide-open!
Fourth-and-6! Come on! Go for it!
BOOOOOOOOOOOOO!
Throw it to Jones! He's on my fantasy team.
That team might not be any good, but it would easily be the NFL's most entertaining.
Billboard illustrations by Kurt Snibbe
DJ Gallo is the founder of SportsPickle.com. His first book, "The View from the Upper Deck," is available from only the finest bargain-book retailers. His next book project will be released soon. You can follow him on Twitter at @DJGalloESPN.