Commentary
Off Base's annual postseason rites
Originally Published:
October 12, 2011
By
Jim Caple
| Page 2
Ahhhh, October and the annual rites of baseball's postseason:
• The brilliant, dazzling colors of autumn: maple leaves, pumpkins and Craig Sager's suits.
• Fenway Park, the Green Monster and "Sweet Caroline" … no, wait.
• The late afternoon shadows slowly creeping across Prince Fielder.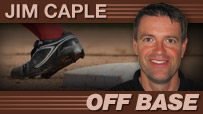 • The official postseason theme song/ear worm steadily boring its way into your brain and laying its eggs. (What is the deal with that song anyway? Is the guy yodeling the chorus?)
• Columnists and talk show hosts complaining that no one cares about the World Series anymore because the same big-market powers play in it every year, and those same columnists and talk show hosts complaining that no one cares about the World Series anymore because once again the Yankees, Red Sox or Phillies aren't playing in it. (Baseball can never win with the media.)
• A sellout crowd rising to its feet to honor America with the traditional singing of "Don't Stop Believin'" by the cast of "Glee."
• Philadelphia fans debating whether the Phillies should start Roy Halladay or Cliff Lee in Game 1 of the NLCS … no, wait.
• In the middle of a two-hour rain delay, a hapless league official staring at a Doppler radar screen filled with so many yellow, orange and red storm cells that it resembles the old Houston Astros rainbow jerseys, and then declaring, "I don't think the heavy stuff is going to come down for a while."
• Ticket-seeking fans in tents lined up on the streets of St. Louis as part of the Occupy Busch Stadium Movement.
• Players dressed in MLB officially licensed ski masks and parkas.
• Players on every team, including the Yankees, telling reporters, "No one gave us a chance."
• An empty Wrigley Field.
• Smoke rising from a grill barbecuing Nolan Ryan beef in Arlington. Smoke rising from Jim Leyland in Detroit.
• Last year's champions hawking this year's chalupa specials.
• Tony La Russa walking to the mound for his fifth pitching change … of the fourth inning.
• Those gorgeous extreme TV closeups of players spitting and scratching themselves.
• Derek Jeter taking his position at shortstop and Mariano Rivera heading to the bullpen for Game 1 of the World Series at Yankee Stadium … no, wait.
• Fans starting fires in late October for warmth. Fans starting fires in Philadelphia and New York just for the hell of it.
• And finally, that most dependable of all rites of baseball's postseason: Alex Rodriguez playing in the World Series … of Poker.
CSI: BOX SCORE
You know the rules. You get a fragment from an old box score and the challenge of determining what game it is from and why it is significant. I give this one a difficulty rating of 7.0. (Hint: I'm featuring postseason games this month.)

Kurt Snibbe/ESPN.com
BOX SCORE LINE OF THE WEEK
Baseball isn't always fair, as fans of all but four teams at the moment would probably agree. But to get a better idea, compare the workloads of St. Louis starter Chris Carpenter on Friday night with St. Louis reliever Lance Lynn on Monday. To earn the 1-0 victory over Halladay and the Phillies in the division series clincher, Carpenter needed to throw 126 pitches, every single one of them with the narrowest of leads possible against a team that won 102 games. Lynn, on the other hand, threw exactly one pitch -- and that was with a five-run lead -- for his victory. Lynn took over in the fifth inning with the Cardinals leading Milwaukee 7-2, one out and the bases loaded. He got Rickie Weeks to ground into a double play and then was lifted for a pinch hitter. Which was good enough for the official scorer to award him the victory.
Still, I'm giving this week's award to Carpenter. His line:
9 IP, 3 H, 0 R, 0 ER, 0 BB, 3 K
[+] Enlarge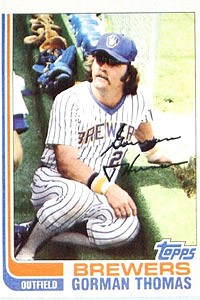 ToppsThomas Gorman: Off Base's kinda guy.
BASEBALL CARD OF THE WEEK
What do you think Gorman Thomas is checking out in this card (1982 Topps No. 765)? An attractive female fan in the stands or the hot dog vendor? (Another writer told me he once called Gorman around 9 in the morning. He apologized for calling him at home so early and Gorman said, "No problem, I was just sitting here watching TV and eating pizza." Gotta love a guy like that.)
Go Brewers!
BALLPARK RANKINGS
Citizens Bank Park, Philadelphia: The Phillies haven't had the greatest history in baseball -- they've only had two world championships in more than a century and endured several decades trapped inside Veterans Stadium -- but they have had their moments, and this ballpark celebrates them. The stadium is filled with statues honoring such Philly greats as Mike Schmidt, Steve Carlton and Robin Roberts, plus there is the Ashburn Alley concession area beyond the outfield where the array of concessions is enough to fill up John Kruk and Greg Luzinski. The only drawback is the park is far enough from downtown that Rocky would be breathless by the time he ran here in the morning, but that's where Philly likes its sports arenas. Besides, there is plenty of parking and the subway is close. It's just too bad the Philadelphia crazies won't be cheering (and booing) here anymore this October.
Score: 85. Current rankings:
1, PNC Park, Pittsburgh 98
2, Fenway Park, Boston 96
3, AT&T Park, San Francisco 94.
4, Camden Yards, Baltimore 92
5, Target Field, Minnesota 91
6, Wrigley Field, Chicago 90
7, Angels Stadium, Anaheim 89
8, Dodger Stadium, Los Angeles 88
9, Safeco Field, Seattle 87
9, Comerica Park, Detroit 87
9, Coors Field, Colorado 87
12, Kauffman Stadium, Kansas City 86
13, Citizens Bank Park, Philadelphia 85
14, Petco Park, San Diego 84
15, Comiskey Park, Chicago 83
16, Turner Field, Atlanta 82.5
17, Progressive Field, Cleveland 82
18, Citi Field, New York 81
19, Minute Maid Park, Houston 80
20, Yankee Stadium, New York 79
21, Busch Stadium, St. Louis 78
22, The Ballpark in Arlington 77
23, Miller Park, Milwaukee 77
24, Chase Field, Arizona 76.5
25, Nationals Park, DC 76
26, SkyDome, Toronto 75
27, The Oakland Coliseum 74
28, This Space For Rent, Florida 73
29, Tropicana Field, Tampa Bay 68
CSI: BOX-SCORE ANSWER
This was a box score from an almost-forgotten postseason gem. The names Boswell, Perranoski and McNally were a clue of the era -- the late '60s -- and the absence of a second pitcher for the Baltimore lineup was the second big clue that this was a complete game by the Orioles starter. Yes, Dave McNally threw a complete-game, 11-inning, 1-0 three-hit victory in Game 2 of the 1969 ALCS (we just called them the playoffs back then) to beat Minnesota's Dave Boswell, who threw 10 2/3 innings before giving way to Ron Perranoski. Yet you almost never hear about this pitching gem.
And here's some good news for Boswell fans: The friendly pitcher has been waging a fight against cancer of the larynx but a recent examination shows that radiation treatment appears to have eliminated the cancerous cells. Best wishes, Dave, and continue getting better!
Jim Caple is a senior writer for ESPN.com. You can follow him on Twitter at jimcaple.