Commentary
A long, strange trip for Horned Frogs
Originally Published:
October 13, 2011
By
DJ Gallo
| Page 2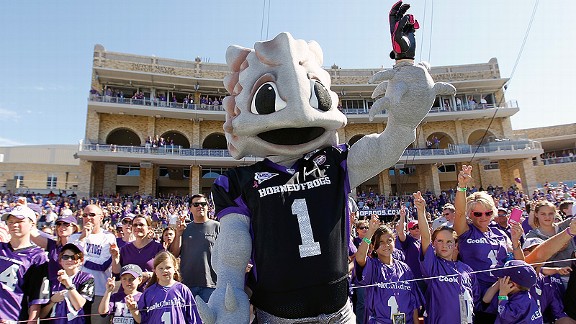 Tom Pennington/Getty ImagesTCU administrators explain their motives behind jumping from conference to conference.
TCU became the latest program to change conferences this week. You may recall TCU was also the latest team to change conferences less than 11 months ago.
What changed in the 315 days between announcing it would leave the Mountain West for the Big East and announcing it will leave the Big East for the Big 12? I'll let some of TCU's leaders tell you, in their own words.
Here are athletic director Chris Del Conte, TCU chancellor Victor J. Boschini Jr., TCU's 2010 Board of Trustees chair Luther King and 2011 Board chair Clarence Scharbauer III.
How does the move help your academics?
Del Conte on the Big East, Nov. 2010: "Every single time we have an opportunity to think about where we're going to go, that's the leadership of our chancellor that says, 'Guess what? We dare to be great academically and athletically.' This decision today is great for TCU. … The academic institutions that we're going to be associated with is unbelievable."
Del Conte on the Big 12, Oct. 2011: "Joining the Big 12 connects us not only to schools with whom we share a rich tradition in sports, but also to schools committed to academic excellence."
How did geography come into play?
Boschini on the Big East, Nov. 2010: "Joining the Big East will enhance our student-athlete experience and continue raising TCU's visibility on a national level. … This move also provides an opportunity for TCU to recruit more students in different areas across the country, which will further diversify our student body."
Del Conte on the Big 12, Oct. 2011: "The Big 12 is a perfect fit for TCU. With our historical ties to Baylor, Texas and Texas Tech, as well as the close proximity to the other league members, we couldn't be more excited to have the Big 12 as our new home. It's been unbelievable to see the excitement among our constituents. We are very proud to represent Fort Worth and the entire Metroplex in the Big 12."
What did the TCU Board of Trustees think about the move?
King on Big East, Nov. 2010: "The Board of Trustees, along with TCU's administration, thoroughly examined the invitation and came to the conclusion that joining the Big East is the right move to make at this time. This University has a lot of momentum and joining the Big East will accelerate that momentum."
Scharbauer on Big 12, Oct. 2011: "TCU's Board of Trustees unanimously voted to give the University's administration authority to become a member of the Big 12. TCU is unique in higher education and as Board members, we have the responsibility to guide and nurture this great institution. Voting to move into the Big 12 today retains our uniqueness, connects us with old rivals and energizes TCU's future."
How do you feel about your old conference?
Del Conte on Mountain West, Nov. 2010: "We are most appreciative of our time in the Mountain West Conference. The league helped elevate us across the board. We treasure the relationships we formed and the outstanding leadership provided by commissioner Craig Thompson."
Del Conte on the Big East, Oct. 2011: "We also are appreciative of the Big East for providing an opportunity for TCU. We have great respect for the Big East and all of its members."
How great is it to be a Frog right now?
Del Conte on Big East, Nov. 2010: "This is a great time to be a Frog."
Del Conte on the Big 12, Oct. 2011: "It's truly a historic time and a great day to be a Horned Frog!"


Game of the Week
No. 18 Arizona State at No. 9 Oregon, 10:15 p.m. ET on ESPN
These are the two highest-ranked teams meeting this week, and the outcome will go a long way toward determining the Pac-12 champion. All that makes it a must-see game. That is, unless we are subjected to more clips of LaMichael James' elbow injury, in which case I'll gouge my eyes out and just listen to the broadcast.


Another Game of the Week
No. 6 Oklahoma State at No. 22 Texas, 3:30 p.m. ET on ABC/ESPN
Texas might be a little worried about having to face another Oklahoma team after last week. But good news, Texas, the Cowboys are a completely different team than the Sooners. For example, Oklahoma State averages 51 points a game, while Oklahoma only averages 45. See, Texas? Nothing to worry about.

Cupcake of the Week
New Mexico
The Lobos are 0-5 and have won just two of their past 33 games. This week they head on the road to play out of conference at Nevada. It's a great opportunity for New Mexico fans to legally bet on their team to lose.


Rivalry Game of the Week
No. 11 Michigan at No. 23 Michigan State, noon ET on ESPN
The winner of this game gets the Paul Bunyan Trophy -- a 4-foot-tall statue made of wood. That's actually the same description many SEC fans have of Big Ten defensive backs.

Heisman Candidate in the Crosshairs
Robert Griffin III, QB, Baylor
Griffin's candidacy hits the road this week with a game in College Station against No. 21 Texas A&M (noon ET on FX). So far this season, Griffin has completed 80.3 percent of his passes with 19 touchdowns and just one interception for a 212.9 passer rating. Many of you may not be as familiar with the college passer rating as you are with the NFL passer rating or even the new Total QBR system. So let me explain to you that a 212.9 NCAA passer rating is, like, real good and stuff. In fact, Griffin's passer rating is 37.6 points higher than Andrew Luck's. Should NFL teams "Suck For Luck"? Maybe. But "Play Like a Turd for Robert Griffin III" works, too.

Mascot Fact of the Week
To become the West Virginia Mountaineers mascot, a student must read and fill out a four-page application, complete five essay questions, be interviewed and compete in a "cheer-off." That's a lot of work considering that, according to the application rules, "While in uniform, the Mountaineer WILL NOT consume any alcoholic beverages" and "The Mountaineer and the Alternate Mountaineer are the ONLY PERSONS permitted to fire the Mountaineer rifle." A bit limiting, don't you think?
Tailgate Tip of the Week
Get a team logo iBottleopener. Countless words have been written about Steve Jobs' contributions to the modern world in the week since his passing. But no one has written these words yet: "If it wasn't for Steve Jobs, we wouldn't be able to have a single device that allows us to check scores … while opening a beer … while supporting the team."

Quote of the Week
"Swag reasons." -- Clemson quarterback Tjah Boyd, after leaving last week's game with a hip injury, on why wasn't he wearing hip pads
This bring us back to last week's Quote of the Week, in which Joe Paterno said: "Somebody called up and said I should be back swaggering. Pretty tough to swagger on a cane. But I'm good now. I'm going to be swaggering all over the place [Saturday]. Don't get in my way."
So, we know that wearing pads is not good for swag. But getting injured prevents one from swaggering. It's a Swag-22.

Greatest Conference Ever of the Week
Big 12
The Big 12 didn't have any out-of-conference losses last week. Granted, it had no out-of-conference games. But six Big 12 teams are ranked, which, oddly, is more than half the conference. Plus, the Big 12 stole the Big East's new girlfriend. Not a bad week.

Worst Conference Ever of the Week
Big East
Louisville lost at North Carolina, and Syracuse barely got by lowly Tulane. Also, the Big East lost TCU. This would help it win Greatest Conference Ever of the Week if we were in basketball season, but we're not in basketball season. Sorry, Big East.
Stat of the Week
13
There are still 13 undefeated teams in college football. This is bad news, because the first BCS rankings come out on Sunday. Set your reaction mode to: EVERYBODY FREAK OUT! AAAH! AAAAAAHHHHHHHHHH!

Coach on the Hot Seat
Frank Spaziani, Boston College
Spaziani is 16-16 with two bowl losses since taking over the Eagles in 2009. This year Boston College is 1-5. The Eagles' only win is over UMass, and it lost to Duke -- DUKE! The Eagles have a bye this week -- "I think a break in the middle of the season is always ideal," Spaziani said. Sometimes breaks in the middle of a career are good, too.

Player Name of the Week
George George, TE, Virginia Tech
According to George George's official Virginia Tech bio, he is George George III, meaning his father and his grandfather are both George George. George George comes from a long line of people who really like the name "George," by George!
(This week's Player Name of the Week submitted by reader Brett K. Yeah, unfortunately his last name is not also Brett. Lame! If you have a player/coach name submission, or a funny tailgate photo to share, send it to VarsityTailgate@gmail.com.)

Coach Name of the Week
Bubba Cunningham, Tulsa
Full disclosure: Bubba Cunningham is not a coach at Tulsa. He's actually the school's director of athletics. But why should that little detail prevent me from sharing with you all that there is someone walking around on this earth calling himself "Bubba Cunningham"? That's right. It shouldn't.
According to reports, Bubba -- who's given name is Lawrence Cunningham -- is in line to become North Carolina's new AD. I'm sure we all look forward to UNC's press release in which it touts the qualifications and abilities of a man named "Bubba."
Stone Cold Lock of the Week
The success of the Lions and Tigers will be mentioned once or twice during the Michigan-Michigan State game.
DJ Gallo is the founder of SportsPickle.com. His first book, "The View from the Upper Deck," is available from only the finest bargain-book retailers. His next book project will be released soon. You can follow him on Twitter at @DJGalloESPN.