Commentary
Page 2 foresees BCS bowl point spreads
Originally Published:
October 13, 2011
By
Sarah Phillips
| Special to Page 2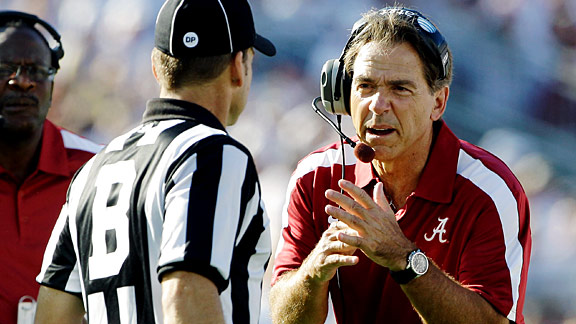 Rob Carr/Getty ImagesNick Saban's Crimson Tide have earned the most respect from oddsmakers so far this season.
October is known for the spookiest day of the year -- and no, I'm not talking about Halloween. The Bowl Championship Series will unveil its first standings of the 2011-12 season on Sunday.
In anticipation of this glorious event, Caesars Entertainment senior sports analyst Todd Fuhrman will provide us with an oddsmaker's perspective on the potential BCS bowl matchups and point spreads.
Remember: if you're not complaining about something by the end of this column, then the BCS isn't doing its job!
Allstate BCS National Championship Game


Projected matchup: Oklahoma Sooners vs. Alabama Crimson Tide
Projected line: Alabama (-2.5)
LSU is ranked No. 1 in the AP Top 25, and Oklahoma owns the top spot in the USA Today coaches poll, but according to Fuhrman, "The Alabama Crimson Tide are the best team in the country."
Oddsmakers value defense highly when completing weekly power rankings and setting a line. After all, it is defense that wins championships, right?
Alabama allows just seven points per game -- fewest in the nation. It's as if the Tide are playing "NCAA Football 12" on junior varsity level.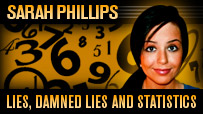 "Alabama's back seven are as good as we've seen in years at the collegiate level, and the defensive line is improving on a weekly basis," said Fuhrman.
Having Trent Richardson doesn't hurt, either.
Even with Alabama receiving high praise from Vegas, Oklahoma isn't far behind because its aerial attack is so good. The 2½-point line is indicative of the slim margin between these teams.
"With a pro-style quarterback and two NFL-caliber wide receivers, the Sooners pose the biggest threat to the vaunted Crimson Tide defense."
At the end of the day, Alabama would be favored over any opponent in the championship game: -2½ vs. LSU; -6 vs. Wisconsin; -6 vs. Oklahoma State; -6½ vs. Stanford; -7 vs. Oregon; and -8½ vs. Boise State.
Allstate Sugar Bowl


Projected matchup: Boise State Broncos vs. LSU Tigers
Projected line: LSU (-7)
No team from a conference without an automatic BCS bid has ever qualified for the BCS title game. An early-season win over Georgia in Atlanta was supposed to put Boise State on the fast track to be the first. But the Broncos' win over the Bulldogs has done little for their national reputation among bettors.
"There's still a strong bias against Boise State," said Fuhrman.
The large spread in this potential matchup is due to the perception of superior size and speed of SEC teams, the relative home-field advantage for LSU playing in New Orleans and the overall lack of respect for Boise State's schedule. Without a signature win and playing in a conference of unranked opponents, Boise State is essentially sending in a national championship application without a cover letter.
A win over LSU to cap a perfect season would provide Boise State with a full résumé. The Bowl Championship Series would be thrown into full-blown chaos. The world would end.
"But, let's not get ahead of ourselves," Fuhrman cautioned. "Boise State would still be the largest underdog in any of the potential BCS bowls, and even if the Broncos win, pundits may blame LSU for not being focused rather than giving Boise State credit for a big win."
(Speechless.)
Let me try and comfort you, Boise State fans. In "White Men Can't Jump," Gloria (Rosie Perez) gives Billy (Woody Harrelson) a bit of advice that perfectly applies to the Broncos' situation: "Sometimes when you win, you really lose. And sometimes when you lose, you really win. And sometimes when you win or lose, you actually tie. And sometimes when you tie, you actually win or lose."
You're welcome.
Rose Bowl Game presented by Vizio


Projected matchup: Wisconsin Badgers vs. Oregon Ducks
Projected line: Wisconsin (-4.5)
Oregon's offense is ranked No. 2 in the nation in scoring, and Wisconsin sits at No. 3. So, why would the Badgers be 4½-point favorites? According to Fuhrman, "Defense, physicality, preparation time, and execution."
Behind a big defensive front, Wisconsin allows the third-fewest points in the nation at 10.2 per game.
"We've seen Oregon struggle in previous games against teams who are extremely physical," said Fuhrman.
This is compounded by the fact that Chip Kelly hasn't fared well in games with 30-plus days of preparation time -- the opener against Boise State in 2009, the 2010 Rose Bowl against Ohio State, last season's BCS title game against Auburn and this season's opener against LSU.
In big games, if Oregon's offense (averaging 50.2 points per game this season) is stifled, as it was against Boise State (eight points), Ohio State (17), Auburn (19) and LSU (27), they have no Plan B. That's it. Game over.
"Bettors aim for multiple ways to win. Offense, defense, special teams, coaching advantage -- anything!"
Tostitos Fiesta Bowl


Projected matchup: Stanford Cardinal vs.
Oklahoma State Cowboys
Projected line: Oklahoma State (-2.5)
"Andrew Luck is worth more points individually toward the spread than anyone else in all of college football," said Fuhrman.
Luck also is a significant reason why Stanford could qualify for a BCS bowl even if it loses a game.
Stanford doesn't have a massive fan base, and ticket sales are a factor in the BCS invitation formula. However, the allure of the NFL's expected No. 1 draft pick should be enough for Stanford to sneak past the bouncer and into the Fiesta for a date with Oklahoma State and star receiver Justin Blackmon.
"The point spread may become irrelevant with the amount of scoring you'd expect between these two teams," said Fuhrman. "The Cowboys can score on anyone. But out of all of the potential BCS teams, their defense leaves the most to be desired." Oklahoma State ranks No. 1 in the nation in points per game, but No. 71 in points allowed per game.
Stanford's offense ranks No. 7 in points per game. The Cardinal and Cowboys could provide the nation with the scoring blitz that Oregon and Auburn failed to deliver in the BCS title game last season.
Discover Orange Bowl


Projected matchup: Clemson Tigers vs. West Virginia Mountaineers
Projected line: Clemson (-3)
After it was reported this past week that the Big East is aiming to create a super(crappy)conference with the addition of Air Force, Army, Navy, Memphis, Central Florida, East Carolina, Temple and Villanova, I refuse to discuss this game in protest of their automatic BCS berth.
Instead, I'll list all of the teams that deserve to be in a BCS bowl over the Big East champion: Arkansas, Michigan, Georgia Tech, Nebraska, South Carolina, Illinois, Kansas State, Arizona State, Virginia Tech, Baylor, Texas A&M, Texas, Michigan State, Auburn, Houston, Florida, Florida State, Washington, Notre Dame, Georgia, Penn State, North Carolina, Southern Mississippi, Texas Tech and SMU.
Yeah, that's right. SMU!
OK, maybe not SMU, but you get the point.
This week's college picks
All games are Saturday unless otherwise noted.


No. 18 Arizona State at No. 9 Oregon, 10:15 p.m. ET, ESPN
A Sun Devils fan held up a strange sign during last week's game against Utah. Playing on Arizona State wide receiver Aaron Pflugrad's name, the placard read, "Get ready Oregon, I have the Pflu and I'm gonna give it to you!" Who says academics suffer at an elite party school? Unfortunately, Arizona State fans may be the ones feeling ill when Oregon's blur offense takes the field. Oregon is 4-1 against the spread in its past five games as a favorite of 10½ or more points.
Pick: Oregon (-14)


No. 6 Oklahoma State at No. 22 Texas, 3:30 ET, ABC/ESPN
Sept. 3, 2011 - Oct. 8, 2011. R.I.P. Longhorns season. After being blitzed by Oklahoma last week in a Red River rout, Texas has to deal with Oklahoma State, which is fresh off a 70-point performance. The Cowboys are 8-1 against the spread in their past nine games after scoring more than 40 points in their previous game. Someone must really hate Texas to schedule OU and OSU in back-to-back weeks. After an undefeated start to the season playing a bunch of cupcakes, things don't look good for the Longhorns. It's gotten to the point that Bevo reportedly is considering leaving the Big 12.
Pick: Oklahoma State (-7)


No. 11 Michigan at No. 23 Michigan State, noon ET, ESPN
I've seen this movie before: An undefeated Michigan squad rolls into to play Michigan State, and the Spartans expose and beat down the Wolverines. Good thing this DVD comes with an alternate ending. Michigan State is 0-5 against the spread in its past five games as a home favorite of three or fewer points. If Michigan wins this week, its schedule lines up nicely for a Nov. 12 showdown at Illinois.
Pick: Michigan (+3)


No. 20 Baylor at No. 21 Texas A&M, noon ET, FX
If football games were only 30 minutes long, Texas A&M would be undefeated. The Aggies might be the best first-half team in the nation, considering they've been ahead at the break in each of their first five games, with an average halftime lead of 18.4 points. Oddsmakers have set the Aggies as a 5½-point favorite to win the first half against Baylor. I'll trust 'em for 30 minutes, even though star Baylor quarterback Robert Griffin III will probably burn them late.
Pick: Texas A&M (-5½ -- halftime score)
This week's NFL picks
All games are Sunday unless otherwise noted.


49ers at Lions, 1 p.m. ET, Fox
I had a ton of great Lions-49ers jokes lined up for this game. Then, Detroit and San Francisco ruined them by becoming two of the NFL's best teams. Jim Harbaugh is making the 49ers' $25 million investment in him seem like a bargain, as his team has committed the fewest turnovers in the NFL and allowed the lowest percentage of touchdowns in the red zone. The 49ers also haven't allowed a rushing touchdown this season, and Alex Smith's 98.2 Total QBR last week against the Buccaneers was the best single-game rating this season. All that stuff is great, but Detroit is unbeaten in its past 14 games against the spread.
Pick: Lions (-4)


Cowboys at Patriots, 4:15 p.m. ET, Fox
Last week, I hypothesized that the Patriots-Jets game would go over the total because New England is No. 1 in offensive passing yards and No. 32 against the pass. I hate to sound like an iPod on repeat, but I'm going with the same theory this week. The only question going into this game: Who will throw more touchdown passes for the Patriots -- Tom Brady or Tony Romo? The over is 7-1 in the Cowboys' past eight road games and 10-1 in the Patriots' past 11 games as a home favorite of 3½ to 10 points.
Pick: Over 54


Eagles at Redskins, 1 p.m. ET, Fox
This is a must-win game for Philadelphia. Actually, every game is a must-win game for Philadelphia for the remainder of the season. The Eagles held a closed-door, players-only meeting this week. Some might view this as a sign of unity, but I think the players were just trying to see what life would be like without Andy Reid around. Nevertheless, the Eagles have played the Redskins well, and the road team is 4-0 in the past four meetings against the spread. I held a closed-door meeting with myself and decided to take the Eagles.
Pick: Eagles (-1)
Last week's picks: 4-3
Season record: 31-23-1 (57.4 percent)
Sarah Phillips is a featured columnist for the sports betting information website Covers.com.
You can follow her on Twitter @RealSarahPHI.