Commentary
The 2011 Red Sox alternate history
Originally Published:
October 19, 2011
By
Jim Caple
| Page 2
I'll say this for Josh Beckett, John Lackey, Jon Lester and the Red Sox: Playing baseball in Boston would drive anyone to drink.
Atlanta blew an even bigger wild-card lead than the Red Sox this season but you don't see the Braves pointing fingers and firing everyone. But in Boston, you can't just simply lose or just chalk up a collapse to its actual cause (bad pitching). No, in Boston there always must be some deeper moral failure, some deep-rooted character flaw. To lose a baseball game or blow a lead is to also fail as a human being.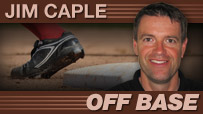 So what if Terry Francona managed the Red Sox to their only two world championships in the past nine decades? The Red Sox lost because he and his wife aren't getting along! So what if Adrian Gonzalez batted .338 with 27 home runs and 117 RBIs? The Red Sox lost because he didn't like playing night games on getaway days! So what if the 2004 Red Sox drank shots of whiskey before games? They're heroes because they won and the 2011 Red Sox are bums because they lost due to a couple players drinking beer!
This is the Boston way. Point fingers. Yell on a talk show. Blame everyone. Fire whomever you can. Jump ship. But whatever you do -- Panic!!!! Good God, what's next? Blaming Dustin Pedroia for the collapse because he sings "Sweet Caroline'' off-key? Boston's angst and self-flagellation is enough to make the Yankees seem downright lovable.
And the thing is, it's easy to picture an entirely different scenario if the Red Sox had just held on to beat Baltimore and the Rays had lost to New York that memorable final night of the regular season.
The rumors surrounding the team have been so plentiful (and ridiculous) that we can only imagine what would've come of the Red Sox making a run in the playoffs.
Sept. 28: Tampa Bay's rally from a 7-0 deficit falls just short when pinch-hitter Dan Johnson strikes out one pitch after hitting a ball six inches to the right of the foul pole. The Red Sox clinch the wild-card spot minutes later when closer Jonathan Papelbon retires Chris Davis on a flyout. Photos of Beckett, Lester and Lackey celebrating with beer and fried chicken run under banner headlines: "POSTSEASON KEGGER AND WE'RE INVITED!''
Sept. 30: After the Red Sox beat Texas 9-0 in Game 1 of the division series, the Rangers whine and accuse Beckett of throwing a spitball with the grease that was coating his fingers from the fried chicken he ate between innings in the clubhouse.
Oct. 1: The Red Sox win Game 2 of the division series by beating Texas 4-3 on Gonzalez's dramatic walkoff home run in the bottom of the 10th inning, his fourth home run of the series. Gonzalez tells reporters in the clubhouse, "The game had gone on long enough and we needed to catch a flight. Kids needed to go to bed, adults needed to get some sleep and we needed to get home at a decent hour. Baseball is killing its fan base with these four-hour games. So I decided it was time to take command, swing at the first pitch and end it right then and there.''
Oct. 2: Gonzalez homers again while Lackey shuts down the heart of the Texas order in a 3-0 shutout as the Red Sox sweep the division series. Lackey attributes his turnaround performance to learning each hitters' weakness by going up to the clubhouse and playing "the amazingly lifelike'' MLB 2K11 video game on his Xbox between innings.
Oct. 8: In an epic ALCS opening game, Justin Verlander intentionally walks the red-hot Gonzalez four times but the Red Sox win 1-0 when Beckett outduels the Detroit pitcher. Headlines scream "BOSTON FRIED CHICKEN!'' over a photo of an exhausted Verlander.
Oct. 9: Boston wins Game 2 of the ALCS thanks to Gonzalez's home run in the 15th inning and eight brilliant innings of relief from Tim Wakefield. Multiple Boston media outlets demand the Red Sox re-sign Wakefield because the city deserves to see him break the team's all-time record for victories "even if it takes three seasons to do it, which it probably will at his current pace.''
Oct. 11: After pitching the Red Sox to a 4-2 victory in Game 3 of the ALCS at Fenway Park, Lester publicly apologizes to fans for "mistakes made during the season'' and "things that went on that shouldn't have.'' For instance, he says, "We should not have drunk a foreign lager during games. We should have set a better example by drinking beer from a local brewery.''
Oct. 12: After Boston completes its ALCS sweep and advances to the World Series, Francona earns praise for his leadership in keeping his players focused on the game amid all the distracting rumors about the Cubs trying to hire away general manager Theo Epstein and the even more upsetting rumor that Jimmy Fallon may film a sequel to "Fever Pitch.''
Oct. 13: Epstein puts an end to rumors by saying he has no interest in the Chicago job. The Cubs respond by giving Matt Garza to the Red Sox "just for the honor of being turned down by such a legendary genius.''
Oct. 15: Owner John Henry entices the Red Sox to play the entire World Series by giving each player a new Xbox as well as a case of imported beer and a freezer full of organic free-range chicken.
Oct. 16: Fenway concession stands start selling a beer-and-fried chicken special called "The Between-Inning Snack of Champions.'' The plate includes one wing, a drumstick and a 12-ounce beer for the low, low price of just $48.
Oct.19:Boston beats St. Louis 4-1 in Game 1 of the World Series after one of Beckett's errant fastballs strikes and kills a squirrel running in front of the plate at Busch Stadium. Photos of the rodent's fur flying run underneath the headline: "GOT SQUIRREL!''
Oct. 20: After Boston wins Game 2, Francona is lauded for inspiring team harmony: "If Lackey, Lester and Beckett had played on one of the old Red Sox teams, they would have ridden in three separate cabs when they went on the St. Louis brewery tour.''
Oct. 22: With the Red Sox routing the Cardinals 10-1 in Game 3, the Fenway Faithful join in singing along to the traditional eighth-inning playing of Neil Diamond's "99 Bottles of Beer on the Wall.''
Oct. 23: The Red Sox celebrate a World Series sweep for their third world championship in a decade by immediately picking up the option on Francona's contract and extending it to a lifetime package. "It's what the best manager in Boston history deserves,'' Theo says. Meanwhile, Beckett signs an endorsement package for Popeye's Fried Chicken. Lester gets his own beer commercial. And Lackey signs a video game deal for "Call of Duty: Black Squirrel Ops.''
Oct. 24: Author Michael Lewis receives a $1 million advance to write a sequel to his 2003 bestseller "Moneyball'' to be based on spending the 2012 season following around Theo. Miramax picks up the movie option with actors Ben Affleck, Matt Damon, Jake Gyllenhaal, Colin Farrell and, oddly, Hilary Swank all expressing interest in portraying Theo. Tentative titles for the book and movie are "Good Player Hunting,'' "All the Right Moves'' or simply "Genius-Ball.''
CSI: BOX SCORE
You know the rules. You get a fragment from an old box score and the challenge of determining what game it is from and why it is significant. I give this one a difficulty rating of 4.0. (Hint: I'm featuring postseason games this month.)

Kurt Snibbe/ESPN.com
BALLPARK RANKINGS
Great American Ballpark, Cincinnati: You get a brief peek of this stadium in George Clooney's new movie, "The Ides of March,'' which, unfortunately for the Reds, is the only view of the park the nation will get this October. We're not missing that much. Oh, it's a fine stadium and a great improvement over Riverfront but it could have been so much better. It doesn't really take full advantage of its riverfront location, the exterior has a sterile, metallic feel and the design simply lacks creativity. And I certainly hope they painted most of the exposed concrete since I last visited. For a lesson on how to build a park along a river, go to Pittsburgh for the No. 1 stadium. If you want something nice and adequate, come here.
Score: 76. Final Rankings:
1, PNC Park, Pittsburgh 98
2, Fenway Park, Boston 96
3, AT&T Park, San Francisco 94.
4, Camden Yards, Baltimore 92
5, Target Field, Minnesota 91
6, Wrigley Field, Chicago 90
7, Angels Stadium, Anaheim 89
8, Dodger Stadium, Los Angeles 88
9, Safeco Field, Seattle 87
9, Comerica Park, Detroit 87
9, Coors Field, Colorado 87
12, Kauffman Stadium, Kansas City 86
13, Citizens Bank Park, Philadelphia 85
14, Petco Park, San Diego 84
15, Comiskey Park, Chicago 83
16, Turner Field, Atlanta 82.5
17, Progressive Field, Cleveland 82
18, Citi Field, New York 81
19, Minute Maid Park, Houston 80
20, Yankee Stadium, New York 79
21, Busch Stadium, St. Louis 78
22, The Ballpark in Arlington 77
23, Miller Park, Milwaukee 77
24, Chase Field, Arizona 76.5
25, Great American Ballpark, Cincinnati 76
25, Nationals Park, D.C. 76
27, SkyDome, Toronto 75
28, The Oakland Coliseum 74
29, This Space For Rent, Florida 73
30, Tropicana Field, Tampa Bay 68
[+] Enlarge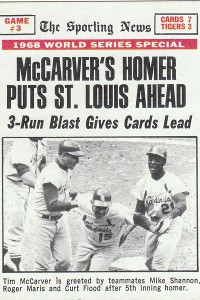 ToppsA highlight of Tim McCarver's career was commemorated on this this 1969 Topps card.
BASEBALL CARD OF THE WEEK
And after hitting the World Series home run depicted on this card (1969 Topps No. 164), McCarver spent the next 15 minutes on the bench belaboring his teammates about the pitch he hit and why the pitcher shouldn't have thrown it where he did, followed by a detailed explanation of the beechwood-aging process.
CSI: BOX SCORE ANSWER
The only clue you needed was the name Ryan under the New York pitchers. This box score fragment was from Game 3 of the 1969 World Series when Nolan Ryan made his first and only appearance in the autumn classic, earning the save in relief of Gary Gentry. It was one of four saves he earned during his career (three in the regular season). Good luck earning a World Series ring as an owner, Nolan.
Jim Caple is a senior writer for ESPN.com. You can follow him on Twitter at jimcaple.