Commentary
Undefeated Packers, streaking Stanford
Originally Published:
October 20, 2011
By
Sarah Phillips
| Special to Page 2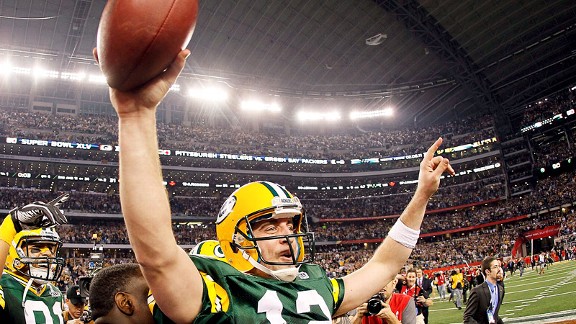 Kevin C. Cox/Getty ImagesOddsmakers figure Aaron Rodgers and the Packers have a 7 percent chance to go undefeated.
With the Packers being the last undefeated team standing this season, it's customary to begin asking this question ad nauseam: Will Green Bay finish the regular season at 16-0?
The Packers will be favored in each of their remaining games this season according to Todd Fuhrman, senior sports analyst for Caesar's Entertainment. Even so, with the volume of games remaining on Green Bay's schedule, oddsmakers are giving the Packers only a 7 percent chance to complete an undefeated regular season -- compared with the 11 percent given to New England prior to entering Week 7 in 2007. The Patriots, of course, completed a perfect regular season. Then they produced a memorable Super Bowl championship run chronicled in this book. Or not.
Here's a look at what appear to be the Packers' easiest and most challenging remaining opponents.
Week 10: Vikings at Packers, Monday, Nov. 14, 8:30 p.m. ET, ESPN
Projected line: Packers (-15½)
The Vikings have been criticized all season for being able to put together only 30 minutes of quality football. Pundits have called them inconsistent. This past Monday night, the Vikings responded by playing all 60 minutes terribly against the Bears. Take that consistency, critics!
The Vikings share the same division as Green Bay, but they're hardly in the same league. History is also working against the Vikings. Only 3 percent of two-touchdown underdogs have won outright since 1990.
Week 9: Packers at Chargers, Sunday, Nov. 6, 4:15 p.m. ET, Fox
Projected line: Packers (-2½)
Although Tom Brady's mesmerizing looks have a way of hypnotizing fans into believing the Patriots will represent the AFC in Super Bowl XLVI, oddsmakers in Las Vegas have deemed Philip Rivers and the Chargers co-favorites to win the AFC. Meaning, this Week 9 collision will undoubtedly be billed as a potential Super Bowl preview.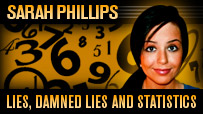 Green Bay will be coming off a bye week before heading to San Diego, but the Chargers could benefit from rules in the new collective bargaining agreement which stipulate that teams must give players four consecutive days off during the bye. If the Packers can navigate a win in San Diego, a Thanksgiving showdown with the Lions (Green Bay is projected to be a 3-point favorite in Detroit) may be the last significant hurdle en route to 16-0.
Unless, of course, the Packers decide to ruin their perfect season by beating themselves, like the Colts did in 2009.
Who needs 16-0? 15-0 nets $100K
Someone in Delaware is $100,000 richer after correctly picking 15 consecutive NFL games against the spread, culminating this past weekend with correct selections on the Eagles (+1) and Ravens (-4).
The odds of accomplishing this feat are 32,000-to-1, according to the Delaware Gaming Commission.
So, great job, mystery person -- even though you should have been paid $160,000 based on the odds. But hey, who's counting?
The State of Delaware has collected $370,000 in losing tickets since introducing the parlay offer of $5 to win $100K in 2009, according to Delaware public records.
Translation: Roughly 74,000 people should have bought something else with that $5.
South Carolina won battle; Gamecocks backers lost their shirts
With a 4-point lead, on fourth down with four seconds left, South Carolina coach Steve Spurrier decided to take an intentional safety rather than risk getting a punt blocked during the Gamecocks' 14-12 win this past weekend at Mississippi State. The safety was seemingly insignificant -- except to bettors who had South Carolina minus-3.
In case you're wondering, 82 percent of reported wagers were placed on the Gamecocks.
Stanford Cardinal Credit Union
Dating back to Oct. 30, 2010, Stanford is undefeated against the spread (11-0-1). If you were to have bet $100 on the Cardinal at the beginning of their current 12-game unbeaten streak, and let your winnings ride on each game, you would be up $122,769.84.
This week, you'd have the Cardinal (-20.5) against Washington, risking $122,769.84 to potentially win $111,608.90.
Every dog has his day
Or, four days, as is the case with Kansas State. Bill Snyder's team has been an underdog in each of its first four games this season, and won each one outright. Someone in Manhattan, Kan., must have Aretha Franklin playing on repeat right about now.
This week, Kansas State travels to rival Kansas as a 10½-point favorite. Will the Wildcats be able to handle the expectations?
If the BCS computers were hacked -- Fantasy BCS championship
It's probable that some combination of Alabama, LSU, Oklahoma, Oklahoma State, Wisconsin or Stanford will be playing in this season's BCS Championship Game.
But, what if things went haywire, and No. 5 Boise State met No. 19 Houston for all the marbles? Boise State would be a 15½-point favorite, according to oddsmakers, a strange position for the Broncos, perennial BCS underdogs. In a crazy turn of events, Boise fans wouldn't know what to complain about.
If Carson Palmer works out in Oakland -- Fantasy Super Bowl XLVI
Jim Harbaugh and Carson Palmer dominated this week's NFL headlines. Is it a sign? Might we see the 49ers and Raiders collide in the Super Bowl? Probably not, but it still begs the question, what if?
Although the Raiders' Super Bowl odds were reduced from 15-1 to 10-1 with the addition of Carson Palmer, oddsmakers would still make San Francisco a 1-point favorite over Oakland if the Bay Area rivals were to meet in the Super Bowl. A 1-point line is insignificant in the big picture. The 49ers must get the nod based on the intimidation of a Harbaugh handshake.
Jim Harbaugh vs. Jim Schwartz fight odds
Jim Harbaugh would be a 9-to-1 favorite over Jim Schwartz if the two ever met in the ring, according to Fuhrman. "There's the obvious size difference, and the fact that Harbaugh has an intensity that I doubt Schwartz could match," said Fuhrman. "Harbaugh is still the guy that went for two against USC, with the game well in hand, in order to make a statement."
To put these odds into perspective, Floyd Mayweather Jr. was a 5-to-1 favorite over Victor Ortiz. At 9-to-1, Vegas would expect Harbaugh to turn Schwartz's lights out pretty quickly. "The more interesting line would be on the total rounds expected in the fight, which I would set at over/under 1½ rounds," said Fuhrman.
I'd take the under.


This week's NFL picks
All games are Sunday unless otherwise noted.


Chargers at Jets, 1 p.m. ET, CBS
First Harbaugh and Schwartz had their little spat. Now Rex Ryan and Norv Turner have exchanged words through the media this week. Ryan, who interviewed for the Chargers job in 2007, claimed, "I would have had a couple of rings," had he been hired by the Chargers instead of Turner. Just when you thought Ryan had exhausted all possible Super Bowl guarantees, he reaches a new level of bluster by guaranteeing championships for other teams! For the record, none of Rex's guarantees has come to fruition. With Ryan's comments surely posted on the Chargers' bulletin board, and San Diego coming off a bye week, the visitors are in prime position to improve to 5-1. Since 2003, San Diego is 6-2 coming off the bye.
Pick: Chargers (+½)


Texans at Titans, 1 p.m. ET, CBS
Are the Titans going to win the AFC South by default? Now that would be a Music City miracle. Indianapolis is done, Jacksonville is done. Houston is dealing with Andre Johnson's leg injury. Everything is lining up for the Titans to sneak into a division title. The biggest problem with Tennessee is its running game, currently ranked dead last in the NFL. But can Chris Johnson be contained all season? Houston is 1-4 against the spread in its past five meetings at Tennessee, and those games were played with Andre Johnson. Subtract the star wide receiver from the equation, and it becomes more difficult to back the Texans. Tennessee should seize control of the division with a win this Sunday.
Pick: Titans (-3)


Falcons at Lions, 1 p.m. ET, Fox
A week ago, everything in Michigan was fine and dandy. The Wolverines and Lions were undefeated, and the Tigers were in the ALCS. Boy, how things have changed, and it could get worse for Detroit-area fans. Lost in the madness of Sunday's handshake hullabaloo was the fact that the Lions trailed at the half for the fourth consecutive game. That's a recipe for disaster in the NFL. If Detroit's first-half woes continue, expect the Falcons to capitalize. Atlanta has led at the half in each of its three wins this season. This is compounded by the fact that the Lions are 3-7 against the spread in their past 10 games as a favorite of 3½ to 10 points. Keep your head up, Detroit -- you've always got the Red Wings.
Pick: Falcons (+2 -- halftime score)
Pick: Falcons (+4)
This week's college picks
All games are Saturday unless otherwise noted.


No. 20 Auburn at No. 1 LSU, 3:30 ET, CBS
More off-the-field issues for LSU? Say it ain't so. Running back Spencer Ware, cornerback Tyrann Mathieu and defensive back Therold Simon have been suspended for this game. Sources told ESPN.com that the suspensions were for testing positive for synthetic marijuana. For the record, no Marines were harmed in the making of this suspension. LSU should still win, but covering a 23-point spread will be difficult, especially with a trip to Tuscaloosa looming after a bye week. Auburn is 4-1 in its past five games as an underdog of 10½ points or greater. Begrudgingly, I'm taking Auburn and the points.
Pick: Auburn (+23)


No. 6 Wisconsin at No. 16 Michigan State, 8 p.m. ET, ESPN
Russell Wilson is quietly making a case for the Heisman Trophy. Wisconsin's quarterback has thrown for 1,557 yards and 14 touchdowns, and he's also rushed for two scores. Oh, and he's caught a touchdown pass, too. Wilson guides the Badgers into East Lansing on Saturday. Michigan State is fresh off a victory over rival Michigan, in which the Spartans were credited with shutting down Michigan's offense. But, in the words of Lee Corso, "Not so fast, my friend!" Closer examination of the game tape shows that Wolverines quarterback Denard Robinson failed to connect with open receivers last week. Surely, the Spartans won't have the same good fortune against Wilson. I expect Michigan State to have lapses in the secondary again this week, and Wisconsin has a quarterback capable of exploiting them. Wilson's Heisman campaign won't be so quiet after a big win over MSU.
Pick: Wisconsin (-7)


No. 25 Washington at No. 8 Stanford, 8 p.m. ET, ABC
Did Washington provide us with this week's edition of "NCAA investigations waiting to happen"? The Seattle Times asked Huskies quarterback Keith Price about his mature play on the field. "Yeah, this is what I'm supposed to do. This is what I'm getting paid for -- is to play," Price reportedly said. Luckily for Washington, Price quickly edited himself, "No, no! Scholarship money!" or we'd be hearing "The Price is Right" puns for weeks. Stanford has been an ATM while going undefeated against the spread in its past 12 games. Ride the streak.
Pick: Stanford (-20½)
Last week's picks: 3-3-1
Season record: 34-26-1 (56.7 percent)
You can follow Sarah Phillips on Twitter @SarahPhilli.