Commentary
Fights, Tim Tebow, NBA labor: it's here!
Updated:
October 23, 2011, 3:21 PM ET
By
Jerry Greene
| Special to Page 2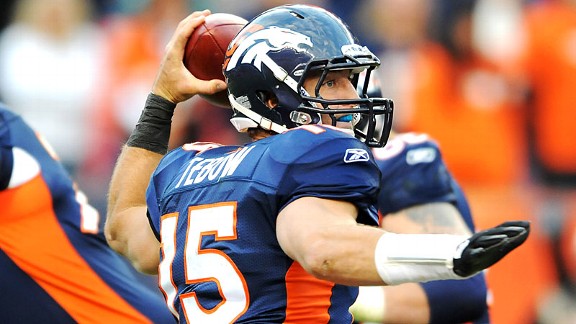 Ron Chenoy/US PresswireTim Tebow is starting Sunday for the Denver Broncos against the Miami Dolphins.
Please forgive me for delving back into what amounts to ancient history but my anger and disgust at conduct demands that we remember the postgame handshake/backslap between San Francisco's Jim Harbaugh (The Slapper) and Detroit's Jim Schwartz (The Slappee).
Besides, perhaps you've been working or demonstrating on Wall Street, which means you've got no idea what's going on in the world.
Anyway, we're dealing with my anger and disgust at the behavior during the incident. What? Oh, no, not Harbaugh and Schwartz. They were fine. It's everyone else on the field that cluttered things up and prevented anything cool from happening.
What we needed was the instant forming of a circle surrounding them as used to happen during recess at elementary school. Everyone chanting "Fight! Fight! Fight!" while Harbaugh and Schwartz slowly circled each other while frantically trying to figure out how to get out of the circle without getting beaten up.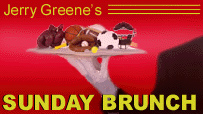 In fact, that should be the tradition after every game instead of a stupid handshake. Who knows how popular it might become? Visualize Rex Ryan and Tom Coughlin in the Octagon at midfield after the game.
And spandex. For Rex, lots of spandex.
Prediction: With Denver leading 28-0 and Tim Tebow having scored four times at halftime, Miami coach Tony Sparano will be fired and escorted from the stadium by security. However, he will say that despite that setback, his life had been enriched just by seeing Tebow play. Miami will hire Bob Tebow, Tim's father, as interim coach.
Now a few more bits of tid before we get to the main courses in today's Tebowlicious Sunday Brunch:
• Strange times for NBA commissioner David Stern when being compared to Napoleon is an upgrade.
• Does the Big East want us to believe that Boise State is in east Idaho so it makes sense?
• Tweet of the Week from Michael Rosenberg of the Detroit Free Press: "I just traded my old bicycle to the Raiders for 2 Corvettes."
• Will someone please ask around the LSU campus if synthetic marijuana can be bought with Monopoly money?
• Unfortunate Quote of the Week from Dolphins coach Sparano: "We coach ball disruption." -- Come on, Tony, that's too easy.
Ding ding. Dinner bell. We got some pro baseball, some pro football and one bonus story about underpants. Enjoy:
• We open with a grand historical perspective from The New York Times' Ken Belson on the significance of the World Series program. Dating to 1903, the program has been "a chronicler of the ages" that helps baseball make the claim it is still America's pastime in at least some ways. Take the trip into time here.
• Unfortunately, you can grow old waiting for a baseball game to end. Tom Jones of the St. Petersburg Times has suggestions for quickening the game. One of his ideas is having fewer TV commercials. Hah hah hah hah. Good one, Tom. Wait? Seriously? Find out here.
• Now we have the segue column by Buck Harvey of the San Antonio Express-News as he compares Dallas' baseball Rangers with the football Cowboys. One is hosting a St. Louis team in a World Series game Sunday while the other is hosting the lowly St. Louis Rams in a nearly meaningless football game. But if push came to shove in Dallas as to which meant more? See what Buck thinks here.
• Amazingly, Sunday's most interesting NFL game involves two teams with a collective record of 1-9. In his Denver Post mode, Woody Paige looks at the connections between John Elway, Tim Tebow and the Miami Dolphins' playing field. Once all the dots are connected, will a new chapter in NFL history have begun? Think about it with Woody here.
• We're adding the bonus thoughts on lockouts/strikes in general from Tom Powers of the St. Paul Pioneer-Press. He grabbed our attention with an opening tale of underpants hanging from a rearview mirror. He makes it work. Check it out here.
• (Spoilers.) Just in case you want to know more about the game in Miami and every other NFL game, I've got it for you here.
Have a great day and may your life be enriched even if you don't watch Tim Tebow.
Jerry Greene is a regular contributor to ESPN.com and can be reached at osogreene@aol.com