Commentary
Tim Tebow's day was a strange one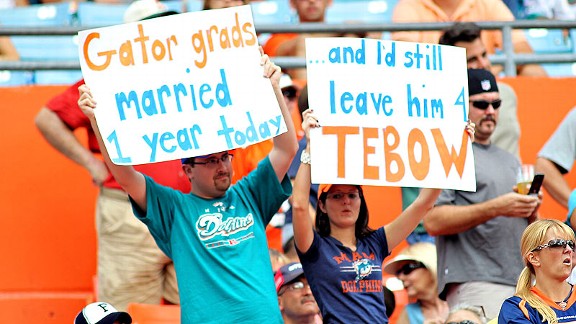 Marc Serota/Getty ImagesThousands of fans of Tim Tebow showed up in Miami to watch him play for the Broncos.
MIAMI GARDENS, Fla. -- Was that the weirdest NFL game ever?
No, not the football itself, although the Denver Broncos' 18-15 come-from-pretty-much-dead win over the Miami Dolphins surely surprised anyone without a wholly (holy?) messianic view of Tim Tebow.
Really, it was the entire scene surrounding Tebow on Sunday at Sun Life Stadium -- call it "Gator Day" or #TebowDay or #TebowMania or whatever you wish -- that begs the questions.
Such as: Will we ever see another NFL atmosphere like this, where the road team's quarterback (and alma mater) was celebrated for a championship -- in a rival school's home building, no less?
"This was more like going to a college game," said Jeff Kahn, a Dolphins fan of 30-some years who -- with his young son Justin -- put aside his NFL allegiance Sunday (in the form of matching Broncos No. 15s) because, as he put it, "my loyalty is to the Gators first."
Still, after the comeback, Kahn admitted to having "mixed feelings." And that pretty much sums up the schizophrenic nature of the afternoon game's crowd -- which featured more than a few instances of Dolphins-Gators confusion (often with a fan wearing one hat and the other jersey/shirt), and much more:
There were straight-ahead Dolfans, to be sure; Fins tents still ruled the pregame tailgating scene, Miami aqua was prominent throughout the not-quite-full stands, and Tebow's fumble late in the second quarter (recovered by Denver) brought about a hearty "Tebow sucks" chant to a stadium that lately has been more sweaty outdoor library than football arena.
[+] Enlarge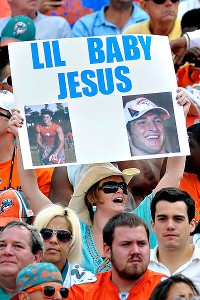 Lou Novick/US PresswireFans showed up to support hero Tim Tebow. And even that was a little overboard.
Florida students and alumni gathered, of course, and not all of them for Tebow's big start. Graduate Kathia Raphael and current Gators Jessica Parra and Jessica Saiz simply enjoyed sharing in the school "unity," appreciated the Dolphins' $25,000 donation to the Florida Opportunity Scholarship fund, and -- during a mid-fourth-quarter break in the stadium concourse -- asserted that not everyone "felt like the game really mattered as much" (Parra's words). Of course, that was before the comeback.
Naturally, the strong-traveling Broncos fans showed up, with the group of Jeff O'Connor, Sarah Huisman, Brett Robinson and Natalie Wright coming from several corners of the U.S. to meet at Sun Life Stadium. And not -- repeat, not -- for the quarterback. "We're all die-hard Bronco fans," Huisman said before the game. "We're kind of annoyed with all the Tebow fans." But, they said, they were eager to see what he could do. (Did they ever.)
Florida also broke out the marching band, both on the field during the halftime ceremony and just inside the gates before the game. What was that Kahn said about a college atmosphere?
At least one college wasn't so happy about this whole Gator Day thing; beleaguered University of Miami plays home games at Sun Life Stadium, and fans objected to the festivities shortly after their announcement. And of course, many came out Sunday, with the occasional Hurricanes tent seen in the parking lot. Any thoughts? Said Phil Bebber, there tailgating with fellow Canes fan/buddy Danny Davidson, "Nothing that you could [print]."
But the celebration went ahead as planned -- to plenty of cheers and awkward boos as that Gators band played the Dolphins' fight song and Tebow, Urban Meyer and the rest experienced a halftime show like few other.
Dolphins fans also got about 57 football minutes of glory, with some Gators/Broncos/Tebow supporters heading for the exits after Miami carried a 15-0 lead late into the fourth.
But that epic comeback we've all seen by now turned Tebow Day into more than a consolation prize for Florida fans. Instead it was the Dolphins' faithful that left hurting; take Julio Martinez, who exited the stadium wearing a "Suck 4 Luck" sign and said, somberly, "This is how most of us feel."
Well, not all Dolphins fans. There were those Gators-Fins hybrids, some of whom saw a double-shot of "winning."
"It's got to be the best-case scenario today for a Dolphin fan and a Tebow fan," a Florida/Tebow jersey-clad Matthew Kerker said. "You get a Tebow win, and you're still alive for the Andrew Luck sweepstakes."
Again, weird.
Certainly one of the weirdest ever.
Patrick Dorsey is a Page 2 editor. He can be reached at bypatrickdorsey@gmail.com.