Commentary
Power Rankings: Bad Location Edition
Originally Published:
October 24, 2011
By
Greg Hardy
| Special to Page 2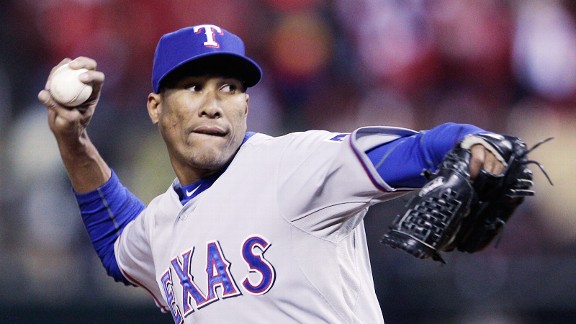 AP Photo/Matt SlocumAlexi Ogando's ERA has bloomed from 1.17 in the first two rounds to 27.00 in the World Series.
Call your All-Star smack talk out of the bullpen with the ESPN.com Page 2 Power Rankings! Our formula combines the results of two surveys: a human poll concocted by ESPN Page 2's Greg Hardy and a scientifically calibrated poll generated by computer analysis. Unfortunately, our computer spent the weekend trying to dissect the NFL bylaws to see if the 6-3 Browns-Seahawks game really has to count in the standings. Or at least if fans who spent $150 a ticket to be there can get their money back. Or if both teams can promise to stop playing bad football if they're allowed to share Andrew Luck on their roster week by week starting next year. Enough, just find the stupid end zone already! To the results!
| | | | |
| --- | --- | --- | --- |
| Human Poll | Computer Poll | Power Points | Trending |
| 9.4 | 9.6 | 19.0 | |
Credentials: The Texas Rangers' rotation obviously got a huge boost from Derek Holland's masterful Game 4 performance. But manager Ron Washington's real drama must be what to do from here out with Alexi Ogando, whose ERA bloomed from 1.17 in the first two rounds of the playoffs to 27.00 in the World Series. In Fall Classic terms, 27 is a great number if you're the 1927 New York Yankees. But having a 27.00 ERA in a best-of-three stretch run? That could be problematic. Our advice to Ogando is the old stand-by of "visualize success." For example, next time you give up a three-run homer to Albert Pujols, visualize being able to track down the fan who got the ball and offering him something for it. Because that ball will be worth a lot of money in the future.
2. Timmy the Comeback Kid
| | | | |
| --- | --- | --- | --- |
| Human Poll | Computer Poll | Power Points | Trending |
| 9.5 | 9.0 | 18.5 | |
Credentials: Well, the good news is that the Broncos QB definitely provided riveting footage for his eventual "Tim Tebow's Greatest NFL Comebacks" DVD. The bad news is trying to calculate how many of his biggest fans will shell out $29.95 for a 10-minute long DVD. Maybe if they offer free shipping, and Timmy delivers it to your house. Which we're sure he'd be all too happy to do with a smile.
| | | | |
| --- | --- | --- | --- |
| Human Poll | Computer Poll | Power Points | Trending |
| 8.8 | 8.2 | 17.0 | |
Credentials: How much is three home runs in one World Series game worth on the free agent market? We're sure the Yankees are salivating at the thought of the slugger doing the Babe Ruth-Reggie Jackson thing again in pinstripes instead of Cardinals red. As long as Pujols knows that if New York signs him to a 10-year deal, the only new pitcher they'd be able to afford to sign after that would involve talking Reggie Jackson out of retirement and seeing if he can throw a slider.
| | | | |
| --- | --- | --- | --- |
| Human Poll | Computer Poll | Power Points | Trending |
| 7.7 | 7.2 | 14.9 | |
Credentials: Now that the bombshell baseball braintrust transplant has been announced, here comes the interesting part. Bud Selig reportedly has made it known that the Red Sox and the Cubs have until Nov. 1 to agree on compensation for the move or he will intervene. But why is this a problem? We're sure the only hangup is how many cases of Old Style are on their way from Wrigley Field to the Boston clubhouse.
| | | | |
| --- | --- | --- | --- |
| Human Poll | Computer Poll | Power Points | Trending |
| 7.1 | 7.4 | 14.5 | |
Credentials: Road trip! With nowhere in the U.S. available to them to play their league games right now, a six-game world tour of NBA stars is expected to be announced with stops in Puerto Rico, London, Macau and Australia. The main thing we're worried about in terms of entertainment value is if one of those teams loses the first three games that it would then be tempted to loaf through the final three games in hopes of improving its chances of getting a better chance at a lottery pick for the next lockout exhibition season.
| | | | |
| --- | --- | --- | --- |
| Human Poll | Computer Poll | Power Points | Trending |
| 6.2 | 6.3 | 12.5 | |
Credentials: Great news for everybody who watches the Fall Classic who hates being told that nobody watches the Fall Classic! Sunday night's Game 4 nail-biter drew better TV numbers than the Peyton Manning-less Saints-Colts blowout. Heck, the NFL game was so bad even hobbled Sean Payton switched over his TV in his coaches booth.
7. Alabama-LSU apocalypse
| | | | |
| --- | --- | --- | --- |
| Human Poll | Computer Poll | Power Points | Trending |
| 5.4 | 5.1 | 10.5 | |
Credentials: It's two weeks away, but the South is looking forward to a national holiday when the No. 1 and No. 2 teams in the country meet in the regular season. Reportedly, Les Miles and Nick Saban have agreed that during the offseason the losing coach will have to stand for a week in place of any murdered Auburn trees that have been hauled away.
| | | | |
| --- | --- | --- | --- |
| Human Poll | Computer Poll | Power Points | Trending |
| 5.2 | 4.8 | 10.0 | |
Credentials: Welcome to the Raiders! But for the rest of the season, though, try not to throw three interceptions per half. That's lesson No. 1 you can learn in the upcoming bye week, so now get crackin' memorizing the playbook! Of course, it being the Oakland Raiders playbook, it's entirely possible there are orchestrated playcalls that are intended to result in an interception.
| | | | |
| --- | --- | --- | --- |
| Human Poll | Computer Poll | Power Points | Trending |
| 5.1 | 4.2 | 9.3 | |
Credentials: Boy, the national anthem is all show-business politics these days. Before the start of Sunday's World Series game on Fox, "The Star-Spangled Banner" was sung by the star of the Fox sitcom "New Girl." It was a fine rendition by a talented actress, no doubt, but it's still interesting to chart these things. Mainly, we're telling you this as a head's up that when ESPN broadcasts the BCS title game in January, the national anthem just might be sung by Lou Holtz.
| | | | |
| --- | --- | --- | --- |
| Human Poll | Computer Poll | Power Points | Trending |
| 5.0 | 4.2 | 9.2 | |
Credentials: Superspeedway racing means one thing these days: two-car drafting combos. But at the Good Sam Club 500, Ford drivers had made it known they were only going to help other Ford drivers. And Jeff Gordon found that out the hard way in the final two laps when Trevor Bayne bailed on him, screwing the No. 24 car from ninth place to a 27th-place finish. Even among the "That's racing" code of the track, that type of dodge is leaving a bad taste. That's why our advice to Carl Edwards and Matt Kenseth for the rest of the Chase is to watch out for restrictor plates being thrown at your heads while you're walking through the garage.
| | | | |
| --- | --- | --- | --- |
| Human Poll | Computer Poll | Power Points | Trending |
| 4.2 | 4.0 | 8.2 | |
Credentials: He's the No. 1 golfer in the world, but he's got a chance to get paid like no one's ever been. This weekend, he wrapped up being atop the PGA money list; and he's got five tournaments left to stay atop the European Tour money list. No one's ever done both in the same season. If that happened to us, there's only one phone call to make: "Hello, Tiger? Yeah, hi, right, I'm the guy who won the PGA and European money titles. Thing is, I've got so much loot at your expense, I was wondering how much it'd cost to hire you to caddy my bags from now on. Hello? Hello? Hmm, he must have hung up."
| | | | |
| --- | --- | --- | --- |
| Human Poll | Computer Poll | Power Points | Trending |
| 4.0 | 3.2 | 7.2 | |
Credentials: There are two schools of thought on crossing the Atlantic Ocean to play one regular season football game on short notice. You can do what the Bucs did and arrive early in the week to get used to the time zone switch; or be like the Bears, who showed up Friday after an eight-hour flight and went straight to work. Final result Sunday? Chicago 24, Tampa Bay 18. Now that the Bucs are 0-2 overseas, maybe next time they'll try to change their luck by having the offense fly there early and the defense arrive the day before. The only flaw in that plan is figuring out before kickoff, "Wait -- on which of those two planes was the special teams supposed to be on?"
13. Your Halloween costume
| | | | |
| --- | --- | --- | --- |
| Human Poll | Computer Poll | Power Points | Trending |
| 3.1 | 2.3 | 5.4 | |
Credentials: OK, ladies, we get it. You can turn any pop culture character into a "sexy" character. From Little Red Riding Hood to nurses and cheerleaders, it's been a fun show. But "sexy" versions of Mario and Luigi plumber costumes? We're sorry, we're going to have to draw the line on that one. Because if you're going to dress up as video game characters, we just envision a slippery slope until you're dressing up next year as "sexy" John Madden.
Also receiving votes
• Paul Leka, RIP: And now, an eternally respectful jangling of the car keys to the songwriter who helped come up with "Na Na Hey Hey (Kiss Him Goodbye)" as a No. 1 hit in 1969 and then saw it morph into the ultimate sports-arena dismissal. For anyone in charge of music at sporting events, it would be nice if you could show your condolences by promising never, ever again to play "Who Let the Dogs Out?" during a game. Bless you.
Never receiving votes
• 62-7: When that's what Indianapolis sees on the scoreboard at the end of a night in New Orleans, you hope the Colts can console themselves that they've hit rock bottom and it can only get better until Peyton Manning returns. Then again, they could lose their remaining games 60-10, and technically that'd be an improvement. Speaking of their remaining games, we just looked at what's in store for the Colts. It turns out for the rest of the season, Indy is always going to be the other team's homecoming opponent.
Greg Hardy is a Page 2 contributor. It's all pop culture all the time at Twitter.com/HardyVision.