Commentary
Trinity-Millsaps laterals evoke The Play
Originally Published:
October 26, 2011
By
Doug Williams
| Special to Page 2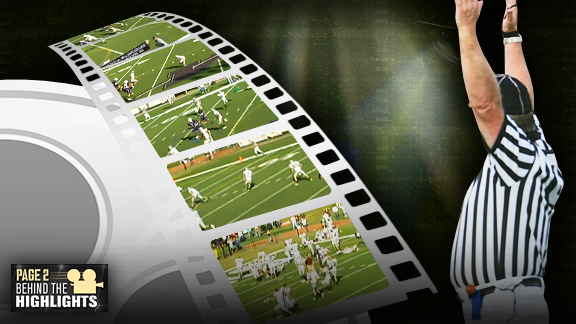 ESPN.com Illustration
The "Miracle in Mississippi" was an off-, off-Broadway act.
It was regional rivalry game between two good Division III football teams. There was no national TV, no grand stage and the matchup has never been called "The Big Game." Plus, there was no band marching onto the field and no pancaking of a trombone player in the game's final moments.
Yet the ending to the Trinity-Millsaps game likely will forever be compared to "The Play," the dramatic, lateral-filled finale to the Cal-Stanford game in 1982 in which Cal emerged the winner, 25-20.
The link is obvious -- laterals at the end of a game.
After that, however, even the Trinity players have a hard time comparing the two.
But first, some facts on the two games:
Laterals in Cal-Stanford game: five.
Laterals in Trinity-Millsaps game: 15.
Time elapsed in Cal-Stanford play: 27 seconds.
Time elapsed in Trinity-Millsaps play: 62 seconds.
Cal-Stanford final play: Squib kickoff to Cal with four seconds left, followed by laterals. Covered 55 yards.
Trinity-Millsaps final play: Completed forward pass from scrimmage, followed by laterals. Covered 61 yards.
Disputes: Legality of two Cal laterals was questioned. Trinity laterals never have been disputed.
Ranked among all-time greatest college football games ever? Cal-Stanford, yes; Trinity-Millsaps, no.
If the Trinity-Millsaps lateralapalooza had occurred a few years earlier, before Trinity's webcast and the advent of YouTube, it very possibly never would have caused a ripple. Instead, video of the play instantly went viral and pushed it into the same conversation as the Cal-Stanford finish.
"After the play was aired and discovered and got all the media attention, there was a lot of comparison to the [Cal-Stanford] play," says Blake Barmore, Trinity's quarterback in the game against Millsaps. "I guess they are similar in that both of them had laterals, both of them were ending the game, so in that sense I can see the similarities.
"But their guys were definitely a lot faster and a lot bigger," he adds, laughing, "and they were on a bigger stage."
Former Trinity wide receiver Shawn Thompson -- who caught the pass from Barmore to start the final play -- says one big difference in the two endings is "ours was completely legal across the board."
But he's not about to say the Miracle in Mississippi is better.
"Cal-Stanford is so cool how he takes out the trombone player," says Thompson of the Golden Bears' Kevin Moen, who scored the winning touchdown. "Just to be put in the same conversation is pretty neat. …
"Just to be talked about with something that monumental. When you think about college football, people remember the Cal-Stanford play.
"I think our play's neat because 62 seconds is a long time for one play. It really is. The stars aligned. I don't know how it happened, but it was cool."
Said Jon Wiener, who did the Trinity play-by-play: "They had the band, but we had 15 laterals and went 61 yards in a play that lasted 62 seconds for the conference championship. For us, it meant everything."
Doug Williams is a freelance writer based in San Diego.