Commentary
Spending NCAA athletes' $2,000 windfall
Originally Published:
October 27, 2011
By
DJ Gallo
| Page 2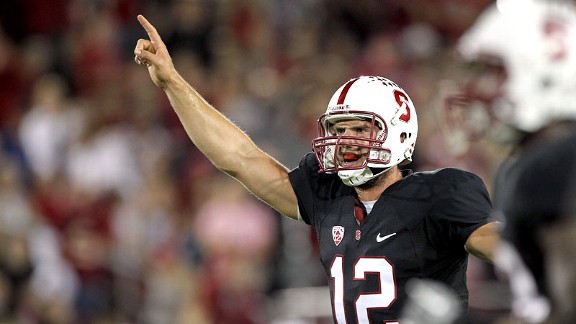 Ezra Shaw/Getty ImagesAndrew Luck could stock up on these slick black jerseys with the proposed NCAA payment.
NCAA president Mark Emmert proposed this week that college conferences be allowed to give athletes "up to $2,000 in addition to" tuition, fees, room and board, books and supplies.
Generous.
Just think of all that ("up to") $2,000 can buy.
Heisman front-runner Andrew Luck could buy 29 of the No. 12 Stanford jerseys that his university sells at $60/pop with $64.05 left over … and that's including shipping and handling! And it's not like anyone needs 29 jerseys, right?
Alabama running back Trent Richardson could spring for 32 copies at $59.95 a pop of "NCAA Football 12" -- a game that features his former teammate, Mark Ingram, on the cover, and has a very Richardson-like player on Alabama's in-game roster -- leaving him $81.60 in the bank! And $81.60 is more then enough to buy himself one No. 3 Alabama jersey at $74.95.
Of course, let's not pretend that college athletes are greedy and just want things. Many could use that up to $2,000 for charity. Programs like Ohio State have prominently displayed "Donate" buttons on their official websites. What better way to show gratitude to your program than by giving the $2,000 generously given to you generously right back? These programs have bills to pay, too, you know.
And don't forget that many college athletes come from impoverished backgrounds. Up to $2,000 could go a long way toward helping their families by putting clothes on their backs. Specifically, player number toddler jerseys. Priced affordably between $41.95 and $43.95, it's literally like stealing.
So next time you hear someone try to make the absurd argument that big-time college athletes are getting a raw deal, tell them you've got up to 2,000 reasons why they're wrong.


Game of the Week
No. 9 Oklahoma at No. 8 Kansas State -- 3:30 p.m. on ESPN
This is a very even matchup. Oklahoma gives up 19.4 points a game while Kansas State yields 19.7. Oklahoma has a great passing offense while Kansas State has a great running attack.
They are even neck-and-neck at the cliché position.
"We've just got to learn from [our loss to Texas Tech]. Learn from a loss and move on," said Oklahoma quarterback Landry Jones.
"The job is not done and we have to make sure that we keep our nose to the grindstone and not look too far ahead or back behind to distract us," said Kansas state quarterback Collin Klein.
As you take your football viewing one game at a time Saturday, I encourage you to watch 110 percent of this one.


Another Game of the Week
No. 6 Stanford at USC -- 8 p.m. on ABC
Andrew Luck gets all the headlines, but Stanford set a school record with 446 yards on the ground last week as Luck handed the ball off more than 30 times. Clearly, he is no longer challenged by the college game and is letting other people have a chance now.


Cupcake of the Week
Navy. Or Notre Dame.
Navy and Notre Dame renew their rivalry at 3:30 on NBC. If you prefer a long view of history, Navy is the cupcake. If you're more into recent history, Notre Dame is the cupcake. Your choice.


Rivalry Game of the Week
No. 22 Georgia vs. Florida -- 3:30 p.m. on CBS
It's called "The World's Largest Outdoor Cocktail Party." But it's a bit of a misnomer, as a few malt beverages are consumed during the day, as well.

Heisman Candidate in the Crosshairs
Andrew Luck, QB, Stanford
Andrew Luck is under a lot of pressure. He faces one of his toughest tests of the season at USC. A bad game on national television could doom the Heisman front-runner's chances of winning the award and would likely end Stanford's national title hopes. And don't forget the NFL #SuckForLuck campaign. If Luck has a bad game, five or six NFL teams will begin worrying that all of their losing has been for naught. And then what are teams like the Dolphins and Colts supposed to do? Start winning? Don't be ridiculous.
Mascot Fact of the Week
The Military Bowl has a new mascot and it's awful. I'd say that someone spent no more than three minutes on Photoshop making it, but I seriously doubt Photoshop was even used. A photo of a football with googly eyes is MS Paint work. And while we all know the government has money problems, cutting the Military Bowl's graphic design budget may not be the quickest way to financial solvency.

Tailgate Tip of the Week
Always wear a poncho
It's been a rainy fall, so invest a few bucks in a team logo poncho. But what if it's not raining? Wear it anyway. You're even more likely to get showers at a tailgate on bright, sunny days. Lots of people get sick drinking in the sun. Rain, vomit -- you can never be too careful.

Quote of the Week
"You might want to keep him at arm's length sometimes. He brings a lot of energy and enthusiasm to the table and does a great job of lifting the guys around him. He's a little bit like Chris Farley at times, 'fat guy in a little coat' syndrome. He's a fun guy to be around and that's infectious to our defense."
-- Texas A&M defensive coordinator Tim DeRuyter on Aggies defensive lineman Spencer Nealy.
You can't go wrong with a Chris Farley type on a football team. Well, unless that means your team also has a David Spade type, in which case your team is going to be terrible.

Greatest Conference Ever of the Week
SEC
There were only three out-of-conference games in all six BCS conferences last week, and the SEC had two of them. Kentucky beat Jacksonville State and Vanderbilt beat Army. Impressive stuff.

Worst Conference Ever of the Week
Pac-12
The Pac-12 had the other out-of-conference game, with USC beating Notre Dame. That win sounds much more impressive than beating Jacksonville State and Army, but then you remember that the Pac-12 employs Rick Neuheisel.

Stat of the Week
409
With a win over Illinois on Saturday, Joe Paterno will notch his 409th career win, pushing him past Eddie Robinson for second on the all-time, all-division win list, behind only John Gagliardi's 481. Gagliardi is 51 days older than the 84-year-old Paterno and still the head coach at St. John's (Minn.). It's an old-person race to the top!

Coach on the Hot Seat
Turner Gill, Kansas
Gill was only 20-30 in four years at Buffalo before getting the head job at Kansas before last season. A season and a half later, he's 5-14 at Kansas, and it's hard to make the case that the Jayhawks aren't the worst BCS team in the country. Kansas has given up an average of 57 points in its last five games, losing by an average of 32 points per game. And Kansas should meet or exceed all of those numbers this week against Texas (7 p.m. on Longhorn Network).
Gill's final meeting with Kansas athletic director Sheahon Zenger will go something like this:
Zenger: "Turner, your defense is horrific -- 57 points a game! Is there any reason we shouldn't let you go?"
Gill: "Well … uhh … our men's basketball team gave up 64 points a game last year, and I don't see Bill Self getting fired."
Zenger: "Is that all you have?"
Gill: "Yes, unfortunately. I'll pack up my things."

Player Name of the Week
Mister Cobble, DT, Kentucky
Submitted by reader Jake G., who writes: "He sounds like he should be a tiny shoe gnome living in a tiny shoe home (rhyme intentional). I hope his sack dance features some cobbling action."
I wholeheartedly agree. Unfortunately, Mr. Cobble is listed at 6 feet, 332 pounds, and his major is community communications and leadership development. And the only shoe gnome that would be allowed on a college campus would have to work for Nike, adidas or Under Armour.
(If you have a player/coach name submission, or a funny tailgate photo to share, send it to VarsityTailgate@gmail.com.)

Coach Name of the Week
Pep Hamilton
Amazing but true: Pep Hamilton is Stanford's offensive coordinator and quarterbacks coach, not the name of a male cheerleader in a preteen novel about high school.

Stone Cold Lock of the Week
U.S. District Court Judge Gregory Frost sentenced Edward Rife -- the tattoo-parlor owner behind the Ohio State memorabilia scandal -- to a three-year prison sentence Wednesday. Said Frost in handing out his sentence: "I don't care about trinkets, I don't care about Ohio State, I don't care about the players. I care about the drugs."
I don't care about trinkets
I don't care about Ohio State
I don't care about the players
I care about the drugs
Put that to a beat and you've got some good rap lyrics. Judge Frost is going to become the first U.S. district court judge with a record deal. Look for Judge Frost's first album: "Straight Outta Chambers."
DJ Gallo is the founder of SportsPickle.com. His first book, "The View from the Upper Deck," is available from only the finest bargain-book retailers. His next book project will be released soon. You can follow him on Twitter at @DJGalloESPN.