Commentary
We look at various 'Tebowing' spinoffs
Updated:
October 30, 2011, 8:41 AM ET
By
Jerry Greene
| Special to Page 2
"Tebowing, v., "to get down on a knee and start praying, even if everyone else around you is doing something completely different."
That's not my definition. That comes from Tebowing.com, which ought to know, right? Regardless of what you may think, the "Tim Tebow Phenomena" is on the edge of exploding, especially if he does something magical in Denver on Sunday against the Detroit Lions.
And "Tebowing" has already exploded as you can easily find Internet photos of folks Tebowing at work, on bridges, in airplanes and, yes, even in church, although then it still looks a lot like old-fashioned praying.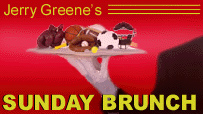 How big could it get? It may be as popular as last year's "refudiate," Sarah Palin's unique word that was part "refute" and part "repudiate." But "Tebowing" is all Tebow.
Perhaps it will lead the sporting world into its own off-shoot of "planking," where this all began. Maybe we should create a sports lexicon of verbs that are derived from famous names. A few suggestions:
• "Ruthing," v. "to suddenly step to the side and point into the distance as if indicating where you are about to hit a baseball even if no baseball is present."
• "LeBroning," v. "to abruptly turn away and begin walking south without so much as a goodbye."
• "Ortoning," v. "to disappear."
Got some of your own?
While our host of literary chefs put the finishing touches on the main dishes in the Halloween Brunch, a few more appetizers:
• After ending the Red Sox Curse, if Theo Epstein can do the same for the Cubbies he will be a lock for President of the United States (or at least Mayor of Chicago.)
• Don't you love it when disputes are settled? Yes, once again Oreo is the official cookie of NASCAR.
• Back to Tebow, if Ndamukong Suh were to crush him to the ground and then gloat about it, would Denver declare war on Detroit, city vs. city? "Come on, men, we're marching on Detroit! Who's with me? Everybody Tebow before we get started."
• Getting near Thanksgiving, the time when Lucy keeps yanking the ball away when Charlie Brown thinks he can kick it. That's kind of like David Stern yanking a deal off the table every time the players think they can go back to work.
• And somewhere the guy who owns the Thunder stick company is jumping off a bridge.
• If you didn't love Game 6 of the World Series, then you are either dead or a Yankee.
Ding-ding. Dinner bell tells us it's time for the best of the Brunch as we feature "The Collegiate Game of the Year," European soccer, the future of the NBA, a shocking proposal, an and equally shocking suggestion that the NFL has become too popular. Oh, and some great NFL picks. Enjoy.
• We all are anticipating the LSU-Alabama "Game of the Year" on Saturday. But could it be repeated as the national championship game? And should it be repeated? Kevin Scarbinsky of the Birmingham News says no stinkin' way. Read it here.
• Probably every North American sports fan has wondered what our leagues would be like if we had the European system of promotion and "regulation," which means teams move up or down from one league or level to the next. But supposed they ended up with our system instead, because that may be happening. Rupert Cornwell of the The London Independent breaks it down. Check it here.
• You've heard the wailin' about how the NBA is going to drive away its fan base because of the lockout. Tom Reed of The Cleveland Plain Dealer has got all the pertinent stats that indicate that won't happen at all. If history means anything, interest in the NBA will rise once it's back. Find out why here.
• Time for the controversy, starting with Dan Wetzel of Yahoo! Sports, who has a modest proposal that the way collegiate football players can attack the system is by boycotting a small bowl. Seems kind of harsh on the people behind that bowl but see what you think here.
• Now my favorite link of the week comes from Philip Zaroo of Michigan's MLive.com. He thinks the NFL is killing itself with success and needs to be less popular than it is. You decide if that makes any sense here.
• Actually this is my favorite: My NFL picks. Don't laugh. I was an outstanding 11-2 last week. See what I think for this week here.
Have a happy Halloween Brunch!
Jerry Greene is a regular contributor to ESPN.com and can be reached at osogreene@aol.com